ONE HUNDRED FIFTY bloggers…. FIFTY businesses…. all come together in ONE BIG EVENT. WhenInManila.com is PROUD to bring you the FIRST EVER BLOGAPALOOZA!
–
September 17 was the big date. The date several bloggers, including myself, were all looking forward to. It was our chance to not only meet fellow bloggers, but to meet BIG and SMALL business owners. Several bloggers even cancelled their supposed out-of-town getaways just to attend this event. YES, that's how BIG this is!
–
You see, the idea of Blogapalooza is to introduce these businesses to the online community and vice-versa. Gone are the days that businesses need to pay newspapers and billboards for their ads, 'coz nowadays, you can get just as much exposure or even more with one single post online! It's basically a win-win situation if you ask me! Bloggers are happy with simple loot bags and free trials while businesses get free advertisements through their blogs.  Nice!
–
The day before the big event, my brother Vince of WhenInManila had already informed me that I needed to get up early the following day to help them set up. I woke up the following morning from a loud knock and my brother saying, "Wake up! I'm going!" The event was not 'till 1pm, but my brother was already there as early as 7am! I on the other hand followed with my fiance Philippe of yajapa.com and friend Ivica of RunNurse.wordpress.com at around 9am. Already we were greeted with several stuff to do and things to carry! The loot bag was the most difficult of all! …. and by the way, these were the BIGGEST LOOT BAGS ever! They even added an additional plastic bag 'coz all the freebies couldn't fit in 1 bag. I was already eager to open them and see what's inside! But before that, we had to haul these 150 bags all the way to the function room in the 5th floor. It was really TIRING and I sweated as if I just ran 5km, but it was well worth it! After the loot bags were neatly placed inside the kitchen, we were able to rest for a while… and the sponsors/presenters also came one by one.
–
Easy Phamax and Phiten were some of the first few to arrive at the venue and set up their booths, and without noticing, time started to fly by and more and more people were showing up.
–
At around 11am, bloggers were already arrive. They needed to sign up at the front desk and  receive their pre-printed name tags. On these name tags were also numbers which would be used for the raffle draw. I was number 74! So anyway, for the first 50 bloggers to arrive, they were able to receive additional items such as water bottles, shirts or ballpens from Aquabest and an HTC umbrella.
–
One of the top hits that day were the Polecats. Everyone just wanted to ride that pole… both women AND men! The Polecats were actually kind enough to let everyone try it out for themselves…whether it be to take a "sexy" photo on the pole or to try to do a spin. I tried taking 2 classes with Polecats a couple of months ago and it's true what they say that "It's not as hard as it looks." Beginning may be a bit difficult but once you get the basics, practice is all you'll need. My brother's girlfriend, Hannah Villasis of FlairCandy.com actually takes these classes religiously! She started out with bruises and aching muscles every time she came home… but today, she's spinning like there's no tomorrow and is definitely on her way to the top -literally and figuratively!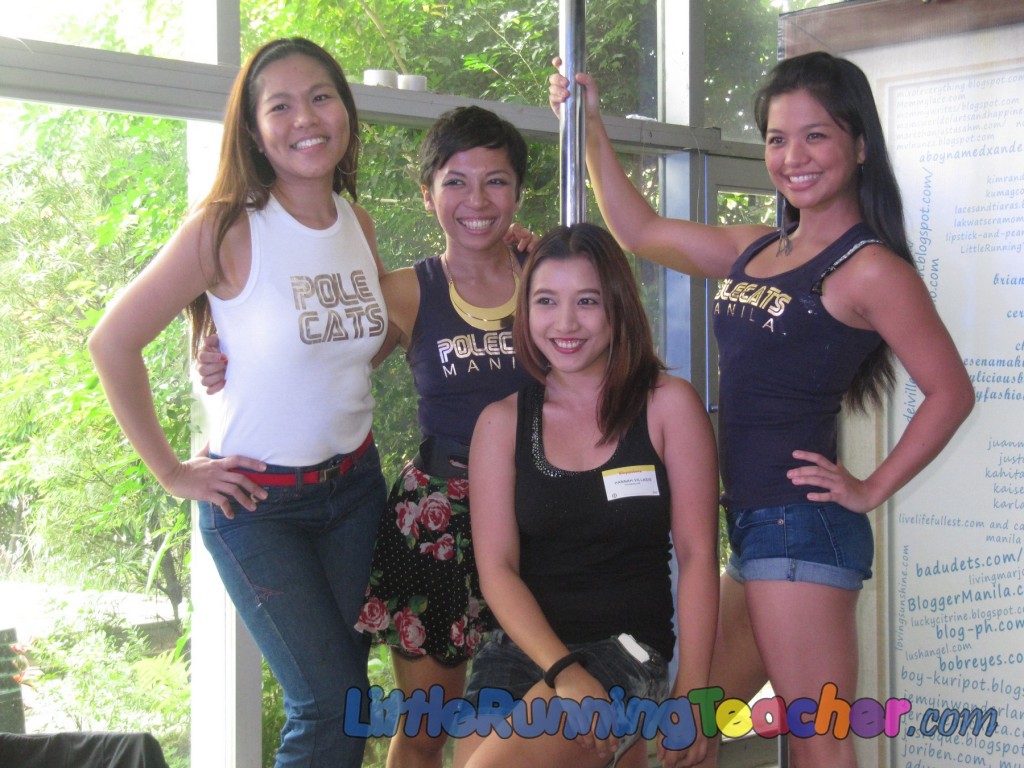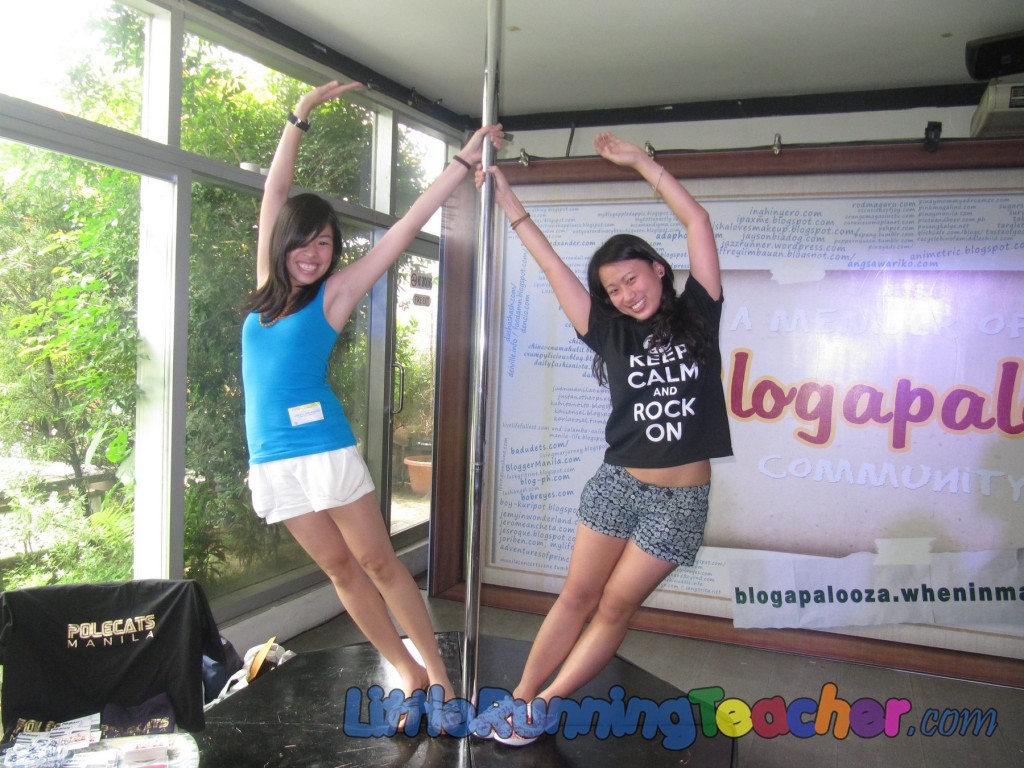 –
Another BIG HIT that day was Big K imaging's Kameraman (Photo-on-the-go). There was literally just a camera man and his "backpack printer". It's such a simple and easy idea, and yet I haven't seen much of these stuff going about. Photobooths are so yesterday, this will surely pick up and become the new trend! As soon as it was up and ready, people started calling him to take their picture at the stage, by the chairs and by the photowall. The entire process was quick too! After he takes the picture, just wait in line behind him and wait for your photo to come out! The bloggers (including myself) were really excited to see this thing… we were like little kids playing with our new toy!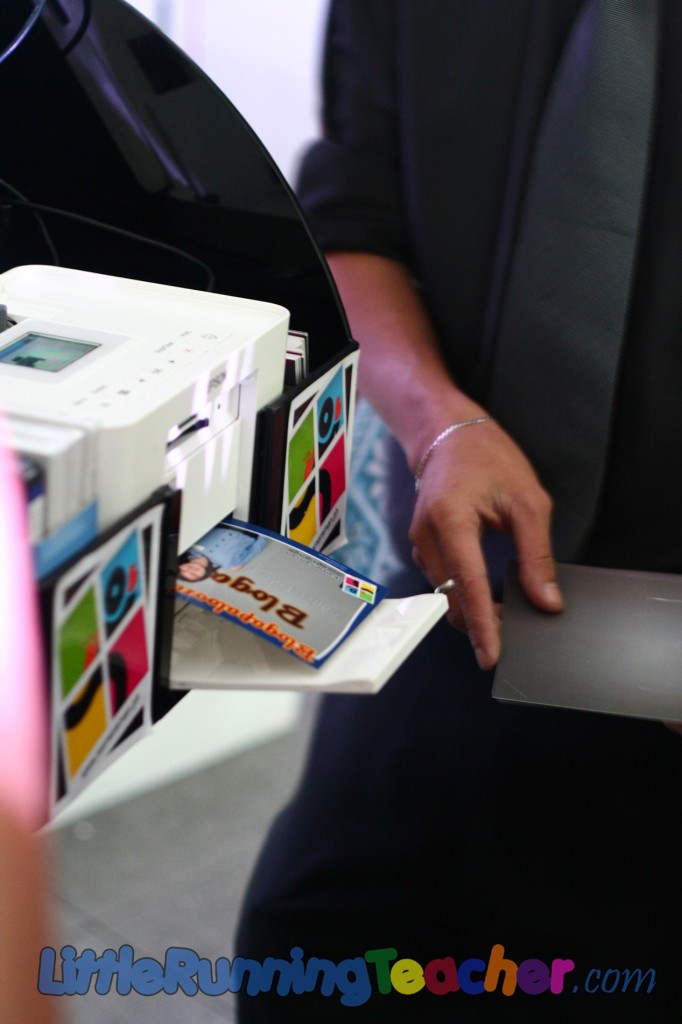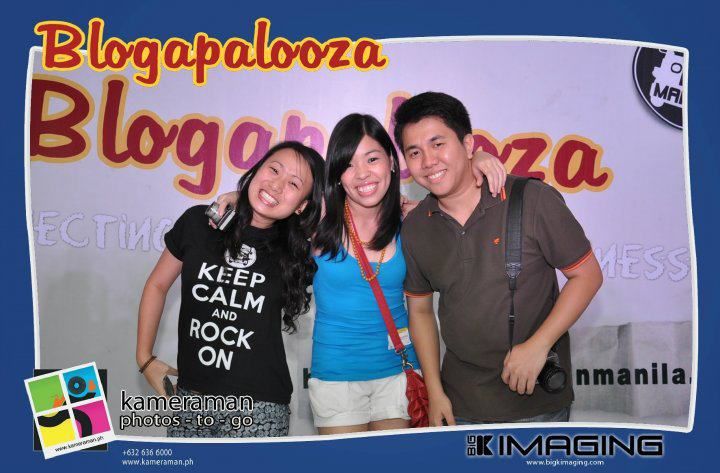 –
I mingled around a little bit more as lunch was being served. A plate of spaghetti and chocolate muffin from Italliani's restaurant was enough to keep us satisfied and full for a few hours as each of the sponsors did their presentations. Drinks on the other hand were provided by Healthy First. The flavors they had that day were Strawberry-Carrot, Carrot-Four Seasons and Mango-Lychee. Quite an unusual mixture but surprisingly good too!
–
The program started at around 1pm. My brother Vince gave everyone a warm welcome and thanked each one for arriving that day. He then reminded everyone what Blogapalooza was all about and how this major event would benefit both bloggers and business owners. Without further ado, the presenters were called up one by one.
–
The cool and unique thing about Blogapalooza is that each presenter was STRONGLY DISCOURAGED to use powerpoint presentations. It was just a little something the WhenInManila team wanted to try out… and actually turned out pretty well! Because of this minor rule, each presenter really had to do some thinking out of the box and come up with ways to grab each blogger's attention. Hence, the way they presented their products and businesses ranged from simple flash cards and blown up photos to fashion shows and short skits! It was really fun to watch! There was not a single dull moment!
–
**The posts on the presenters will follow. I will be posting the links below as I write them!
7. HTC Chacha and HTC Sensation