During the presentations at Blogapalooza:
–
Guy comes out with his red umbrella, he then proceeds to say, "When you see an umbrella, what does it remind you of?" Bloggers then answer "Rain"… eventually though someone answers "protection".
–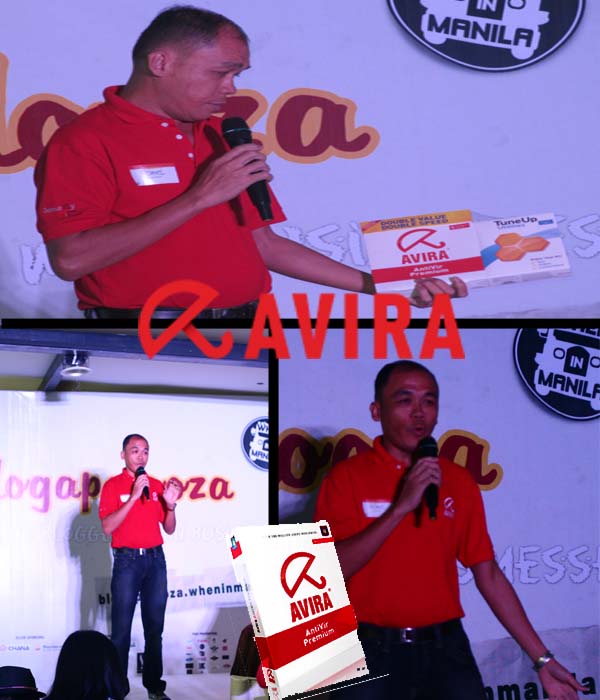 –
In this day and age, computers (preferably with internet connection) are slowly becoming a basic necessity. It is used to write our school papers, make business proposals, do research and has even became a "place" for people to meet. The cyberworld truly plays a big part in our lives… but just how much do we really know about it? Every minute, a new development is happening, and new viruses/threats/ and attacks are discovered. In my circle of friends alone, I can already say that 7 out of 10 don't really know how to protect themselves from the internet. Heck, I just learned how to do so because I was blessed to have a programmer as my fiance!
–
There are 2.5million internet users in the Philippines… and in every 2 seconds we are online, a virus attacks our computers. So how can we relax and stay calm knowing that our computer could crash and burn in one single erroneous click.
–

–
Avira has been around for more than 25 years and is one of the pioneers in its field. They offer users free anti-virus software that protect us from dangerous threats online. However, they also offer even MORE protection in their premium package. Here, we are not only protected from virus attacks but from phishing sites as well. Phishing sites are sites that look almost identical to a certain site (e.g. Facebook or Yahoo) but turn out to be fake, and are only used to steal your password and identity. Avira's premium package also offers email protection, anti-spyware and anti-rootkit (rootkit refers to viruses that hide under the system, these are viruses that keep coming back regardless of how many times you try to delete them).
–
So if you really want total internet freedom, don't put your privacy on the line… it's time you get Avira!
–
For more info on their products and services,
check out http://www.avira.com/
–
To check out the other presenters at Blogapalooza, check out: