Did you know that only 20% of the whole world population exercises? And that 1.5 billion people in the whole world are obese and overweight? We have 650 muscles in the human body… and all are made to move! So get up and move them! Watching exercise videos won't work… out of all the videos.. only 15% of these will actually work for you.
–
"A gym just opened nearby, let's sign up!" –I often hear my friends say something like this when the issue of weight or health comes to mind. Sometimes, I'm the one opening the topic in hopes of finding a gym buddy. All of us want that sexy and fit body, but most of us don't have the time to work out. Sure, there are several products nowadays that can help us get slimmer… but if you want nice abs and perfect curves, you have no other choice but to exercise!
–
To runners like myself, running is already part of our daily/weekly routine. It is our weekly exercise and helps keep us strong and healthy. However, some runners (e.g. myself) don't have much time to go to the gym either. I work as a teacher in a private school from 7am to 4pm. It takes me 1 hour to travel back home, and then head to my part time job of tutoring till around 9pm. Afterward, I try to squeeze in some blogging and it's off to bed – ready for another routine the following day. I want so badly to hit the gym but I just couldn't find the time.
–
Besides time, another reason people don't go to gyms is because of the routine. You stay on the treadmill for about an hour, do your weightlifting for around 30mintes, etc. I tried hitting the gym a couple of times and I couldn't last more than an hour. After just a few minutes on a certain machine, I immediately felt bored and felt too tired to continue. I guess it's different when you have a trainer or when you already know exactly what you need to do… but for me, I was simply lost.
–
If you're like me and are TOO BUSY to head to a gym or TOO LAZY and BORED with the usual routine, then 360˚s Fitness Club is just the place for you!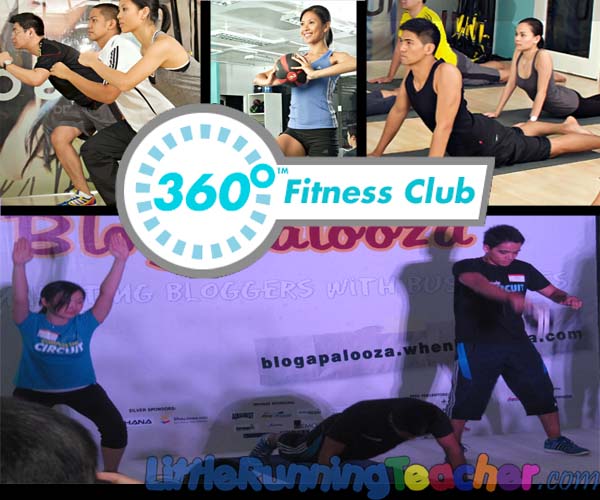 –
It's so hard to squeeze some time into our busy schedules to exercise. And often, heading to the gym and working out alone can turn into a chore. When laziness kicks in, we can kiss our dream bodies goodbye. Now the 360˚ Fitness Club understands this dilemma and they've got the perfect solution.
–
If you're busy and always on the go, then the circuit training is perfect for you. With this, you can be in and out of the gym in just 30minutes! Though the time may seem short, this will already be enough to give you a FULL body workout and burn 500 calories! The circuit will basically include a series of workouts which you will be doing for only 30 seconds each. You will be going from one station to the other with a 30 second rest/warm up period in between. By the time you're done, you'll be sweating like crazy!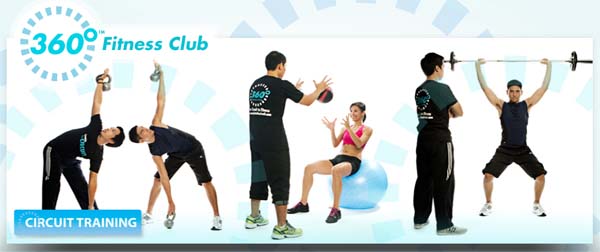 This Fitness Club also prefers to stow away with machines as they believe that these machines limit our body's range of motions.
"At 360˚ Fitness Club, we use the most basic of all exercise equipment: free weights, sports blocks, power blocks, kettle bell blocks, exercise balls and bands medicine balls, trampolines and the like. Don't underestimate them. Our workouts are designed to have the maximum effect in your body."
–
Beside the circuit training, they also offer kick boxing, zumba, power yoga, suspension training, etc. So check out the nearest 360 Fitness Club branch and sign up now!! This will be FUN!!!
360˚ FITNESS CLUB ORTIGAS
13th Floor, Strata 100 Bldg., F. Ortigas Jr. Road (formerly Emerald Ave.)
Ortigas Avenue, Pasig City
Landline:  577-7807
Mobile: 0917-5600360
Email: [email protected]
7th floor, 107 Dolmar Gold Tower, C. Palanca St., Legaspi Village, Makati City
Landline: 940-9575
Mobile: 0917-8600360
Duo: 02 623-0911
Email: [email protected]
–
For more info, check out their website at:
http://www.completethecircuit.com/
To know more about what took place at Blogapalooza, check out:
/blogapalooza-one-pre-show-and-early-birds/
And, to be part of the NEXT Blogapalooza (whether as blogger or sponsor), check out:
http://blogapalooza.wheninmanila.com/