Last October 24, 2010, most runners I knew opted to register for the Adidas King of the Road Challenge. I on the other hand ran the St. Peter Life Run. I honestly wanted to join the King of the Road, but I just thought the price was too expensive. Imagine paying 850 pesos to run? This was just way over budget for me! It felt more as if you were paying for the singlet/the brand. Meanwhile, the St. Peter Life Run only cost 50 pesos! That's an 800 peso difference!
.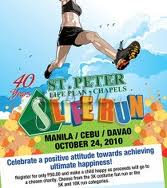 .
I have to admit that I was hesitant at first to join the St. Peter Life Run! It was just too cheap! I had to wonder what was in store! I was afraid that the run might turn out to be very disappointing because of the very low price. Days before the run, almost every runner's status on Facebook was about the King of the Road. I felt envious. This was a big event and I was not going to be part of it. Still, I wouldn't have done it any other way. I did not regret registering for the St. Peter Life Run, and after running 5km last Sunday, I still don't.  Of course, there will be the minor flaws, but this run turned out to be one of the best fun runs I've ever attended. Let me tell you why.
.
.
Registration
The registration sites were not too convenient for other people, coincidentally though, the main site was just a few blocks away from my fiance's house. The fee was only 50 pesos, and with a fee like that, you really need to lower your expectations. So imagine my thrill when I found out that we would be given free SINGLETS! and mind you, the singlets fit perfectly and the cloth used was not too thin.
.
The Run
The run turned out really good! There weren't too many people (probably because most were at the Adidas King of the Road) and there was an actual starting/finish line and 3 timers for the 3 race categories. I also did not expect this given the price. The route at first was not great! We had to run by the sidewalk with cars from both directions passing beside us! There was so much smoke and it was really getting annoying! Moreover, there were several people walking so we had to dodge them. There were no closed roads or anything! Later on however (after the first kilometer), the route got better. No more cars and crowded roads!  There were also several event marshals that helped with the traffic. I still dislike the uphill run, but most runs already have an "uphill segment" so I might as well get used to it.
.
Post-Run Events

After running, the first few hundred finishers received a loot bag! Well, it was more like a trick or treat pumpkin basket filled with several candies! Once again, I did not expect this from a run that only cost 50 pesos!
.
.
There were also SEVERAL photo booths! 2 photo boots with the camera and printed out photo, 1 area for picture taking which contained a poster from St. Peter Life and my favorite, a standing casket with a window for people to take pictures in! It was so much fun! I actually wanted to lie down and play dead but was afraid that the casket might tip over!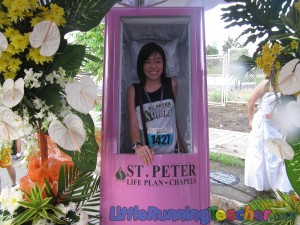 I was also glad to see a stage and 2 emcees hosting the entire event! It made the whole thing livelier and much cooler!
.
Winners and Prizes
The top 10 males and females for each of the race category received awards! Medals for the top 7 through 10 and trophies/cash prizes for the top 3! The top 3 finishers of the 10k category received 7thousand, 5 thousand and 3thousand respectively. The top 3 for the 5k and 3k also received huge amounts and a trophy! Who would've thought?
.
Beneficiary
The emcees showed the runners a huge check which amounted to around 550,000 pesos and thanked us for helping out. The 550,000 pesos was what they were able to make from the event, all of which was handed over as donation to the Bantay Bata Foundation! I'm still wondering up to now how they managed to pull it off. Lots of freebies for runners…great run…. and 550,000 pesos left to donate to Bantay Bata?? And let me repeat this one more time… FOR JUST 50 PESOS!
.
NOW THAT'S WHAT I CALL A FUN RUN!
We supposedly run because we enjoy the sport. We join running events for the adrenaline rush, for the personal record, for the prize and for the people. When I first started running, most runs only cost around 300 pesos. Now, registration for running events has gotten more and more expensive. 600 pesos seems to have become the baseline price. Several runners don't usually mind the price, but we do mind the experience. It does not feel right to pay a huge amount only to find out that the 10km run was short a kilometer, or that the event was not properly organized and others.
A Fun Run is supposedly FUN! Most fun runs have turned into a business that the FUN part has been taken out. Several organizers seem to be all about the money they will earn that they forget to take care of the runners during the event, and this is really disappointing. I will not say much anymore, but let me share again WHY the St. Peter Life Run turned out to be one of the BEST FUN RUNS I've ever experienced:
.

For only 50pesos, there were
race kits
singlets
loot bags
several free photo boots
casket for photo-op
cash prizes/medals and trophies for winners
and a beneficiary – Bantay Bata 163Foundation
.
I'm still puzzled up till now as to how this all happened. The run really gave me so much more than I expected! Hands down to St. Peter Chapels for a job well done! Congratulations on the success of your event! Happy 40th Anniversary!
.