I first went to Ocean Adventure in Subic back when I was still in high school. Back then, Ocean Adventure only had the sea lion and dolphin show. Today however, they've added 2 more attractions that will surely make both kids and adult not only have fun, but appreciate nature even more.
After roughly 8 years… I'm back! This time however, my friends and I got to spend the night at the Camayan Beach Resort! If you're going to Subic with your family or if you have a little extra time on your hands, I suggest you rent a room. Not only is the Camayan Beach Resort right across Ocean Adventure, but it's also right across the beach! So you're sure your vacation will be well spent..every minute of it!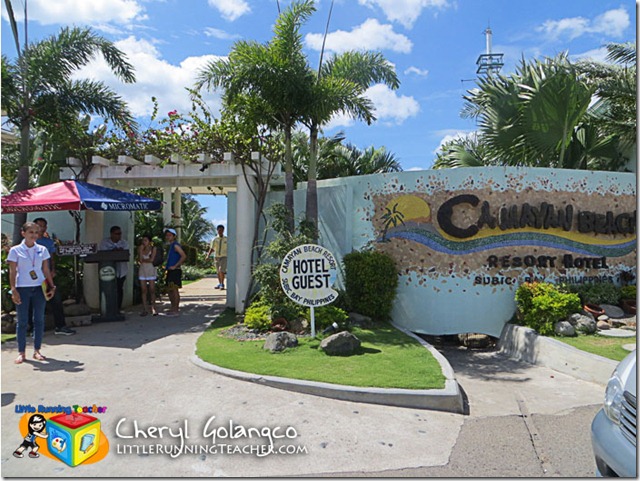 Ocean Adventure Field Trip for All Ages: Shows and Attractions
Walk on the Wild Side
The show started with one man talking about the simplicity of life back in the days. He puts on a short skit and pretends to cook a hearty meal with rice and soup using his bamboo shoots! Of course, the rice was prepared before hand but what amazed me is how he actually made fire by rubbing two sticks together! We all know that that's basically the concept, but this is the first time I've seen someone really do it and succeed!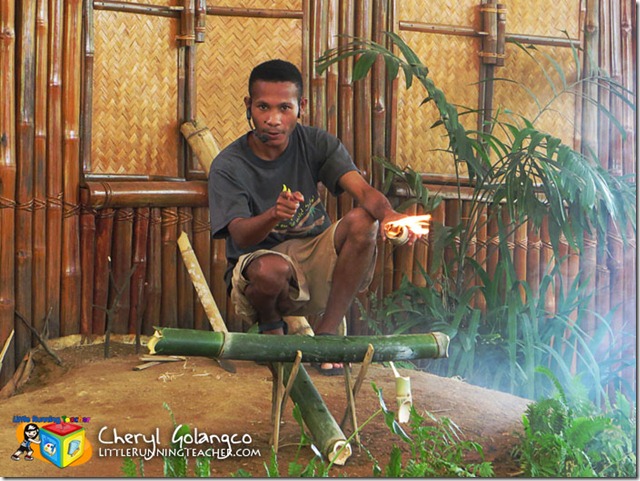 After the short skit, the different animals were led out one by one. (yeeeee, I was so excited!). As each animal was taken out, a little trivia was shared too! Animals blend with their environment through camouflage, though lizards and chameleons have probably won first prize, other animals also do the same. The owl for example had already been sitting by the side of the stage the entire time the first skit was done, but nobody even noticed!
Around 5 animals were presented! Most rare, other endangered, all of them beautiful creatures! The bat actually looked like a flying dog up close! hehe
The animals were gorgeous, but to make the show more interesting, a little audience participation was required. Did you know a snake's scales are actually smooth and slippery as opposed to others' belief that it's rough and slimy? To prove this, they asked an audience member up front to guess which one was the real snake by touching 3 different objects. Don't worry, it's completely safe and a lot of fun! The kids would love it too!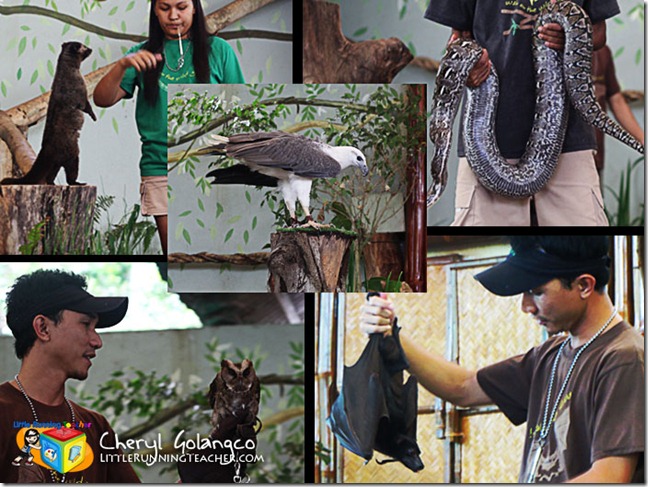 After the show, audience members were reminded that these animals were not to be taken home as pets. In fact, most if not all of the animals here were rescued! To adults, this information may be obvious (though a lot still disobey), but to kids who will soon be begging mom and dad for a new pet snake, well, this message is just right. If you want a pet, the most common are dogs and cats, which surprisingly were also part of the show! Super cute!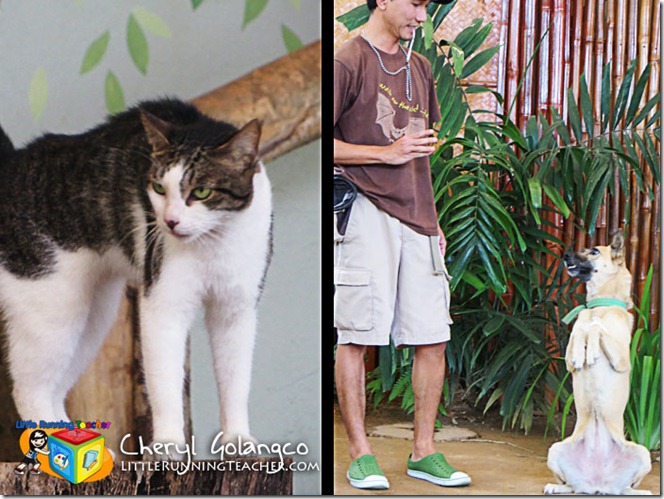 I didn't know you could train a cat some simple tricks. Hmm… I better start training my cat Chase! hehe
–
As a final reminder after the show, the animals all came out with their handlers bearing a message, reminding everyone to take good care of them. I am such an animal lover and that short message really moved me. Let's all do our part to make sure our animal friends live a happy life too!
The show wouldn't be complete without some photo-op moments now would it?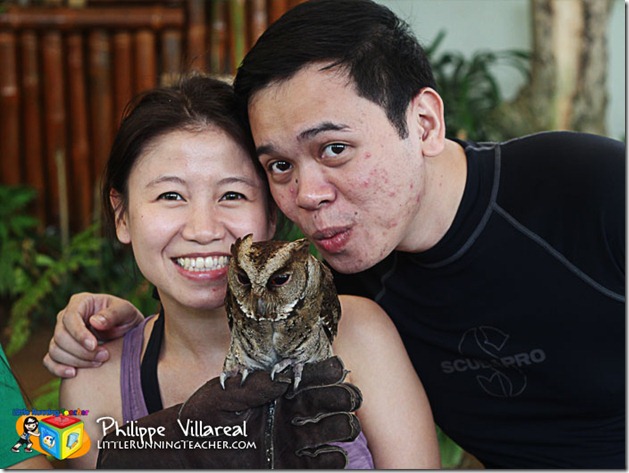 Husband and wife JoTan and Mark Davis Tan with their new baby owl! teehee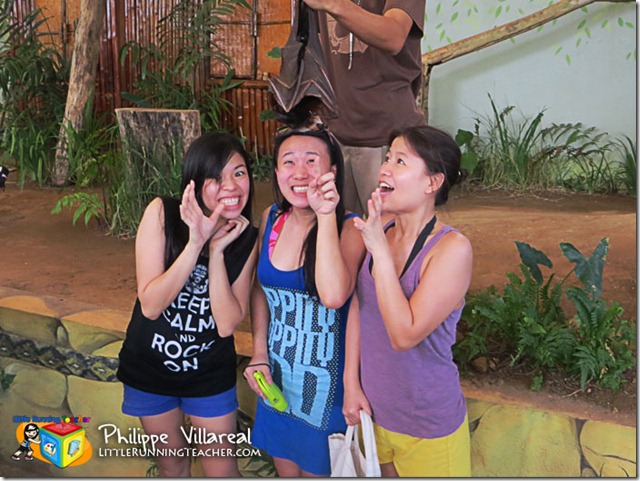 Batgirls: Me, Ivica and JoTan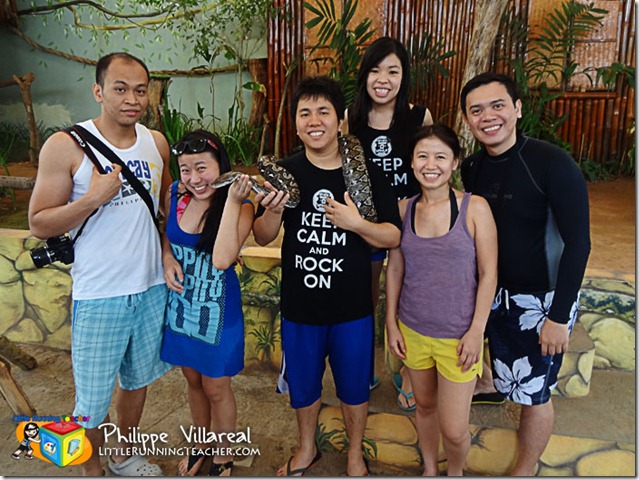 The When In Manila team with our new team mascot! haha kidding!
Balancing Act and African Acrobats
I am so bad at names and I apologize for not remembering their names, but during the first half of the Balancing Act, a short skit was played to show the audience just how much pollution the earth is accumulating and how we need to save it. All this was even presented through a song/rap and dance! Very very cool! Not only will the kids learn a lot about our world and how to protect it, but they'll also have a lot of fun watching this show.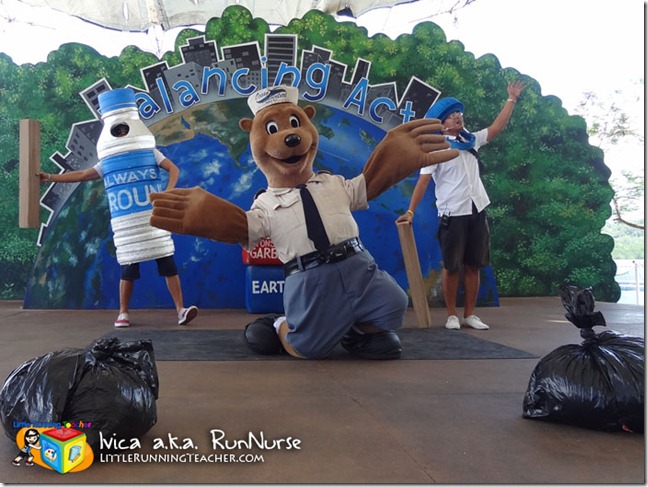 Kids will surely remember and LEARN what to do to save planet earth through their song and dance number
Then came the African Acrobats. 5 talented Kenyans from across the world did mind boggling and stunning acrobatic stunts! What was even more amazing was how FAST they were moving. There was no pausing in between or counting if it's time to jump or whatnot. They built the pyramid below faster than I could snap my fingers! Plus, they weren't just talented with the way they move but they were extremely funny too! They made up for the language barrier with their bodies and facial expressions.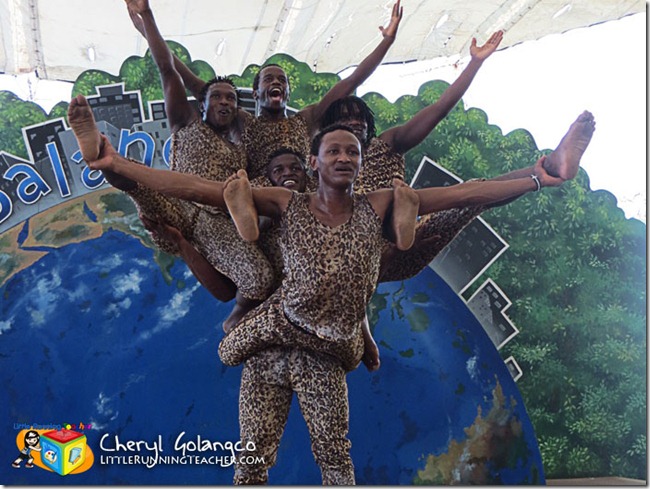 The pyramid was built in less than 2 seconds! Seriously!
A lot of audience participation was once again needed in this show. The When In Manila ladies in fact gave a shot at limbo with these guys!
This cute little girl's slippers loosened while she was jumping and she managed to put it back on without stopping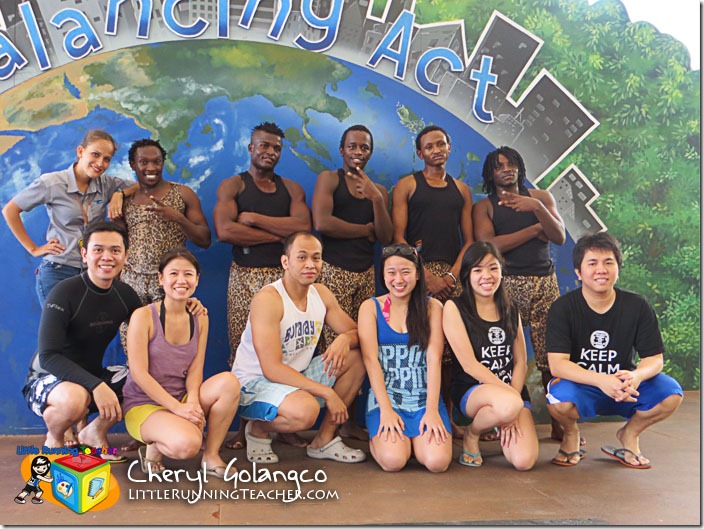 The When In Manila team and the African Acrobats!
Sea Lion Show
Next up was the Sea Lion show! Ocean Adventure's version has got to be the FUNNIEST I've ever seen! Before I talk about that though, check out their new amphitheater! It used to be just a simple solid stage, but now it's the complete set! I'm sure the sea lions are a lot happier too!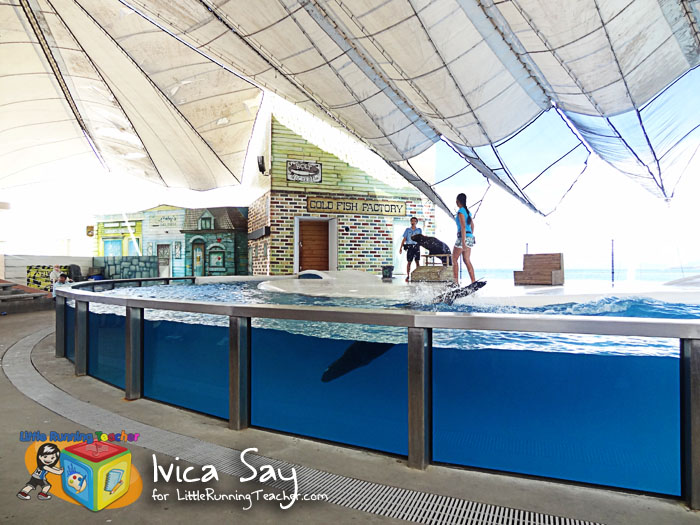 See that beautiful tank? The sea lions just love it!
–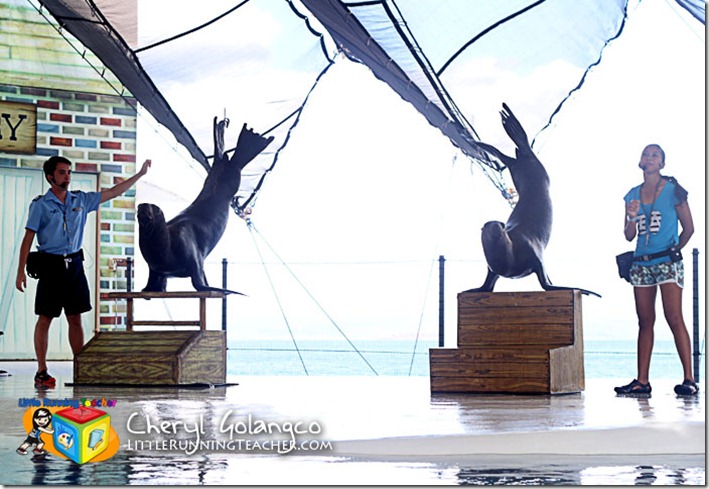 –
What made the show funny was mostly accidental. You see the sea lion on the right, Sophie is just a newbie in the business and is still under training. Well, after the first act, it was time for her to go in and rest for a while. However, Sophie seemed to enjoy being in the limelight and refused to go backstage. She would just walk to the door and quickly rush back out showing off all her skills. It was hilarious! Sophie was just soooooo adorable!
Before coming to an end, Sophie teaches her audience why throwing garbage into the water is dangerous not just for the earth but for our sea lion friends as well. So save a life and recycle!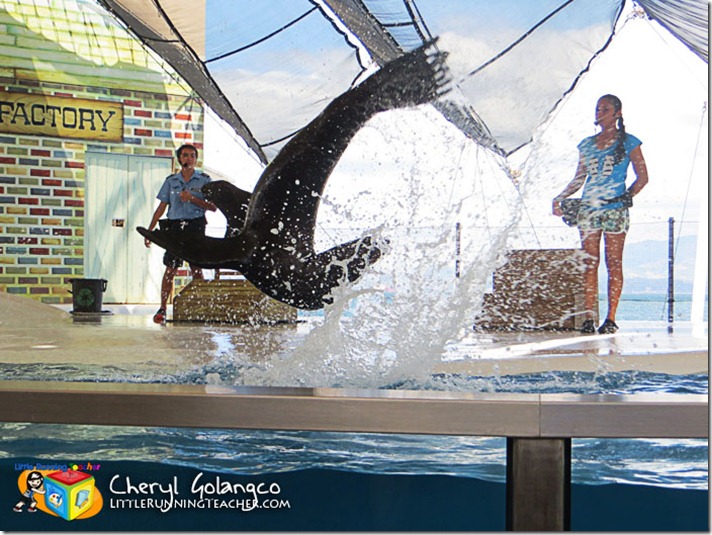 Check out Sophie showing off her mad skills!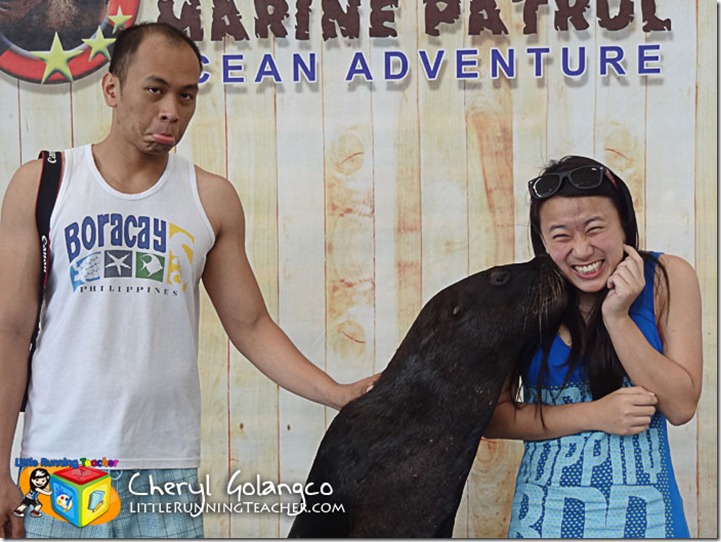 Ivica gets a wet kiss from one of our sea lion friends :)

 –
Dolphin show
We almost missed the dolphin show because we got so hung up on the sea lions! Luckily, we got to see them just as they were going jumping and flipping in the air. They were SOOOOOO beautiful! They put on a spectacular show, singing and dancing for everyone!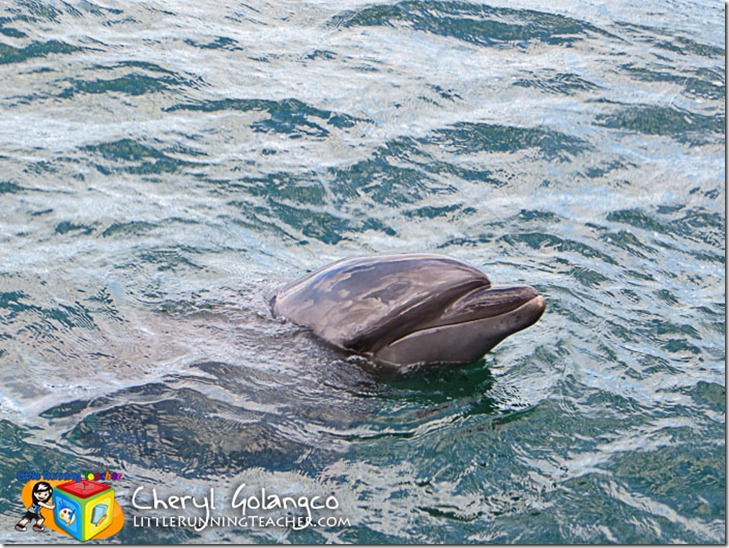 Just like the sea lions, these dolphins are also very sensitive. Plastics and harmful chemical thrown into the ocean could make them sick or worse, kill them. So again, please remember to dispose your garbage properly better yet, to recycle.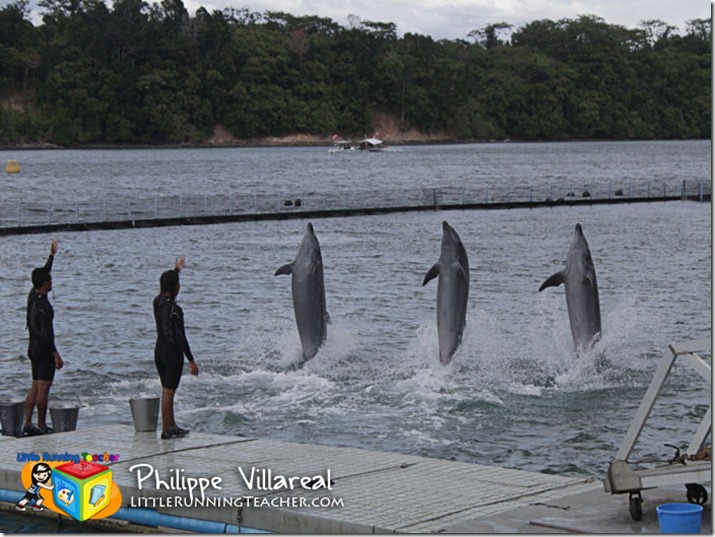 Synchronize swimming anyone? :)
–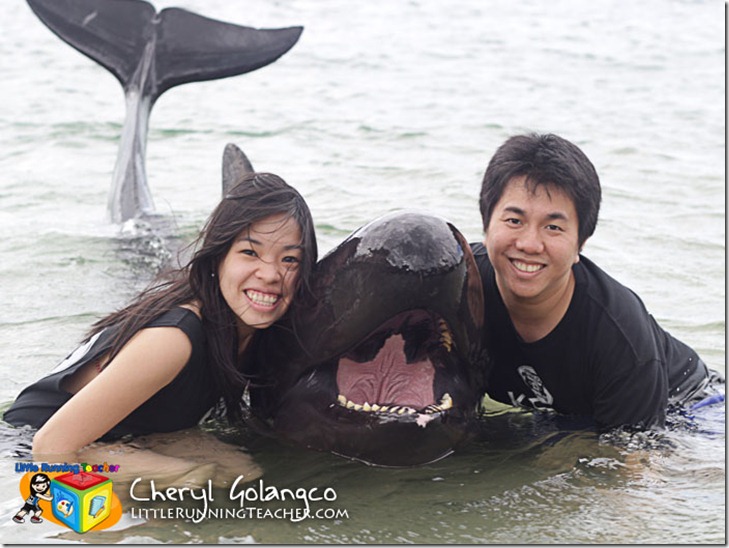 My photo-op moment with Tonka the false killer whale…oh and Philippe too!

So if you're looking for a place to bring the kids where they'll not only enjoy but LEARN a whole lot about the earth and all it's creatures, then Ocean Adventure really is the perfect place to go! I really really loved it here! It's the perfect place for ALL AGES!

Ocean Adventure
Camayan Wharf,West Ilanin Forest Area, Subic Bay Freeport Zone.
Telephone Nos. +63 (47) 252-9000, +63 (47) 252-5885
Fax No. +63 (47) 252-5883
http://www.oceanadventure.com.ph