Last year, my brother's website, WhenInManila.com was invited to attend the first ever BLOG THE BEAT. As one of his senior writers, I took on the project and got to meet several interesting people. Moreover, all attendees in last year's event were given tickets to watch Switchfoot's 2011 Manila concert! Nice!
BLOG THE BEAT: Bloggers' Night
I usually feel shy and look quiet when attending blog events. Those who know me know that this is quite the opposite of who I really am. Unfortunately, socializing does not come as easy for me as it does for others. I always scramble for the right words to say or phrases to comment. Fear often gets in the way, especially if the bloggers are grouped among friends. I never know how to interrupt to introduce myself and make friends. This is one of the reasons why I enjoy attending Blog the Beat.
In last year's event, everyone was given these BINGO cards which had "trivia questions" on them instead of numbers. E.g. this person can do a Dark Vader imitation. The goal was to go around the room and mingle with people to find the person who can cross out that item for you. The first one to complete the card wins. I knew I had NO CHANCES of winning because I didn't know how to approach people, but I still had fun anyway as I met a handful of bloggers and friends that night.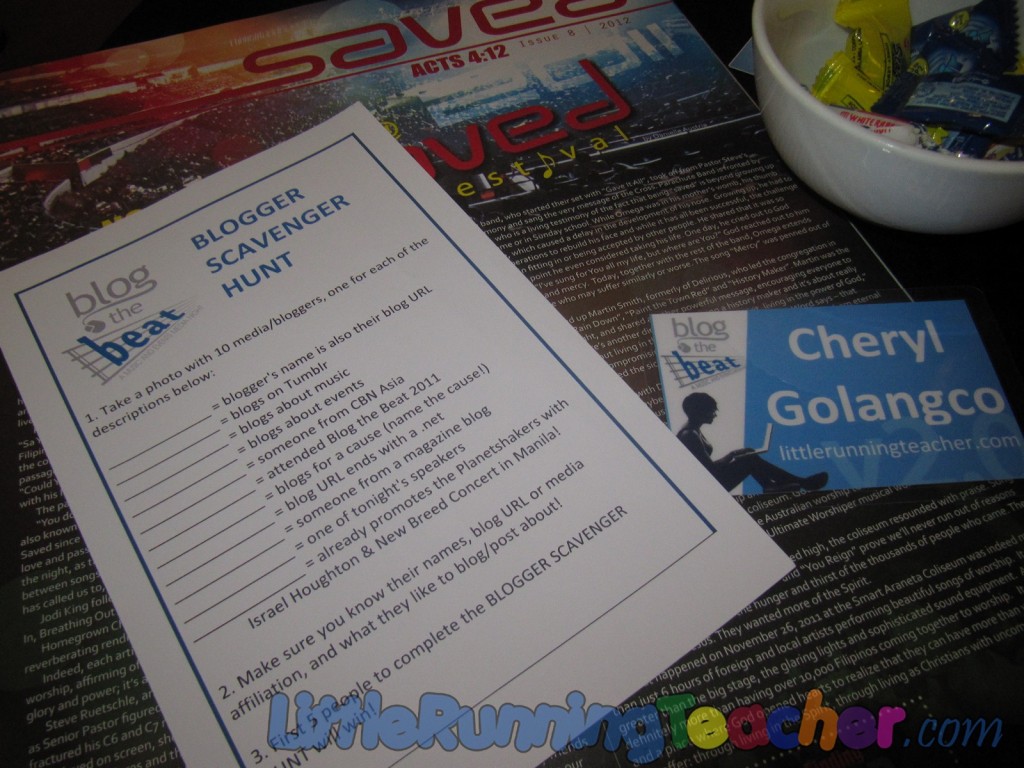 Blog the Beat 2012 scavenger hunt
This year, another ice breaker game was given upon arrival. This time, it was more specific and geared towards the bloggers. There were 10 items such as "Blogger's name and url are the same", "Blog ends with .net or .org", "one of the speakers in tonight's event". Unlike last year, I was determined to FIND ALL THE BLOGGERS who could help me win! So I MINGLED. I was quite happy that my fear did not take over this time around and I was blessed to meet several inspirational people that night! I wish I could've written down their names and blogs on a separate paper 'coz I can barely remember them. SHOUT OUT to my new blogging friends, if you were one of those people I met, do leave a comment with your name and URL!  THANKS!!!
BLOG THE BEAT: MEET THE BLOGGERS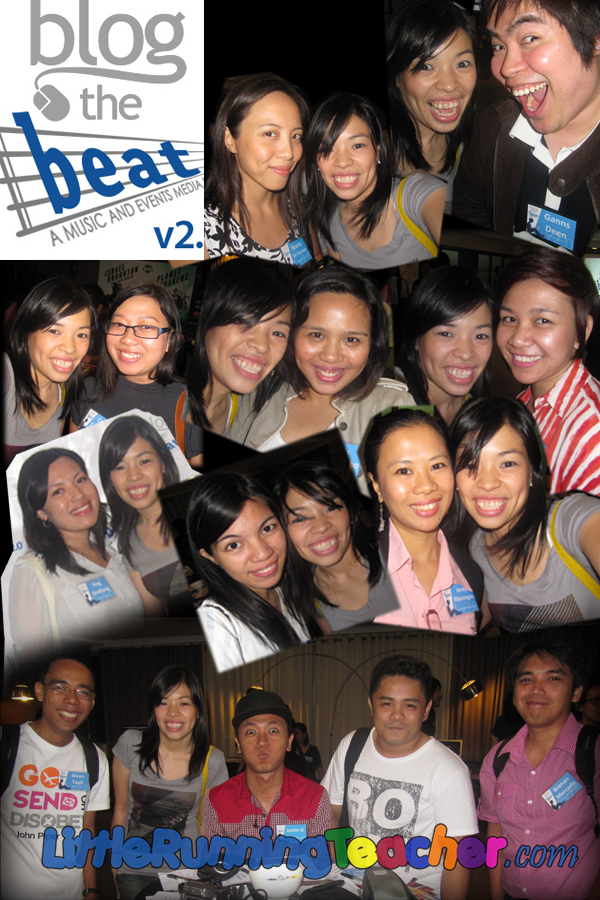 New blogger friends at Becca Music's Blog the Beat
 I can't remember most of the people I met, but one person I do remember was Jenny. She has a blog called Manna for Jenny on Tumblr where she writes about regular people who do amazing things! We don't need someone famous to inspire us 'coz if you hear stories from random people, you'll be amazed at how much you're missing. I was really inspired with her blog. She even shared how she used to write about various beauty products until she one day realized there was something missing… after a heartfelt prayer to the Lord, her questions were quickly answer..hence her blog! Keep doing what you're doing Jenny and may God bless you even more!
I came to the event with Ivica from RunNurse.wordpress.com and was also glad to see fellow runner Noelle de Guzman from kikayrunner.com. Other bloggers present that night were Jeman Bunyi from OrangeMagazine.com, Ting Sindiong from WhatMagInc.com, Iris Camacho from NapTimeRocks.com, Ganns Deen from GannsDeen.com and also radio DJ in Energy FM's SAVED (Every Sunday 8pm-12pmn), Justin from justinbreathes.com and many more! I was also thrilled to meet representatives for my brother's site, WhenInManila.com, Mitzy Uy and her friend (Sorry I can't recall the name.. PLEASE REFRESH MY MEMORY)
BLOG THE BEAT: A SOCIAL RESPONSIBILITY
On TV, actors, news reporters and other TV personalities need to follow a set of rules as set by MTRCB. They are not allowed to curse or to dress inappropriately, they are not allowed to be too violent or gruesome, etc. The same goes for radio DJs and writers or editors of newspaper and the like. However, when it comes to bloggers… we are able to experience ALL THE FREEDOM in the world. We can write whatever we want about whoever we want! There is only a very thin line and small set of rules to follow but mostly, it's freedom of speech! As quoted from Spiderman, "with great power comes great responsibility." We have the power to influence people, to change minds and to mold characters… so how do we use this power?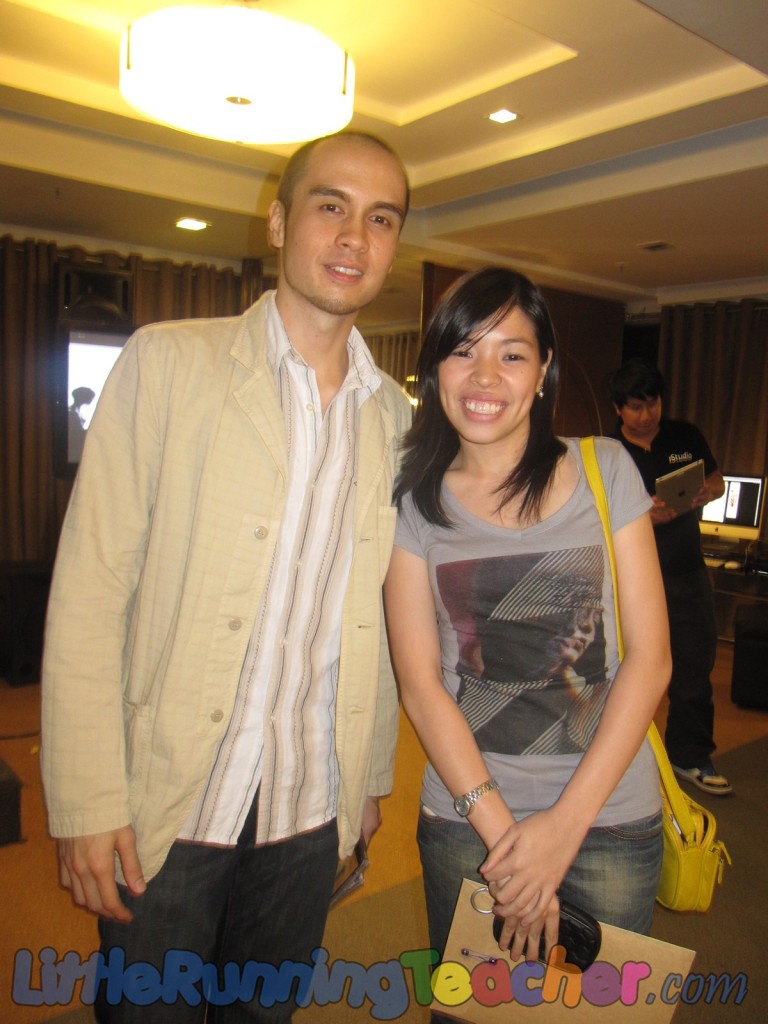 With Blog the Beat host and commercial model Judah Paolo
Blog the Beat's 2012 host and commercial model Judah Paolo shares how irresponsible blogging can deeply affect other people. He lost a GREAT opportunity because of one blogger's absurd idea of amusement. Back when he was just starting in the media industry, a big company had contacted him to be a speaker at a certain school. He was thrilled and excited as this would be his chance to talk to people as well as share God's word. However, a few days before the event, he was one again contacted as they delivered the bad news claiming he can no longer be their speaker. In shock, Judah asked if he had done anything wrong. It was then explained that a NUDE PHOTO of him was photoshopped by a certain blogger and was now circulating in the internet. This blogger somehow thought it would be funny to put Judah's face on a naked man's body and did not realize the consequences of his actions. To him, this may have been nothing but a silly prank. To Judah however, this was an opportunity missed because of someone else's carelessness and perverted idea of a joke. With a simple stroke of the mouse and click on the keyboard, someone's life was already ruined or scarred.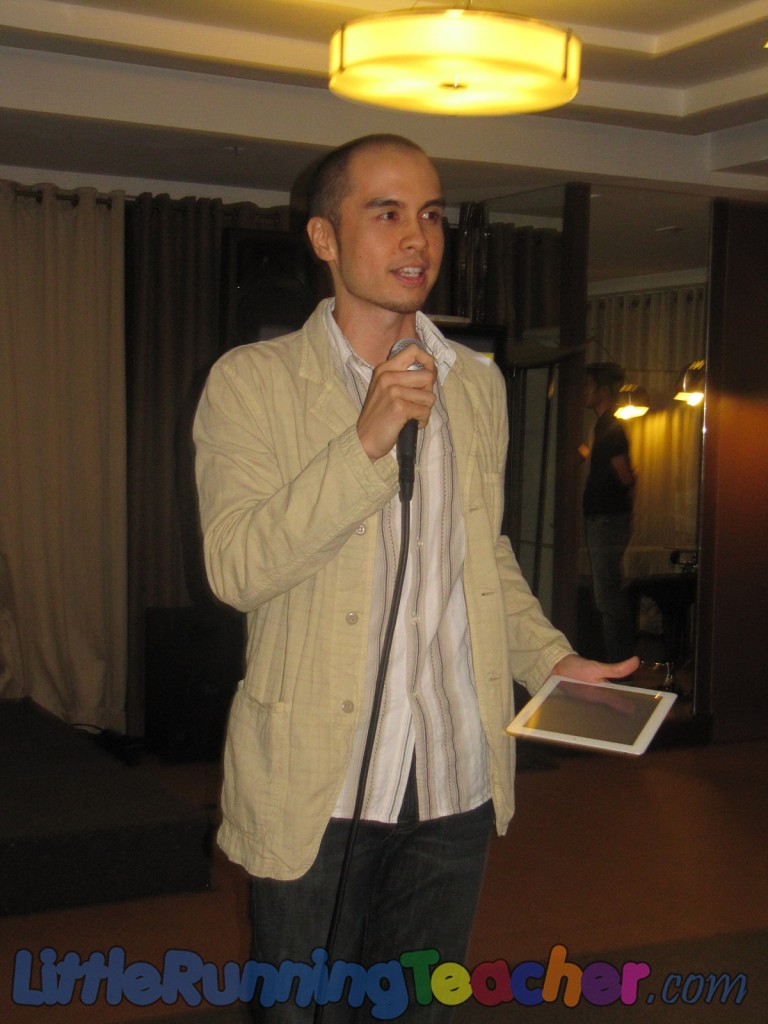 Blog the Beat 2012 host Judah Paolo
BLOG THE BEAT: CALL OUT TO ALL BLOGGERS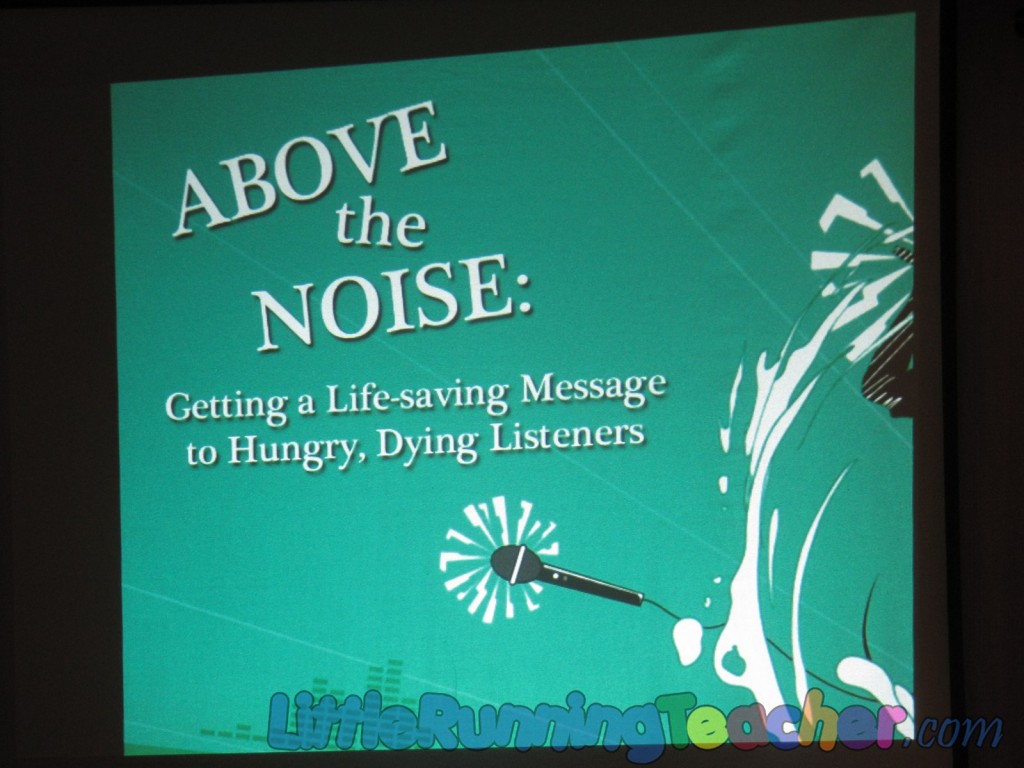 We blog to share our thoughts; we blog to promote events; we blog to promote people, things and places we want to share to others. However, though blogging comes for free and it is simply one way of freely expressing ourselves, let us also learn to be cautious and not abuse this power. Before writing anything for the world to see, let us think for a second if it were right or wrong.  I'm not telling you to lie, I for one would hate to strongly promote a product which I myself did not believe in. If that were the case, you could opt to just NOT write about it or simply write a short paragraph and let the people comment with their own thoughts on the product. You could even personally email the owner and suggest ways for improving their product. They would appreciate this MUCH MORE than a bad review on the internet or complete SILENCE from the blogger's end.
Looking forward to Blog the Beat 2013!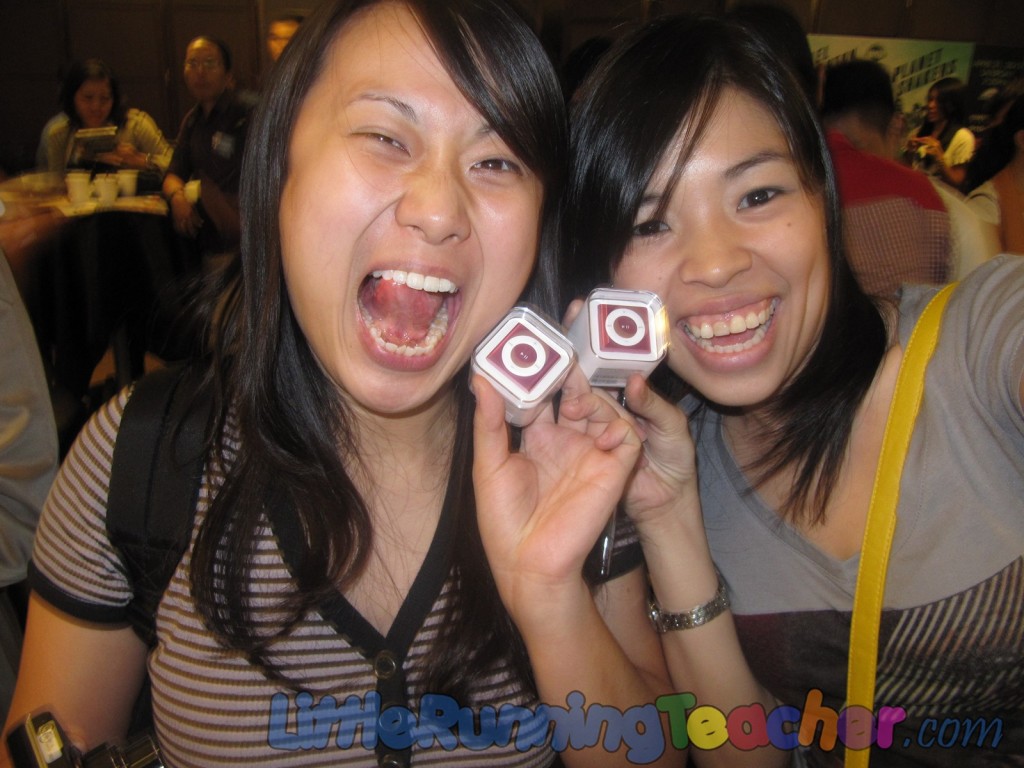 Lucky winners at Blog the Beat 2012
The night was full of lessons and testimonies which were all moving and worth hearing. I met a lot of wonderful people and had a lot of fun! Ivica and I even won Ipod shuffles… PERFECT for our SUNDAY RUNS! Others won tickets to the Planetshakers concert, and others still won some Christian books. It was really a very intimate and wonderful event, and was the perfect venue and way to meet all these bloggers! Thanks BECCA music's Regina and Najee for inviting me again! See you in next year's BLOG THE BEAT? :)