On April 21, the Planetshakers will be having a back to back concert with Israel Houghton and New Breed are coming TO MANILA and performing at the Smart Araneta Coliseum! Don't miss the chance to be part of this historic collaboration between two of the most well-loved Contemporary Christian artists!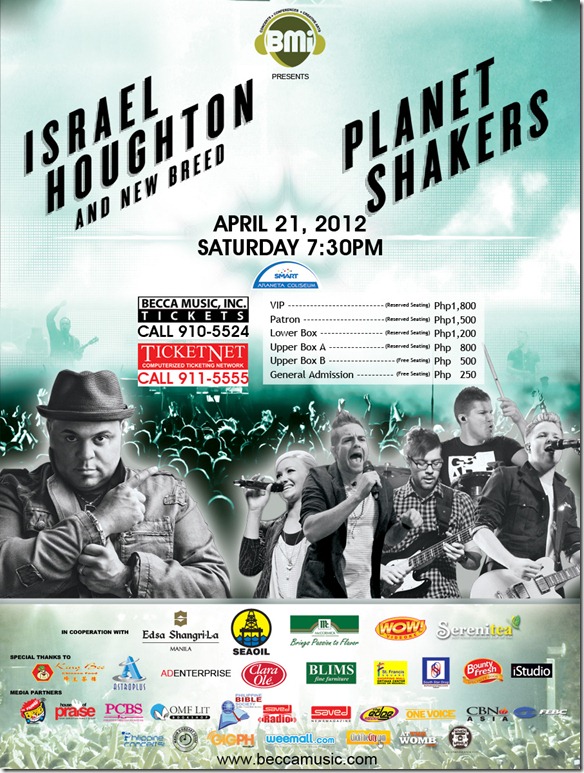 BECCA MUSIC INC. presents…..
What: The Planetshakers with Israel Houghton & New Breed
When: April 21, 2012 (SATURDAY)
Where: Smart Araneta Coliseum – 7:30PM! Gates will open at 5:30PM
Ticket prices:
VIP (Reserved Seating) – Php 1,800
Patron (Reserved Seating) – Php 1,500
Lower Box (Reserved Seating) – Php 1200
Upper Box A (Reserved Seating) – Php 800
Upper Box B (Free Seating) – Php 500
General Admission (Free Seating) – Php 250
THE PLANETSHAKERS

The Planetshakers is an Australian youth and worship band that was formed during the a conference in 1997 which was also called planetshakers – hence the name of the band. The Planetshakers is a Christian band whose passion is singing for the Lord, our God! "Their heart is to see people encounter God, be transformed by His presence and empowered to make a difference in their world." In order to do this, they make and perform beautiful Christian music in hopes that a song or two might get through at least one person and maybe draw that person closer to God.
I don't know most of their songs yet, but from what I've heard.., If you want to be moved, then this is one concert you shouldn't miss! Here's one of the songs I really enjoy listening to by the Planetshakers, it's called
"HERE I AM"
ISRAEL HOUGHTON
"Israel Houghton on the other hand is well known for injecting contemporary gospel and worship with a blazing energy that has made him one of the most influential tastemakers in his field." More than just a singer, Israel Houghton also composes music, produces songs, plays a variety of instruments and a worship leader! "He has created a canon of songs that have become standards in houses of faith around the globe!"
Again, I don't know most of Israel Houghton's songs either, but here's one song I really enjoyed listening to. It's a really good song to remind us all of God's love for us! The title of the song is,
"HE KNOWS MY NAME"
I won't pretend to be a bona fide Christian… 'coz I'm not… but I'm getting there. I don't often talk about my faith, but trust me, it's there. There were several moments in my life where I felt lost, depressed and no where to go… and somehow God always found a way to let me feel his presence. To me, a song is more powerful than we give it credit for. I love listening to a variety of songs and music, but when I'm sad and down, nothing makes me feel more blessed and loved than a good Christian song.
So join us as we worship the ONE TRUE GOD at the Smart Araneta Coliseum on APRIL 21, 2012 – 7:30 PM with the PLANETSHAKERS and ISRAEL HOUGHTON & NEW BREED!
Reserve your seats today!
Call BMI (910.5524) or Ticketnet (911-5555) for tickets.
You can also reserve your seats online at www.beccamusic.com/reservations
Don't forget to also visit the official Facebook page at:
Official FB page: www.facebook.com/israelhoughtonandplanetshakersphilippineconcert
The Planetshakers and Israel Houghton in a Back to Back Concert