"The greatest discovery of my generation is that human beings can alter their lives by altering their attitudes of mind" –William James
Remember when you were young? You believed you could do anything! You believed you could be a superhero and fly like superman; you believed you could swim in the 10 feet deep pool even if you were only 3 feet tall; you even believed you could understand the secret language your toys used. We were not afraid of anything and so adults often had headaches trying to stop us from hitting our heads or breaking a bone. We believed we could be anything we wanted to be! We were proud. But somewhere along the way, all this changed. We started feeling insecure and unsure. We started doubting ourselves and our abilities. We're still the same person… so what changed? It's our mindset.
We often complain about the things we don't have, and the easiest thing to do is often to blame others. However, did you ever stop and reflect that maybe it's your attitude that's getting in the way?  Though often overlooked, our mindset and positive thoughts contribute a lot to the decisions we make and the life we live.
If you're tired of the way your life is going and you feel it's about time to change it, then let me invite you to attend The Power of Mindset. For the first time, Chinkee Tan, life and wealth coach will be joined by best-selling author and motivational speaker Francis Kong as they share the true and often neglected POWER OF MINDSET.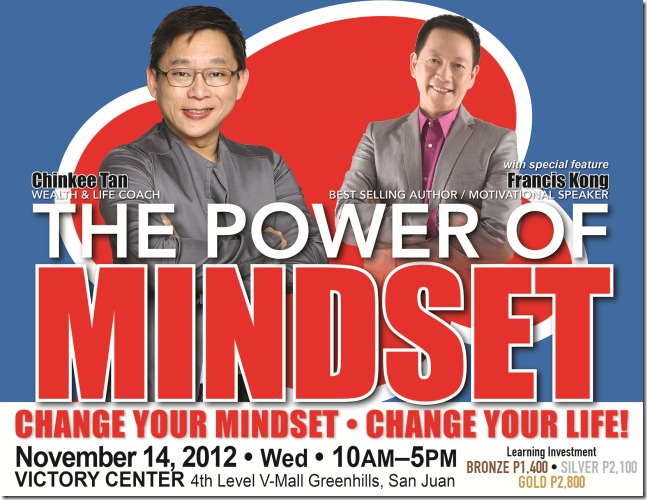 When: November 14, 2012 (Wednesday) from 10am to 5pm
Where: Victory Center (4th Level V-Mall Greenhills, San Juan)
Speakers: Chinkee Tan and Francis Kong
Learning Investment:
Gold 2800PhP

Silver 2100PhP

Bronze 1400PhP
If I were you, I'd grab a ticket as soon as possible!
For tickets you may text Ivan at 0922-859-5945
Remember this, it is your ATTITUDE that will determine your ALTITUDE in life.