I wasn't planning to blog about this, but since several people have been asking me what happened to the camera…. here it is!
Last Tuesday, September 21, I got into a cab empty handed and walked out with a DSLR camera. It was left behind by the owner, and I decided to take it home. HOLD ON…. I decided to take it home and FIND the owner!
I carefully looked through the bag and was disappointed on not finding a cellphone or any item that could give me contact details of the owner. I then browsed through the photos and found several pictures of Nike Dunks. That was my first clue!  The owner must be an online seller! There was a notebook and several receipts in the bag! All had several names written on them that I had no idea which of them was the owner! I then decided to post a blog!
While writing the blog, I realized how easy it would be to find the owner. First of all, I HAVE a website, this would allow me to easily share an article to the world! Secondly, my brothers are both Radio DJs! My eldest brother, Vince Golangco is a DJ on Mellow 94.7's G-spot and is chief editor of WhenInManila. My second brother, Kent Golangco is a DJ on 99.5 RT's GRAVYSAUCE. They both allowed me to broadcast the news even more through their shows and websites.
.
FINDING THE OWNER

Just a day after posting the blog, I already had several people giving me tips on how to find the owner. I tried several of these but none of them worked. So I browsed through the receipts one more time! (Sorry to the owner if it became a little messy). While browsing, I noticed 3 receipts which stated that the person had just purchased something of great value. There's a big chance that the owner of the bag is the one who purchased the big order since he/she is an online seller. Moreover, it was the only name that appeared more than once. I decided to search the person's name on facebook but did not have much luck. So, I tried searching via Multiply. Since Multiply has now turned into an Online Marketplace, I was sure to find something about the owner. And to my luck, I came across an online shop bearing photos of the same shoes (with the same background) as those in the camera! As much as I wanted to contact the owner already, I wanted to see a sign that the owner had been missing something. I just wanted to be sure. So, I waited a day or two.
I continuously investigated…and soon I was 90% sure that this was the owner. I hadn't been able to load my cellphone yet so I was unable to text/call the owner. What I did was add the online shop via facebook and message the owner through YM. 2 days had gone and still no response. Saturday morning, I loaded my phone and texted the owner.
.
CONTACTING THE OWNER
The owner immediately called me and I could already hear the joy in her voice! She could not believe her camera would still be returned! She felt blessed but so was I. It's always a joy to make people feel this way, and I was glad to be part of it. We were unable to meet that day due to our conflict in schedule, so we met the day after. Turns out, the owners did not want their parents to know about the lost camera, hence they did not post anything about it…which actually made finding them a lot more difficult. (really lucky that there were receipts in the bag)  They actually offered to give me a pair of shoes from their online shop as their way of saying thank you. And I was REALLY REALLY tempted to take the offer, but I really did not need anything of monetary value in return. Their smiles and thank you's already meant a lot. So we met the following day, and the camera was returned.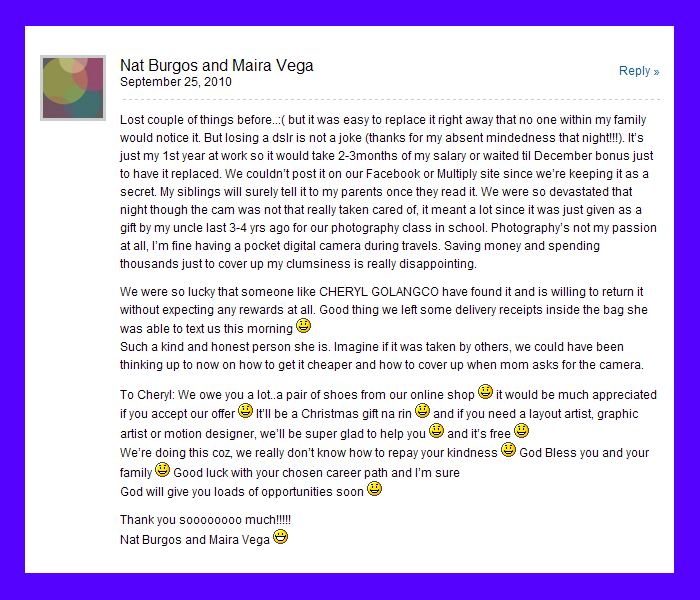 .
A message from the owners
.

.
BLESSING IN DISGUISE
.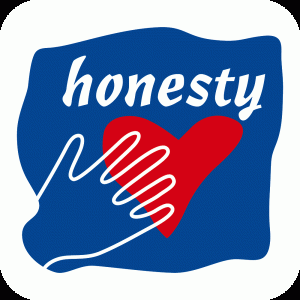 For several weeks now, I had been looking for a graphic artist to help me with my logo. I made the logo (rubber shoes with paint) on my fanpage myself but did not really love it. I wanted something more but had limited photoshop skills! I asked several friends to help me out, but most were too busy. I was just about ready to hire a graphic artist, and was already wondering how to pay for it. And guess what, as if God had planned it Himself… the owners of the camera turned out to be graphic artists and web designers! and they offered to make me a logo for free! It really amazes me how this whole thing worked.It pays to be honest.
I don't really want to pat myself on the back here, but there are seriously only a few people (especially in our 3rd world country) who would return something of great value such as a DSLR camera. I am proud to be one of these people, and I am proud to have family and friends who also belong to this group. So next time YOU find something that's not yours, try your best to find the owner before deciding "Finders Keepers"