For the past 5 years, Rexona has been hosting the already-iconic Rexona Rn where running, fitness and fun are combined into on spectacular event! For those who've experienced some of their runs, we all remember Rexona for their unique take on making fun runs extra fun! Each year, they would surprise runners by introducing something new for us to look forward to. For the past 2 years, the Rexona music run became among crowd favorites.
This year, Rexona refreshes it annual fitness event and takes it to the next level to celebrate inclusivity and diversity. As a brand synonymous with superior performance and fitness, Rexona brings us the first ever Rexona Fitness Festival, or the RXN FitFest on November 14 at the SMX Mall of Asia Hall 1.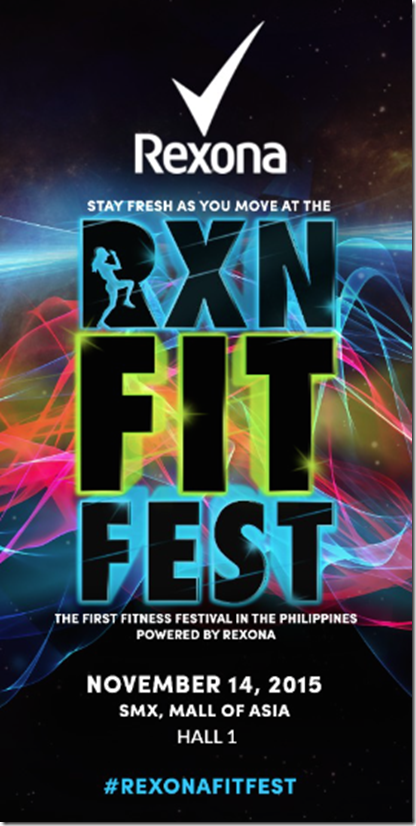 This year, the number one deodorant in the world collaborates with the top fitness clubs in the country for a one-of-a-kind fitness event that offers different ways for people to get fit and stay fresh as they move.
Rexona is collaborating with three of the top fitness clubs for the RXN FITFEST to bring you the best and most fun workouts offered in the Metro: 360 Fitness for Circuit Training, Plana Forma for Yoga Cardio and Fitness First for Body Jam.
Rexona Fitfest 2015
When: November 14, 2015 (Saturday)
Where: SMX, Mall of Asia Hall 1
Time: 1:00 – 8:00pm
Rexona Fitfest Registration Details
Online Registration via SM Tickets
Registration Fee:
Early Bird Rate (Until October 17)
ALL DAY PASS- P700
YOGA CARDIO -P350
CIRCUIT TRAINING – P250
BODY JAM – P250
Regular Rate:
ALL DAY PASS- P750
YOGA CARDIO -P400
CIRCUIT TRAINING – P300
BODY JAM – P300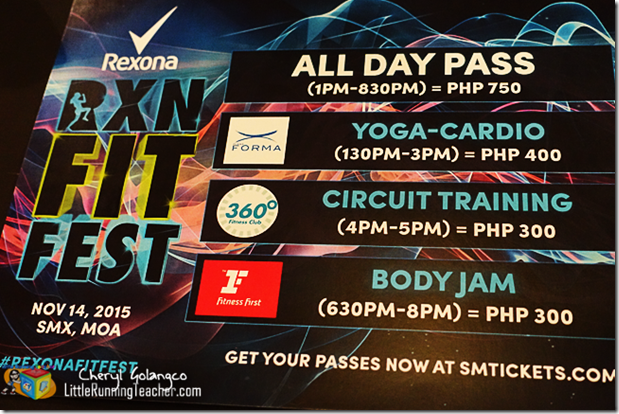 The Fitness Festival itself will feature classes from each of the 3 partner gyms. Participants can either sign up per class for as low as PHP300, or get the all-day festival pass that gives them access to all 3 classes at only PHP750. All participants will be receiving festival kits specialized per class with lots of freebies!
To kick off with a good warm-up, Plana Forma brings your heart rate up with their cardio-infused yoga workout that stretches the limits of flexibility and balance. For high intensity, 360 Fitness, together with its Fitness Squad members Dominic Roque and Janina Manipol, will lead in a 90-minute circuit training class designed to enhance strength and awareness of the body. Finally, Fitness First, will get the party started with a dance-heavy workout that challenges coordination and stamina.
Rexona Fitfest Preview
In  the past few weeks, bloggers and members of the media got a sneak peek on what to expect on November 14! It was definitely a LOT of fun, but HEART PUMPING at the same time! We were sweating like crazy in just one class! Still, I challenge you guys to take ALL 3 classes at the Rexona Fitfest and test your limits! Your body will thank you later.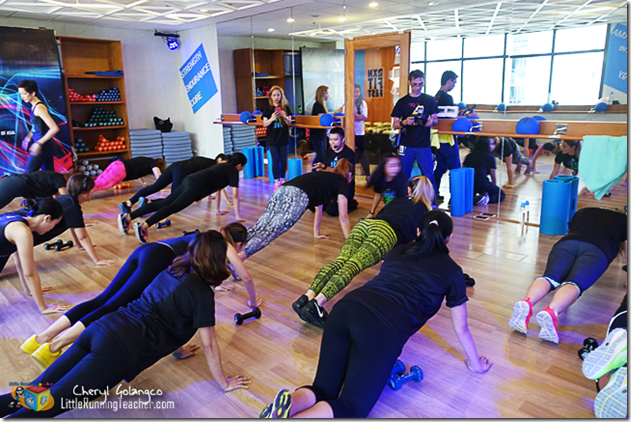 Dance and yoga with Plana Forma – I didn't think I'd sweat so much after this!
 Coach Chappy modifies circuit training with 360 PRO! High intensity workouts in a short period of time!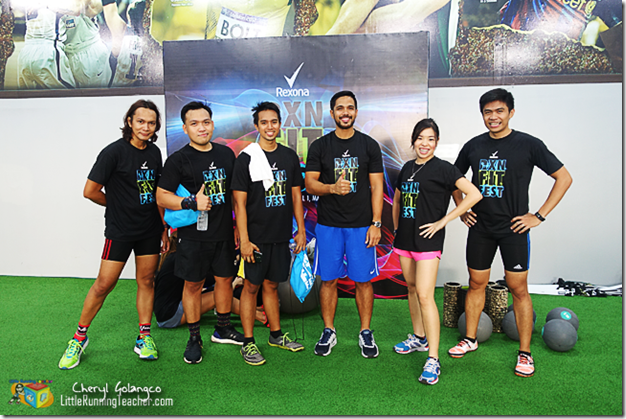 With Coach Chappy and some of the running bloggers after a short 30minute workout – 360 Fitness style!
–
For more information visit
https://www.facebook.com/RexonaPH?fref=ts
For updates on other runs or to just keep in touch
visit http://www.facebook.com/littlerunningteacherpage
twitter.com/cherylgolangco
instagram: @cherylgolangco