When going on a vacation, we need to make sure that the hotel we're checking it to fits us perfectly. A cozy room, a beautiful dining area, relaxing pool side and a gym that's complete with the equipment we need. Though a lot of people take a break from the gym when on vacation, there are still several who are dedicated enough to sneak in a few minutes of workout before devouring their delicious hotel meals. One thing however that I've noticed in most hotels is the size of their gyms. Most hotels have really SMALL gyms… as if it were a last minute idea. This however is not the case with Edsa Shangri-La's Health Club. Their gym is so big and world class that you might end up working out even if you didn't intend to.

Photo taken from Edsa Shangri-La's website
Last June 2015, Edsa Shangri-La, Manila introduced its newly renovated Health Club – the country's leader in lifestyle fitness, which aims to build a lifestyle anchored on holistic wellness under the supervision of internationally certified wellness coaches.
A first-of-its-kind, the Health Club pioneers the "Move, Refuel and Recover" concept, fusing state-of-the-art fitness programs with healthy food selections and the overall wellness expertise that CHI, The Spa is known for. The Health Club is a source of energy, pleasure and relaxation, which provides a way to attain and maintain a healthy lifestyle and well-being. So what exactly does it take to "move, refuel and recover?'
MOVE
The Health Club brings a unique workout experience with 5 dedicated fitness zones designed to offer non-intimidating workout environment ideal for all users of all levels. It boasts fully-equipped modern and innovative facilities to help achieve personal fitness goals.
The Up-to-the-Moment Cardio Section consists of state-of-the-art cardiovascular machines that features Internet connectivity, Swipe technology and smartphone-compatible custom-workout settings. Here, you get to check your heart rate on the monitor to make sure it is in the right zone. Similar to a circuit workout, you will be doing a variety of different workouts in a shorts span of time.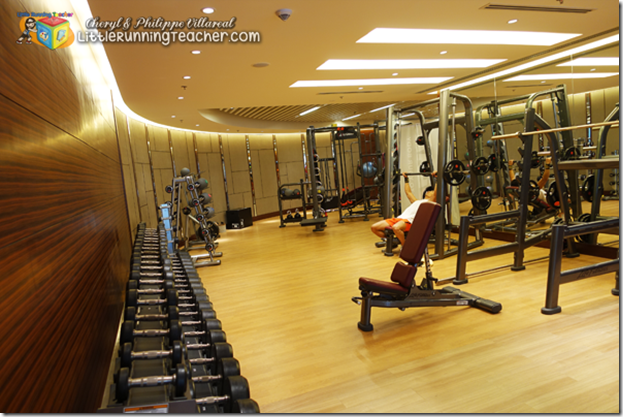 Get in action with the High-Energy Functional Training Zone highlighting Synergy 360s for various functional exercises along with a Boxing and Mixed-Martial Arts Section equipped with the revolutionary BoxMaster. The Boxmaster allows members to train boxing techniques and without a trainer. Since you'll be hitting a machine, might as well take out all your anger! (haha kidding!)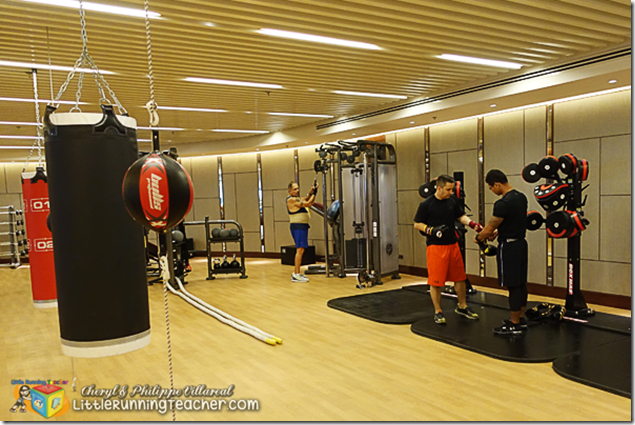 The Exclusive Triathlon Training Space provides world-class equipment – the Vasa Swim Ergometer, Google Map-powered Tour de France Bike and Treadmill. A dedicated Flexibility and Stretching Zone boasts the Flex Area by Pavigym and Stott-Pilates Spring Wall. I enjoyed "swimming" with their Vasa Swim Ergometer! At first, I thought it would be pretty easy but as I started "swimming" I realized all my muscles were really working!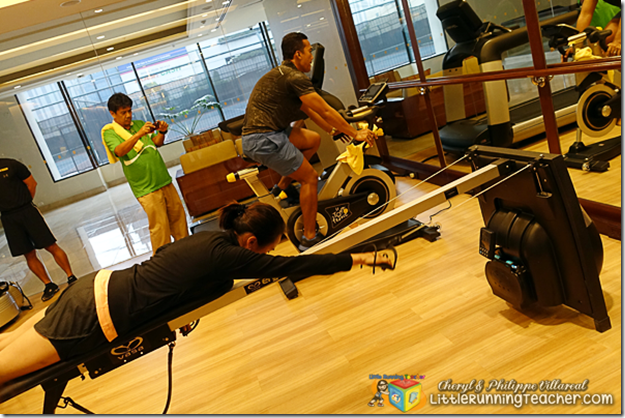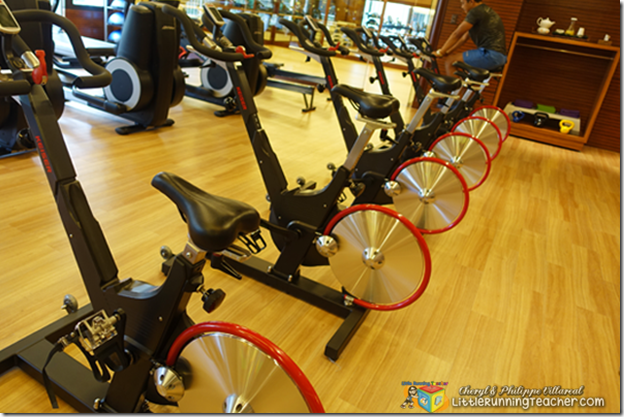 The hotel vaunts its free-form outdoor swimming pool set amidst a lush tropical garden for a deluxe resort feel with aqua fitness workouts and conditioning exercises; as well as its two tennis courts which offers a comprehensive training program under the supervision of international tennis training academy.
No fitness gear? No worries! The Health Club provides On–The-Go Kit containing on-loan items available for guests to borrow. Complimentary Signature Workout Programs and group exercises are readily available for specific needs and preferences.
REFUEL
Keep your engines running with the right balance of food and fluid intake after a workout session or a busy day in the office. The hotel provides healthy food selections through the Special Diet Concierge services; where you can also have your favourite meal prepared exactly the way you want it. A special menu card is also readily available displaying the healthiest options from the hotel's restaurants complete with calorie count in one menu and Well-On The-Go, guilt free snacks and energy bites for sale perfect for people who are always on-the-go.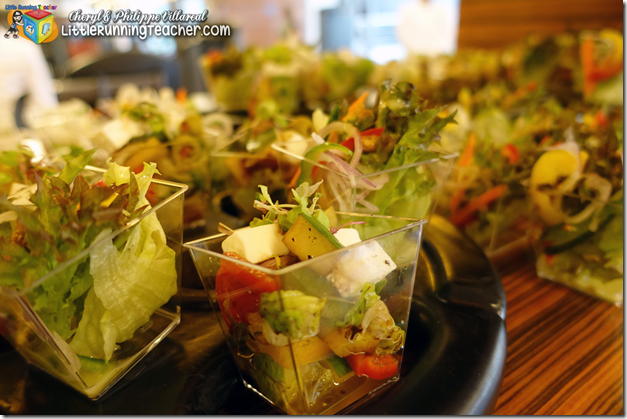 The Health Club serves infused-water concoctions for detoxification, fat loss or relaxation as well as instant energy booster shots to give you that extra push to finish your set.
RECOVER
Surrender to the world of calmness and timelessness with CHI, The Spa's signature treatments based on Chinese and Philippine healing concepts. This luxury spa features single, double and specialty suites, outdoor bathing facilities, poolside reflexology, yoga studio, library and meditation rooms.

Photo taken from Edsa Shangri-La Website
Guests may opt to enjoy CHI, The Spa signature treatments at the comfort and privacy of their own rooms and a good sleep program that offers pillow preferences for ultimate relaxation.
Complete your relaxation and post work-out recovery with Health Club's Hydrotherapy facilities featuring a Jacuzzi, cold plunge, sauna room and a steam room.
So what are you waiting for? Book you staycation at Edsa Shangri-la today and experience total wellness under one roof! Moreover, Edsa Shangri-la's Health Club is also open for membership! So if you live near the area and would want to workout in a place like this, then contact them soon and inquire their rates.
Edsa Shangri-la Hotel
https://www.facebook.com/edsashangrila/?fref=ts
1 Garden Way, Ortigas Centre, Mandaluyong City, 1650, Philippines
(63 2) 633 8888
Inquiries: http://www.shangri-la.com/manila/edsashangrila/contact-us/email-us/
–
For updates on other runs or to just keep in touch
visit http://www.facebook.com/littlerunningteacherpage
twitter.com/cherylgolangco
instagram: @cherylgolangco