Ever dreamed of studying in the UK? Well then this is the perfect opportunity for you to sniff around and find your dream school! It's time to INVEST in your EDUCATION and in your FUTURE!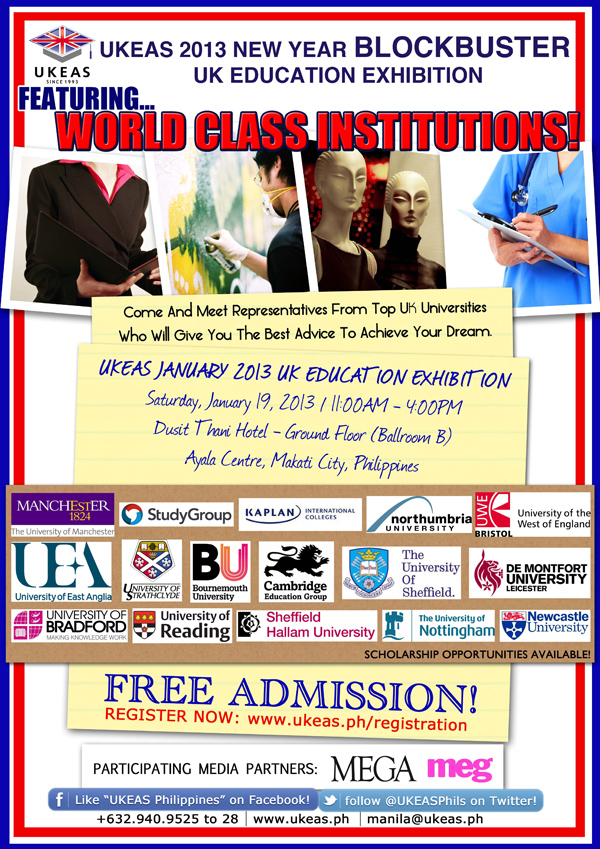 Ukeas 2013 UK Education Exhibition in the Philippines
UKEAS, the leading UK educational advisory agency in Asia, will hold its Blockbuster 2013 Philippine UK Exhibition at the Dusit Hotel this coming January 19, 2013.
Ukeas Philippines was launched back in October 2011 to provide free and impartial counseling and application services to any student who wishes to study in the United Kingdom whether it be high school, college and graduate levels. The company is committed to ensuring that FREE expert advice is given by highly trained counselors on all aspects of British education and furthermore, ensuring that each student finds the right course for his / her specific needs.
Ukeas 2013: What to Expect?
Immediate access to the Facts and Figures you need

One on One FREE Counselling

Offerings available for High School, Foundation, Undergraduate, Postgraduate and Short Courses in a wide array of subject not limited to:
– Business (MBA)
– Fashion / Design

– Finance and Management
– Law (JD)
– International Relations
– Computer and Informatics
– Creative Arts and Design
– Media (Film and Television)
– Music
– Language
– Literature and Creative Writing
– Philosophy
– Economics
– Engineering
– Medicine and Nursing
Ukease 2013 Details:
When: Saturday, January 19, 2013 from 11:00AM – 4:00PM
Where: Dusit Thani Hotel, Ayala Centre, Makati City
Pre-register by clicking this LINK

Ukeas 2013 Schools attending are:
University of Manchester

Northumbria University

University of Bradford

Cambridge Education Group

Newcastle University

University of West of England

University of Reading

Bournemouth University

University of Strathclyde

University of East Anglia

Sheffield Hallam University

DeMontfort University

University of Notthingham

KAPLAN International Colleges

University of Sheffield

International Study Centre UK & Europe

Istituto Marangoni
and many more!
**Scholarship opportunities will be available by a number of the universities!
UNITED KINGDOM EDUCATION ADVISORY SERVICE (UKEAS) PHILIPPINES INC.
Unit 301 GC Corporate Plaza
150 Legaspi Street, Legaspi Village
Makati City, 1229, Philippines
  Landline: 940.9525 or 28/ Fax: 940.9547
Email: [email protected]s.ph