Have you heard about this new trend call THE INTERNET? Of course you have… unless you've been trapped underground for the past 2 decades! There are billions of internet users around the world, and most fail to realize the power the internet has! Businessmen and entrepreneurs especially, do not yet realize how the internet is slowly taking over everything! If Starbucks became famous through word of mouth, your business can become known all over the world just by one click!
So my brother, VINCE GOLANGCO will be giving this really cool talk about THE POWER OF THE INTERNET on Nov. 13 and 20 at THE ONE SCHOOL! You guys should definitely check it out.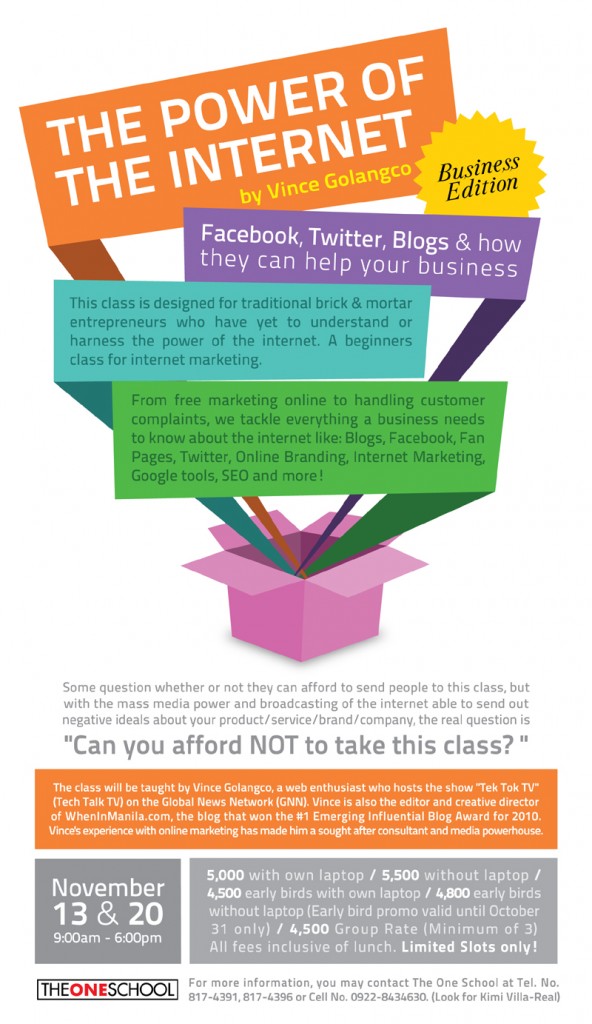 BUSINESS EDITION (Facebook, Twitter, Blogs and how they can help your business)
This class is designed for traditional brick and mortar entrepreneurs who have yet to understand or harness the power of the internet. A beginners class for internet marketing.
From free marketing online to handling customer complaints, we tackle everything a business needs to know about the internet like: Blogs, Facebook Fan Pages, Twitter, Online Branding, Internet Marketing, Google tools, SEO and more!
Some question whether or not they can afford to send people to this class, but with the mass media power and broadcasting of the internet able to send out negative ideals about your product / service / brand / company, the real question is "Can you afford NOT to take this class?"
–
The class will be taught by Vince Golangco, a web enthusiast who hosts the show "Tek Tok TV" (Tech Talk TV) on the Global News Network (GNN). Vince is also the editor and creative director of WhenInManila.com, the blog that won the #1 Emerging Influential Blog Award for 2010. Vince's experience with online marketing has made him a sought after consultant and media powerhouse.
.

SIGN UP NOW FOR EARLY BIRD RATES
(valid until Oct 31 only).
Limited seating. Call "The One School" to save your seat:
Phone Number 817-4396
Class Dates:
November 13 & 20 (Saturdays)  9am – 6pm
The One School
CHED and TESDA accredited
55 Paseo de Roxas Avenue, Makati City
Phone: 817-4391
http://www.theoneschool.org/