Mark your calendars because the Superkids Conference will be back this coming September 2012!!! Learn different issue and learning styles in Early Childhood Education, learn how to develop young children who will change the world and much much more! This is one conference you TEACHERS and PARENTS wouldn't want to miss out on!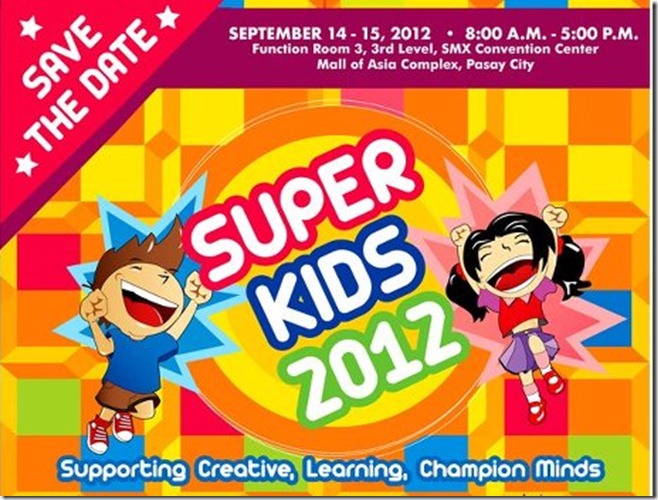 When: September 14 & 15, 2012
Conference: 8:00 A.M. – 5:00 P.M.
Where: Function Room 3, 3/F SMX Convention Center Mall of Asia Complex, Pasay City
Trade Fair: 10:00 A.M. – 7:00 P.M.
Where: Function Room 2, 3/F SMX Convention Center, Mall of Asia Complex, Pasay City
Superkids Conference 2012 Project Background:

Super Kids 2012 is a two-day Interactive Conference and Exhibition on Early Childhood Education that will once again bring together parents, teachers, educators, students and people who work with children under one roof.
The main speaker for this year's Conference is Dr. Thomas Armstrong – an author, speaker and educational consultant based in California, USA. Dr. Armstrong will focus on the topics of 'The Power of Neurodiversity' and 'Exemplars of Best Schools (Early Childhood to High School)'.
Super Kids 2012 also boasts of high caliber speakers from all over the Philippines. The speakers will share
their perspectives, opinions, skills and expertise; and provide discussions between sessions. There will be a variety of topics about Early Childhood Education that will help the participants to be prepared for the challenges that will confront us in the coming decade and beyond. Super Kids 2012 will continue to provide learning opportunities to further enhance the skills, capabilities and teaching strategies of the participants. There is also an exhibition that will run concurrently with the conference. The exhibition is an active learning experience for kids and kids-at-heart. It will showcase products, services, resources and information that will equip parents, guardians, educators and adults with the latest in child care and development, parenting, education and others.
Conference Program (as of July 3, 2012)
Emcee: Ms. Maricar Gustilo-de Ocampo
Co-Emcee: Dr. Francis Dimalanta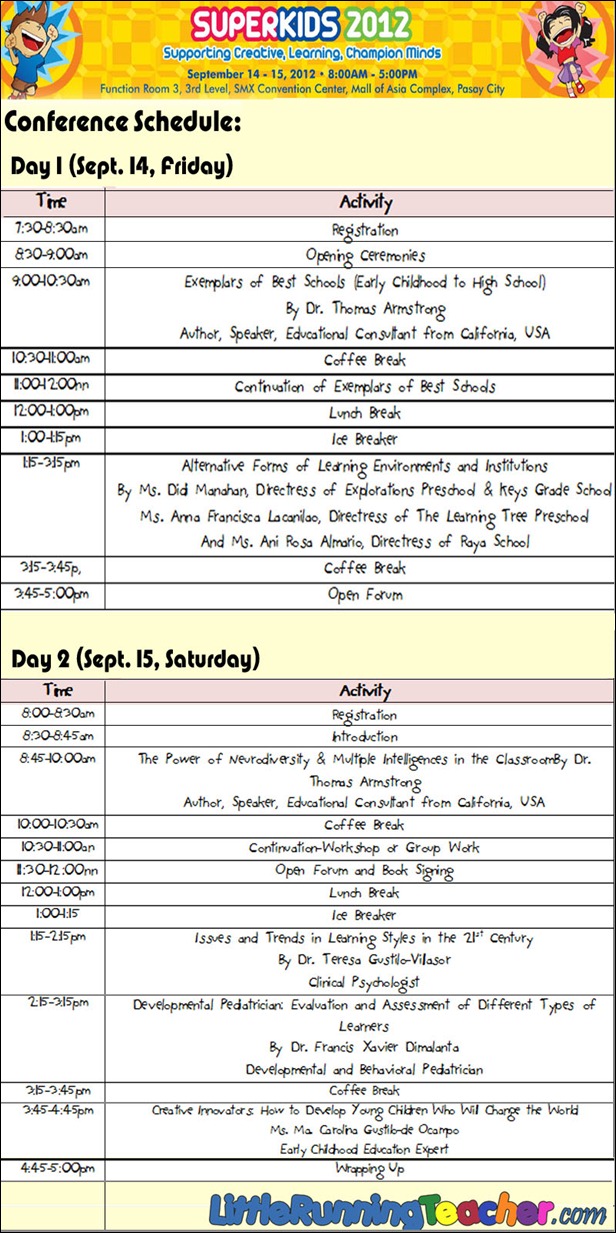 Who should attend?
Preschools and Nursery Schools • Developmental Pediatricians • Learning Support Centers • Sports Development Centers • Reading and Math Support Centers • Sports Development Centers • Alternative Schools • Play Dates Coordinators • Therapists • Expressive Arts Center • Parenting Support Centers • Parents • Teachers • Students • People who work with Children
Exhibit Profile

Art Schools/Arts & Crafts
Grooming Salons and Shops for Children
Baby Goods & Accessories
Healthcare & Wellness Products and Service Providers
Childcare Centers
Homeschooling Organizations
Culinary Schools/ Institutes
Indoor Playgrounds Suppliers
Dance Academies
IT & Telecom Products that are Child-Friendly
Dental Care Providers
Language Centers
Dietitians
Medical Service Providers
Education Consultants
Music Schools
Educational Materials, Games and Toys
Parenting and Children Publications
Educational Institutions
Party Favors and Supplies
Edutainment
Party Planners and Venues
E-Learning Providers
Performing Arts Schools/Companies
Enrichment and Reinforcement Tutorial Schools
Pharmaceutical Companies
Entertainment Providers for Children's Parties
Play Schools, Pre-Schools
Fashion/ Apparels
Sports, Recreation and Theme Parks
Food Specialties and Nutrition
Scrapbook & Other Hobby Businesses
Furniture Stores & Room Decorations for Kids
Therapy Centers for Children
Gift Shops Toys, Games and Gizmos
*********************************************************
Superkids 2012 Event Details:
Details for registration and the like are on the REGISTRATION FORM
When: September 14 & 15, 2012
Conference: 8:00 A.M. – 5:00 P.M.
Where: Function Room 3, 3/F SMX Convention Center Mall of Asia Complex, Pasay City
Superkids Conference 2012 Ticket Price:
Government: 5,500php
Student: 5,500php
Early Bird (July 16-31) 7,500php
Regular: 8,500php
ORGANIZER Primetrade Asia, Incorporated
5/F Accelerando Building, 395 Sen. Gil Puyat Avenue
Brgy. Bel-Air 1209 Makati City, Metro Manila
Tel. Nos.: (632) 897-0139 • 896-0682
Fax Nos.: (632) 896-0695
E-mail: [email protected]
www.primetradeasia.com
CO-ORGANIZER Potencia, Inc.