Singaporean Math is really trending nowadays. I've heard a bunch of schools like Xavier already using it to teach the kids. As I've heard, the kids are doing way better in Math because of this new technique. Unfortunately, adults including myself who grew up with the traditional math methods are still having difficulty grasping the concept of Singaporean Math.
Good news!!
The Galileo Enrichment Learning Program offers some insight to Singaporean Math for both parents and child this coming April 21!!
Benefits of Singapore Math
Singapore math is unlike the traditional math that we learned throughout the years. Here children are not simply asked to memorize numbers and equations but be creative and use symbols and drawings to analyze problems.
So register now and unlock the secrets to Singapore Math!
I always believe that every child learns differently. Some children may benefit from Kumon, Enopi, etc. Well, why not try the Galileo way as well! Who knows, this might just be the answer to all your problems!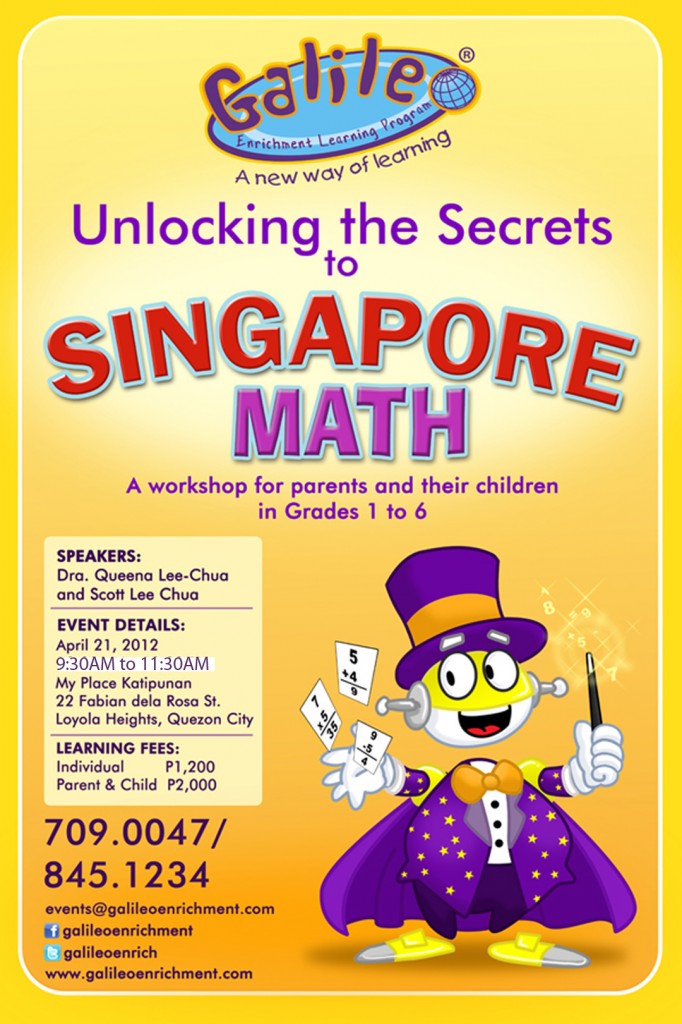 The Galileo Enrichment Learning Program is bringing another one-day workshop for parents and their grade school children (grades 1-6) on Singapore Math. The workshop aims to introduce the principles behind this Singaporean method of teaching Mathematics.
BENEFITS
Find out how Singapore Math helps children understand Math better.
Learn how to solve Math problems using Singapore Math Model Approach.
Discover techniques to help children with their Math homework without the need of a tutor.
Find out how Singapore Math develops critical thinking skills, going beyond mere memorization.
Learn advanced lessons to prepare for the coming school year.
WHO SHOULD ATTEND
Students in Grades 1 to 6
who are driven to excel in school
who want to take a refresher course or advanced lessons to prepare them for the coming school year
who want to overcome their fear of Math
Parents and Teachers
who want to learn a new approach to Math
who would like to help their children in their homework
When : April 21, 2012 (Saturday), 9:30 AM to 11:30 AM
Where: My Place Katipunan, 22 Fabian dela Rosa St., Loyola Heights, Quezon City
ABOUT THE SPEAKERS
Dr. Queena Lee-Chua and her son Scott are one of the most famous mother-son tandems in the world of education. A mathematician, writer, and lecturer of Mathematics, Psychology and English at the Ateneo de Manila University, Dr. Queena's love for her craft has earned her awards and respect in the field of education. Having been tutored by his parents at age 1, Scott Lee Chua, her son, has won numerous math contests because of his excellence in the subject. They have been giving talks in various school events, primarily on the subject of Mathematics. Their aim is to share the knowledge that complex mathematical problems can be solved with simple Math logic.
LEARNING FEES
Individual             P 1,200
Parent and child  P 2,000
For reservation and registration, please call 709.0047 or 845.1234.
For more info
Visit their website at http://www.GalileoEnrichment.com
Facebook page: https://www.facebook.com/galileoenrichment
or email them at [email protected]