This post may be totally unrelated to my blog… but I thought to share it anyway.
Last Thursday, I had one of the best experiences in a while. I laughed… I cried…but most importantly, I was moved.  What was meant to be an ordinary Thursday evening turned out to be an evening of blessings, realizations and life lessons.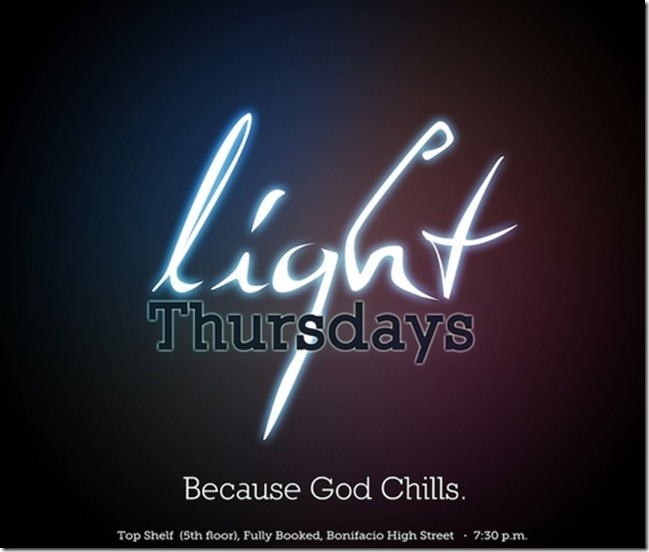 Many of you might not know this as I rarely speak of it, but I am a firm believer of Christ. Whenever things go wrong or even if they go right..whenever I'm lost… whenever I feel like giving up… I turn to Christ. Ask me though my religion, and I wouldn't exactly know what to say. I guess I'm 85% Catholic, 15% Christian? I grew up attending Sunday School in a Christian church and Saturday mass at my Catholic school. I have grown up learning to appreciate both religions. Honestly…. I don't think it's about the religion…. I think it's about the faith.
Should I go… I don't really feel like it….
When my good friend Edwin Soriano invited me to "Light Thursdays", I continuously asked him WHAT it was about. Not once did he answer my question directly, instead he would say, "Good music, good people, good conversations." *wenk!* I looked it up online and saw "God" plastered all over the Google searches. Without reading anything else, I immediately had the idea that this was going to be some sort of praise and worship session. As I mentioned earlier, I AM a firm believer of Christ… however, I'm not a fan of praise and worship groups for one reason… I don't like being forced to praise God. I don't like just going with it because everyone's doing it… I don't like pretending to feel all spiritual and holy when I'm not really there yet. I like praising God on my own. My relationship with God is very intimate at the moment, I like talking to Him privately.
So anyway, after I saw this online, I felt hesitant to attend. Still, I figured I was already at the Fort that time and if I swing by the following week that meant I'd need to spend money on transportation again… sooooo…. I should just go now and save money! Moreover, I also wanted to make it up to Edwin for always turning down his invites… PLUS, an old friend who I spontaneously invited the night before (who I also hadn't hung out with in more than 2 years) was already there…soooo… I had to go.
The Journey is the Destination
Upon arrival, I immediately grabbed a seat beside Orville, my old high school buddy. I listened to the speaker share his story of how every second in our lives is planned to perfection. I still had my walls up at this point and I was just here to check out the event so I wasn't quite responding yet. He then shared more stories of his very tiring, stressful yet life-changing day and I started to smile.
"How could you say that someone is HOLY?" Many times, I feel like such a bad person. I believe in God yet I do not show it. I believe in God yet I rarely attend mass. I see friends, both Christians and Catholics who seem to have it all figured out. Their faith is overwhelming… they are the holy ones. However, as the speaker explained tonight… someone isn't holy because they do all these… you're holy the moment you take that first step. We always have our eye on the goal and we often feel that not reaching it makes us failures… but to God, THE JOURNEY IS THE DESTINATION. The fact that we took the first step makes God feel more proud than ever! We will never really completely get it right now because the only time we will is when we're up in heaven. Don't get too caught up on the goal that you miss the journey God so badly wants you to experience.
I felt so much better after he shared this, and I felt that I wasn't a "wasted masterpiece". It felt good. He shared so many more stories that really kept me crying almost the entire night. I could go on and on about them but it would really be much better for all of you to experience it yourselves. This was a much needed break and release for me. Nothing is accidental… everything is part of His plan.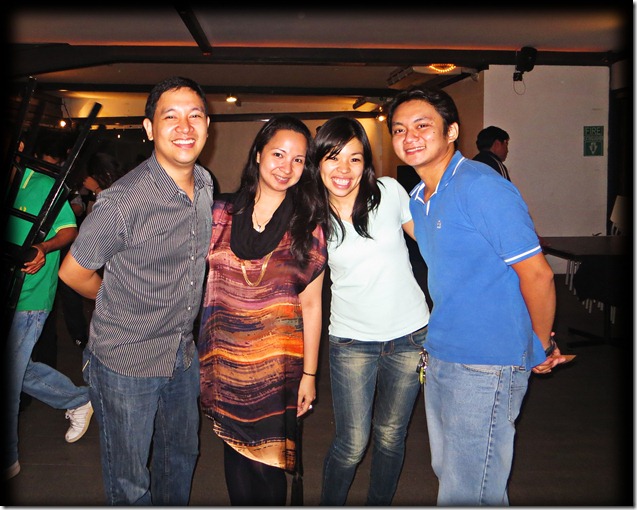 So what exactly is Light Thursdays?
It's not a praise and worship service. It's not a Christian Bible Study group, nor is it a Catholic worship. It's a place for people like me… people who believe but aren't really sure how to show it. It's not exactly a place of worship though that happens along the way, but it's more of a place to share YOUR STORIES and maybe inspire someone. As Edwin described it to me… It's a place with good music, good people and good conversations.
So I'm inviting you all to join me!
Every Thursday
7:30pm @ Top Shelf, Fully Booked in Bonifacio Global City!
I'd love to hear your stories too! Care to join us?