In the past few years, blogging has slowly grown to be a trend. More and more people are putting up their own blogs for personal or "commercial" use. Some have started a blog simply because they love to write, while others have turned to blogging as another source of income. However, with our ever-growing technology, new blogs aren't always easy to find if you're not familiar with the basic rules  of SEO.
SEO – Search Engine Optimization
Taking note of your blog's SEO makes it rank higher on Google search, taking note of your blog's SEO makes it easier to find, working on your blog's SEO makes it better than the rest, and yet I'm surprised that a whole bunch of bloggers haven't even heard of SEO.
I'm no expert when it comes to SEO, in fact, I'm also only learning myself. But here are 3 guys who know EXACTLY what they're talking about, and they're ready to share it to you in a no-nonsense , straight to the point SEO Summit this coming June.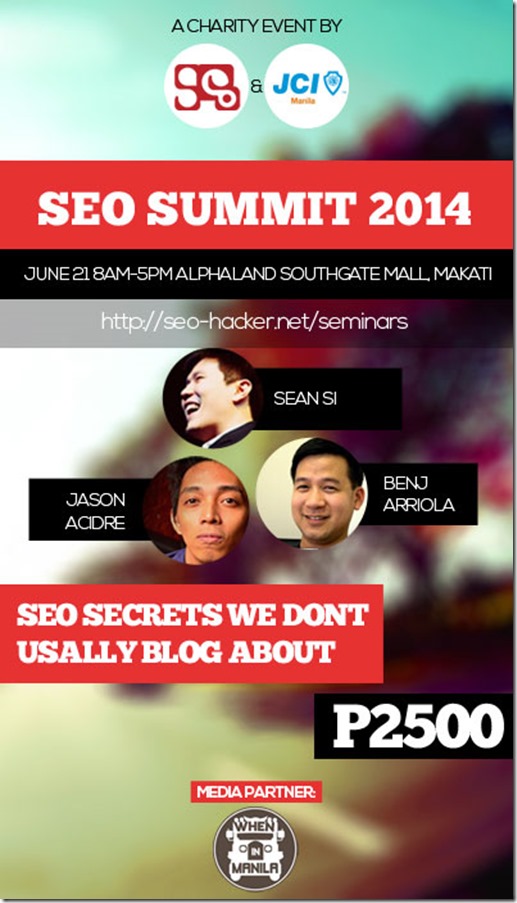 –
What: SEO Summit Seminar 2014
When: June 21, 2014 (8am – 5pm)
Where: Alphaland Southgate Mall
Registration Fee: 2500 PhP (inclusive of buffet lunch and merienda)
Beneficiary: poverty stricken elementary students of Timoteo Paez school
–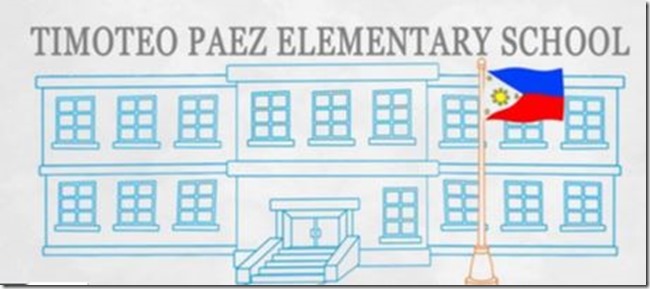 All proceeds will be given to the poverty-stricken children of Timoteo Paez Elementary school. These children are from the population of Smokey mountain. They are hardworking children who are striving hard for their own education and future.
About Timoteo Paez Elementary School:
The Goal (in partnership with JCI Manila)
SEO Summit Seminar 2014 Speakers
1. Jason Acidre
Blogger and strategist of Kaiserthesage, he is one of the most popular SEO personalities in the Philippines and abroad. He's been featured in popular SEO blogs such as Moz, Search Engine Journal, Technorati, Kissmetrics, Search Engine Watch, and so on and so forth.
People who've worked with him can attest to his freak of an SEO brain when formulating linkbuilding strategies. You won't want to miss his talk.
Note: Even though he has not personally revealed the topic of his talk, I assume it's within the field of link development and outreach.
2. Benj Arriola
Benj is a guy that all Filipino SEO specialists look up to. He's out there surfing the web and saving confused and starting SEO specialists who have the guts to post their questions (whether newb or otherwise) in forums and Facebook groups. He's also the Vice President for SEO at Internet Marketing Inc.
This guy has lots of love in the Philippine SEO scene. And he's coming home (from the US of A) to be able to speak in this event.
Note: Benj personally mentioned that his talk would comprise of technical SEO and it would go somewhat with a theme of "A web developers SEO journey from blackhat to grayhat to whitehat."
3. Sean Si
Sean is the founder and CEO of SEO Hacker. He will speak about "I'm not doing SEO" – SEO Hacker's Secret to its Growing Brand. He will also be introducing their  new SEO Hacker series on their journey to $50k a month.
–
SEO Summit Seminar 2014: How to Register
3 Simple Ways to Pay:
1) Via Bank deposit or transfer (BPI Savings) – please send deposit slip through the form in the SEO Hacker's  Registration page when you pay via bank deposit.
2) Paypal
3) Credit Card (via Paypal)
SEO Summit Seminar 2014: Schedule of Events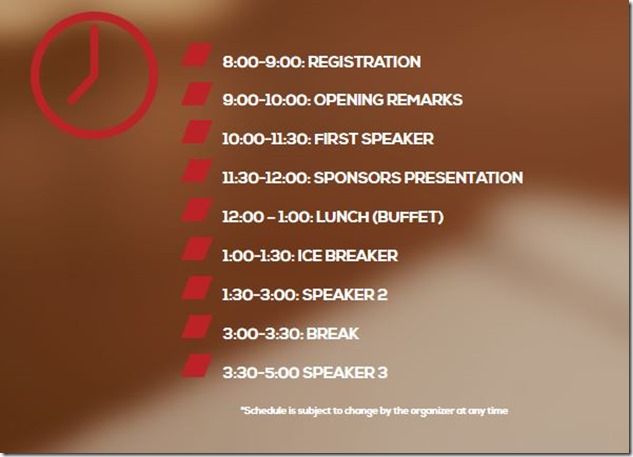 For updates and more info,
visit http://seo-hacker.com/seo-summit-seminar-2014/
For updates on other events or just to keep in touch,
http://www.facebook.com/littlerunningteacherpage
Twitter/IG: @cherylgolangco