As we've seen in several of their past campaigns, Coca-Cola is one brand that markets their product not by selling the product itself but by selling the emotion. Their campaigns have always made me smile and making me "aww" Well, their newest campaign dubbed "Share A Coke" is not only cute, but it's fun too!
Last July 12, Coca-Cola Philippines hosted a fun afternoon to invite everyone to Share a Coke with each other. The phenomenal Coca-Cola campaign that has taken over 50 nations by storm is finally in the Philippines.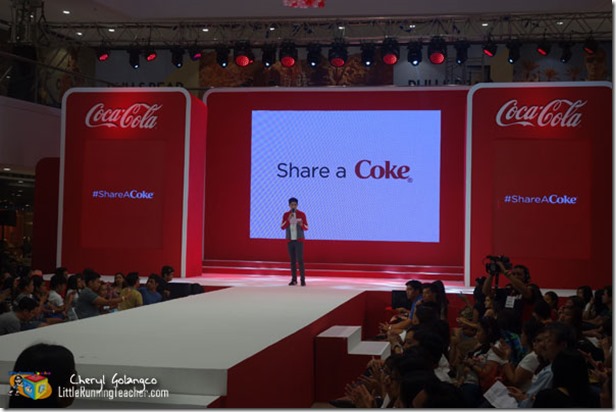 Leading the celebration at the Mega Fashion Hall in SM Megamall was Jasmin Vinculado, Marketing Director of Coca-Cola Philippines, who also headed the first ever Share a Coke campaign in Australia.
"We brought Share A Coke to the Philippines with one goal – to share happiness. Sharing a Coke is a simple yet fun and exciting way for us Filipinos to be able to show our appreciation to people who make us happy. For mothers who cook our breakfasts every day, for the fathers who drop off their children to school every morning, for the friends who listen to our never-ending problems, for the manang who serves our food in the cafeteria, for the manong who opens the door for us and wishes us a great day with his bright smile, for everyone who has shown us kindness—we would like to share a Coke with them simply because we know that happiness is made more real when shared." Vinculado enthuses.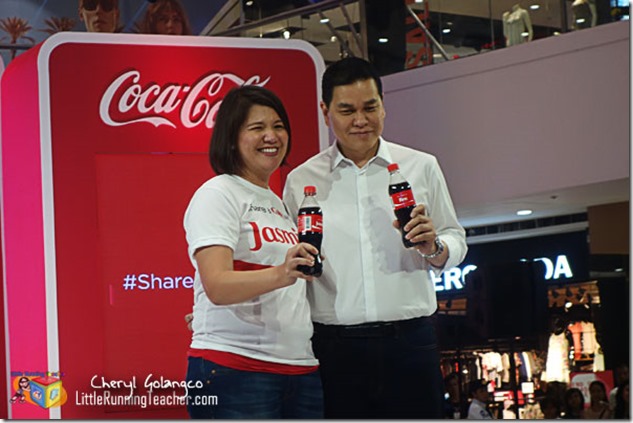 Ms. Jasmin Vinculado sharing a coke with Bench's Ben Chan himself!
The message of the event was simple: Sharing a Coke is a simple yet personal way to show appreciation for people who make you happy. It inspired all attendees to show gratitude for even the small, everyday gestures that otherwise go unnoticed – like how your officemate "Jen" makes work more exciting, how your barkada serves as your second family, how your BFFs provide the best shoulder to lean on, how your kuya is always there to protect you, or how your 'nay loves you unconditionally.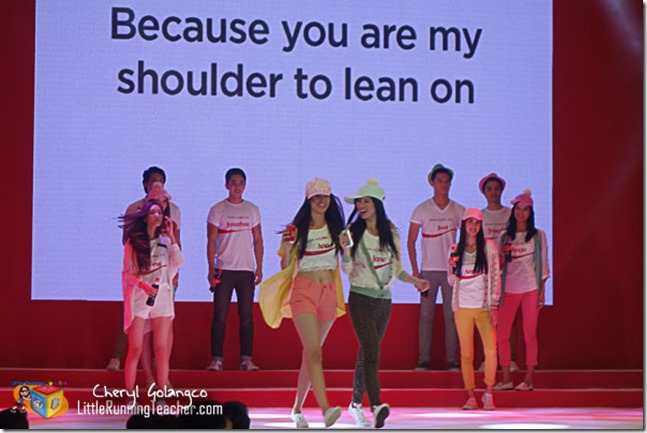 Coca-Cola Happiness Ambassadors Joseph Marco, Julia Montes, and Enchong Dee gave the audience a blast by sharing personalized Coke cans bearing terms of endearment "Crush," "Hottie," and "Love" to some unsuspecting guests.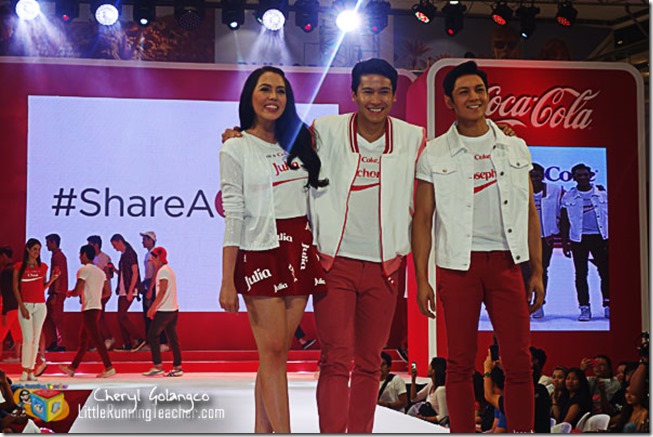 Julia Montes, Enchong Dee and Joseph Marco post for a group shot at the end of the fashion show
–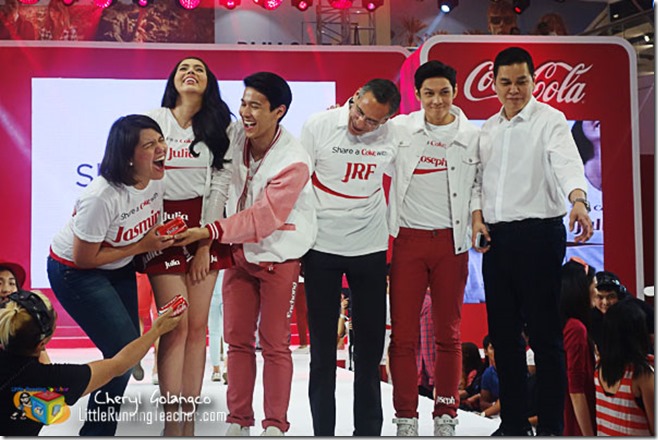 Stolen shot: Enchong Dee sharing the happiness to Ms. Jasmin Vinculado as he hands her a coke can that says "Babe"
–
How to Get a Personalized Coca-Cola Printed Out
After the events, bloggers, media and guests were also given the chance to get their own personalized bottles to share with a friend or loved one. These vending machines will be available to the public and will be located in a variety of places such as schools, malls, and the like. You may drop by Share a Coke booths in to have your own personalized Coca-Cola printed in an instant.
Starting July 5, catch the Coca-Cola booths at your favorite stores and malls and have a personalized Coke® made right there! Just buy Coca-Cola® products worth PHP 150.00 and claim a Share a Coke stub near the store counter! Show this stub to the Coca-Cola® Marshalls in our booth and enjoy your personalized Coke® after!
Full mechanics HERE.
Share a Coke Booths will be at the following supermarkets on the following dates up to 6pm ONLY:
July 19, 2014:

Robinsons Galleria

Robinsons Magnolia

Shopwise Harrison Plaza

Rustan's Shangri-La Plaza Mall

July 19-20, 2014:

Walter Mart North EDSA

SM MOA 1

Walter Mart Sta. Maria, Bulacan

SM Lucena

July 26-27, 2014:

TriNoma

Market! Market!

Glorietta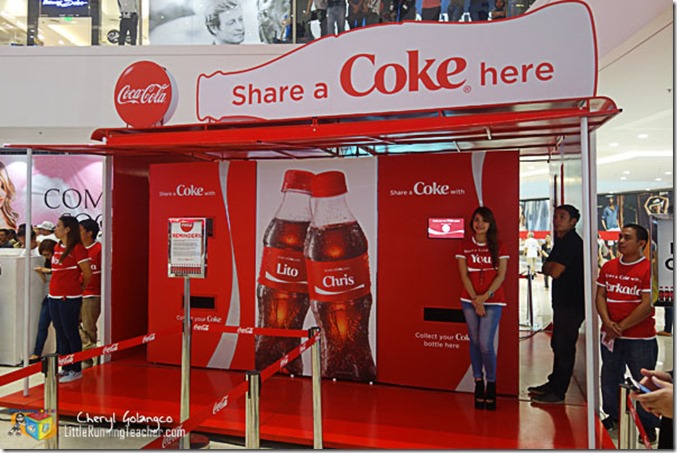 Share a Coke vending machine now open for business!
–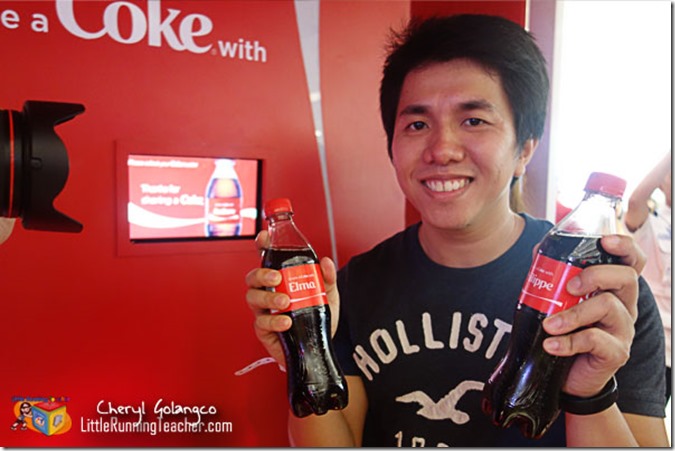 Philippe sharing a bottle of coke for his lovely mom, Elma.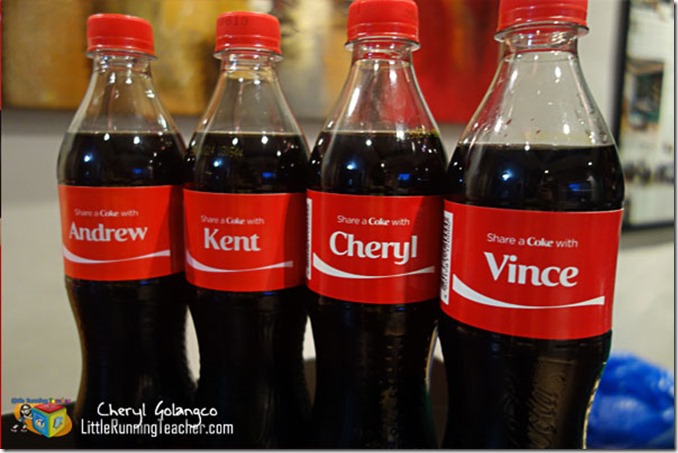 Share-A-Coke bottles for me and some of my siblings!
Also available: Pre-printed in groceries and supermarkets
Personalized bottles with pre-printed names will also be available in local groceries and supermarkets. Check them out, who knows, you might just find a bottle for yourself or better yet for someone you were meant to remember, a loved one? A crush? A childhood friend? You'll never know who you ought to share the happiness with! These personalized bottles may also come in 1.5L bottles!
Share-a-Coke cans with cute Pinoy nickanames
And then there are the cans. The Coke cans are not personalized with names, however, they do contain random Pinoy nicknames like "ate", "nanay", "crush" etc. Randomly pick one out at groceries, supermarkets and sari-sari store and drink them up or give them away to the person who deserves it.
Just 4 of the MANY nicknames on these coke cans!
For more details, please check out www.shareacoke.com.ph or visit the official accounts on Facebook, Twitter, and Instagram of Coca-Cola Philippines
Check out the dates when #ShareACoke will be at a mall near you HERE