I love nature. I love walking on the beach, watching the birds, interacting with the animals, watching the sunset, etc. I love it. However, I never exactly saw myself camping. Camping is a whole different story, especially 'coz I also love having a clean restroom to take a shower and just do my business. Hence, the closest I ever got to "exploring" nature was during one of my trail runs, or an ordinary trip to the beach (with accommodations at a nearby hotel). I was happy and never dreamed of anything more, until I discovered glamping.
I first heard the term "glamping" some time last year. I never pictured myself camping, but glamping somehow caught my interest. So last April 8-10, my husband and I joined Lifestyle Ph for a glamping weekend in Crystal Beach, Zambales. We had very little expectations but were surprisingly given an unforgettable experience. So allow me to share with you the highlights of our trip and why you shouldn't miss the next one.
1. Easy Registration and Beautiful Set Up
As soon as we got there, we were immediately led to the registration booth. After verifying our identities, we were quickly assigned our tent number and led to the glamping area. The glampsite was just alluring! The colors, the simplicity, the decorations… I couldn't help but "ooh" and "aah". It just drew me in. Something about the banderitas and the pink and green color combo made me feel calm and relaxed.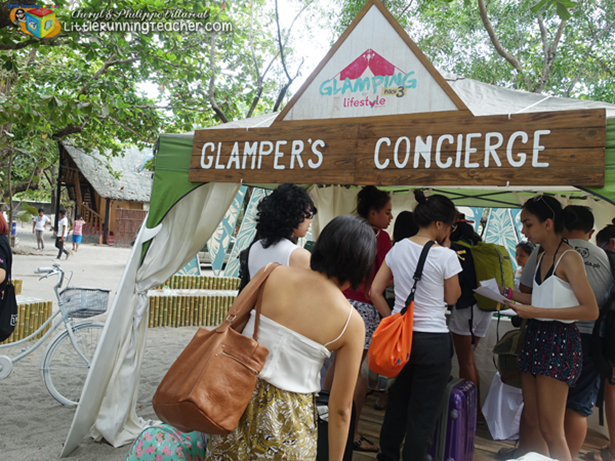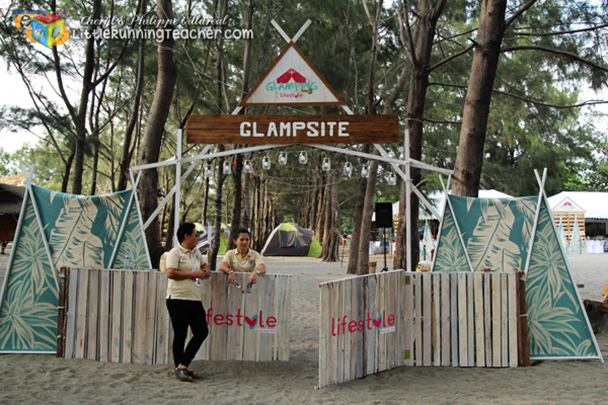 I also have to commend the Lifestyle Ph team for the round the clock security. There was always someone watching the glampsite gates, making sure that only registered glampers enter the premises.
2. Organized and Clean Tents by Coleman
While in the van, on the way to Zambales, I kept imagining what our tents would look like. Having no experience at all in camping,I couldn't help but imagine those teepee-like and shabby tents from the movies. What would happen if it rained? Are we sleeping on a mat? How are we going to sleep in this heat? etc. Yep, you can say I was slightly worried as I stepped out of my comfort zone. My worries however were soon laid to rest as I saw the beautiful tents set up by Coleman.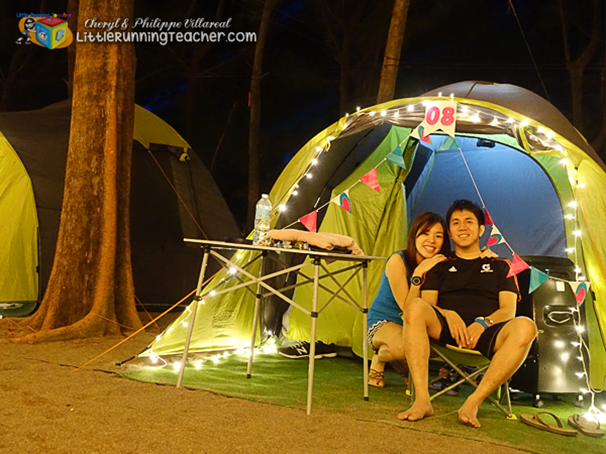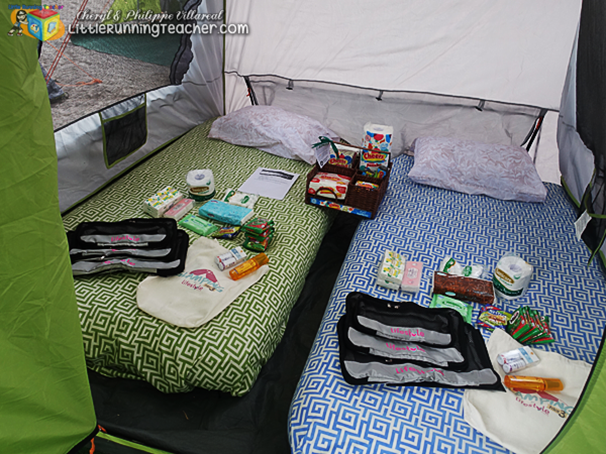 The tents were big enough for me and my husband, with 2 thick and soft mattresses inside. Each tent was also decorated with Christmas lights and with its own fan or air cooler. We were also given a small table and beach chair where we could relax under the sun. As part of the Lifestyle Ph group, we were also given a few freebies like toiletries, plastic utensils etc. Everything you could possibly need was there. I almost forgot I was in a tent as everything just felt really cozy.
3. Special perks for Lifestyle Ph guests
After getting settled in, my husband and I decided to go for a walk and check out what we could do. As soon as we stepped out of the glampsite, there were already a row of tents/ booths each offering a different activity. Booth activities ranged from making friendship bracelets to making ice creams! There was also a t-shirt cutting/ designing booth and hair braiding booth. My favorite however would be the brush calligraphy booth. I had fun just painting and trying out my hand at calligraphy.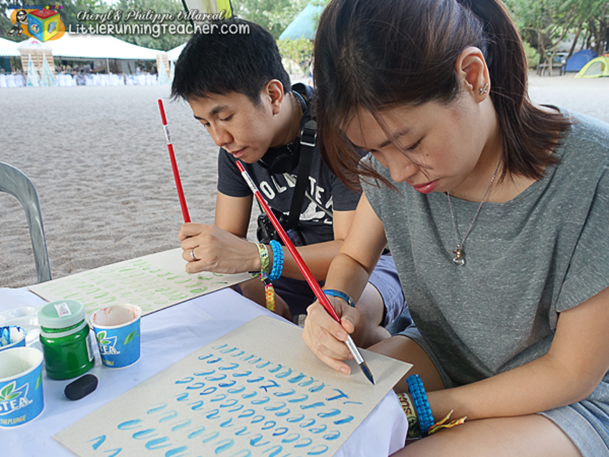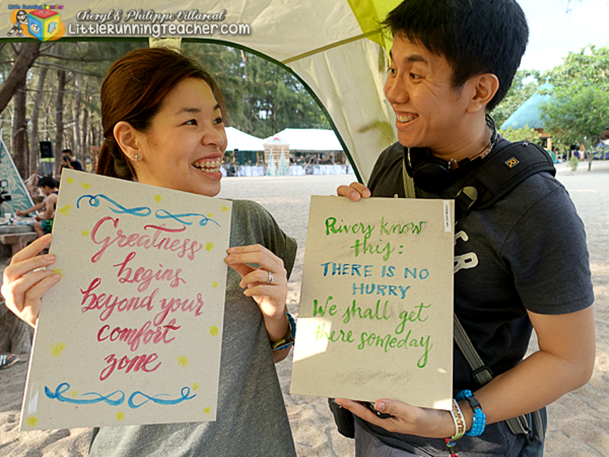 4. Sunset Jam by Zsaris Mendioro
It was wonderful to be able to listen to Ms. Zsaris play beautiful songs on her guitar as we enjoyed our dinner. Moreover, our tent was also right in front of the "stage" so we could easily enjoy the music and watch her perform from the comforts of our "home."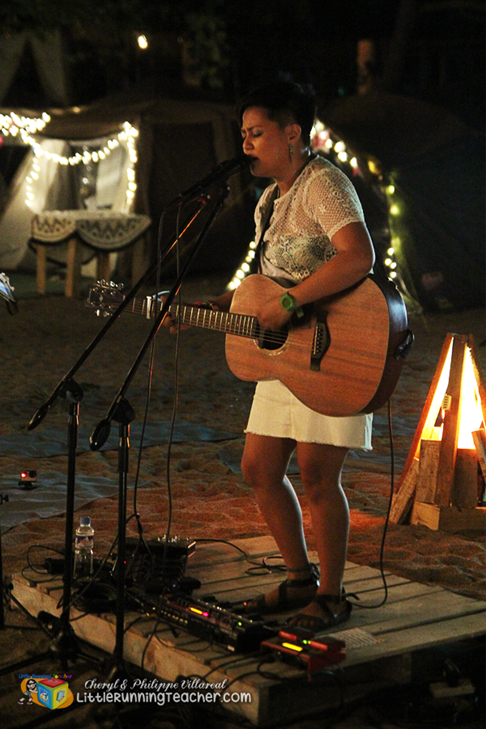 5. Movie by the Stars
I've ALWAYS wanted to experienced watching a movie by the stars with my husband. It just sounds so romantic! Moreover, it's a unique experience feeling the wind blowing your hair, the sand in between your toes and the majestic night sky right above. That night, we enjoyed movies like 500 Days of Summer and Dear Rosie. It was just perfect.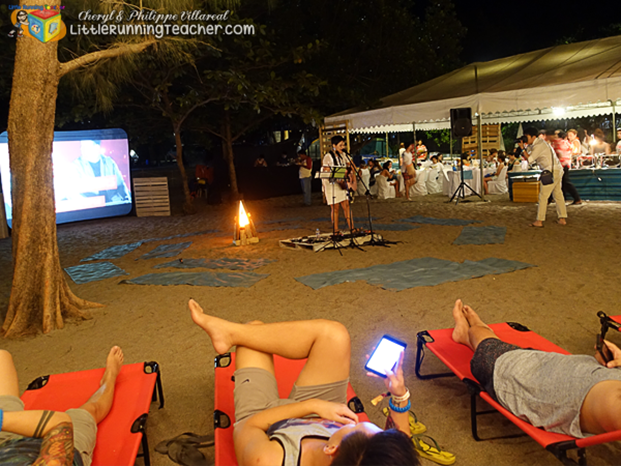 6. Breakfast buffet and welcome dinner
Who doesn't love a good meal? Included in the package was a dinner buffet and 2 breakfast buffets for the succeeding days. The food was good and the set up was fit for a reception. We also appreciated how even if we were 2 hours late for breakfast, the food was still overflowing!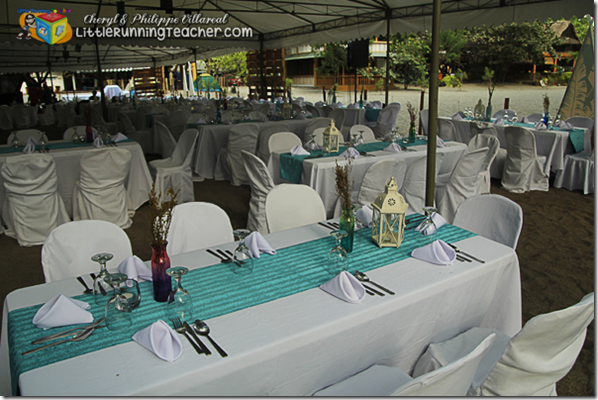 7. Metabeats Workout with Coaches Jim and Toni Saret
Being a fitness blogger, I always try to squeeze in a little workout when possible. During this glamping weekend, Coaches Jim and Toni Saret led us in a variety of Metabeats workout. Each workout was only 4 minutes, and composed of 4 sets. In just 16 minutes, we were already drenched in sweat and our bodies in pain (the good kind of pain) from the workout! It was excruciatingly fun! I just loved it! Catch Metabeats on the Lifestyle Channel every weekend. Read more about Metabeats HERE.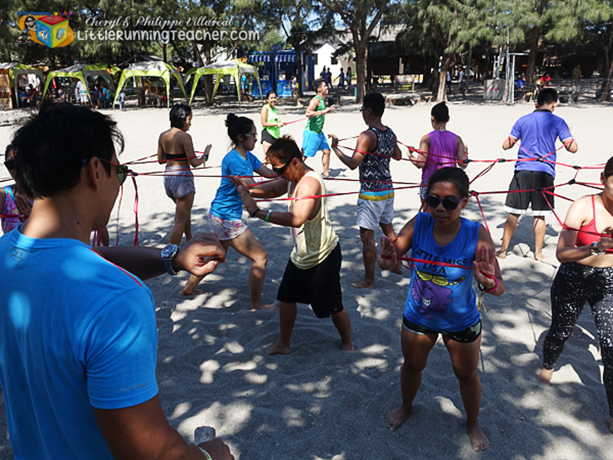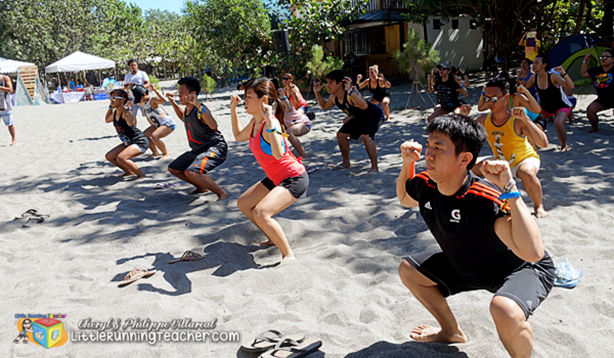 8. Various Beach Front Activities
Since this was the same weekend as the Summer Siren Festival, there were also a lot of activities by the beach. One of my favorites was the giant beer pong! These activities surely made campers/ glampers even happier that night. However, as for me and my husband… a stroll by the shore was already perfect.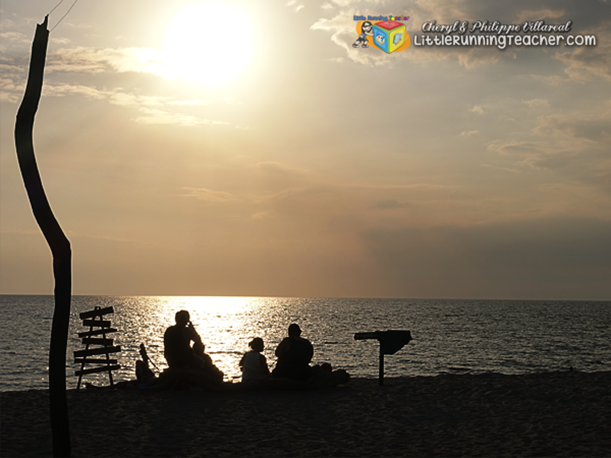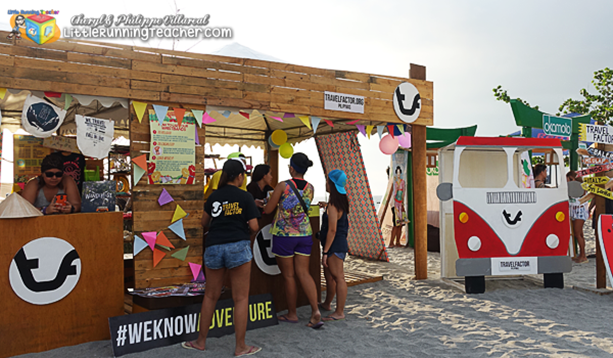 9. Summer Siren Festival
Of course, this was the main reason for the whole event. People were jumping up and down with their glasses of alcohol as they grooved to the music of top djs and artists! There were also people hula dancing and the like (I'm not even sure what you call the other types of dances anymore). The night was just epic!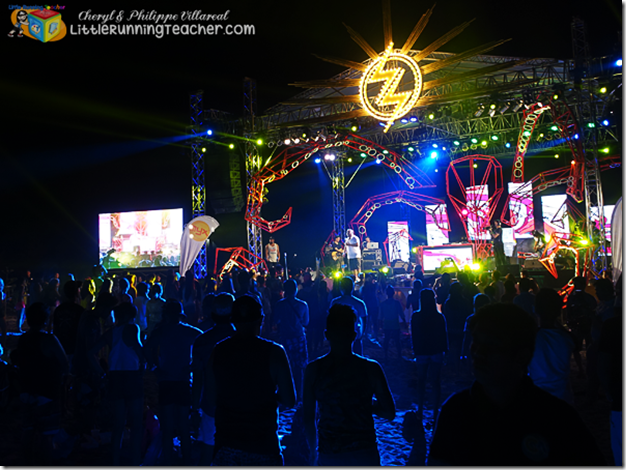 10. Waking up to Nature
Living in the city, we're used to waking up to the sound of cars outside or even screaming from the neighbors. During the glamping weekend, I was always awakened by birds singing outside our tent and that beam of sunlight on my face. It sounds like a line from a movie but it was just surreal. It felt good and really refreshing! What a beautiful way to start the day to marvel at God's wonderful creations.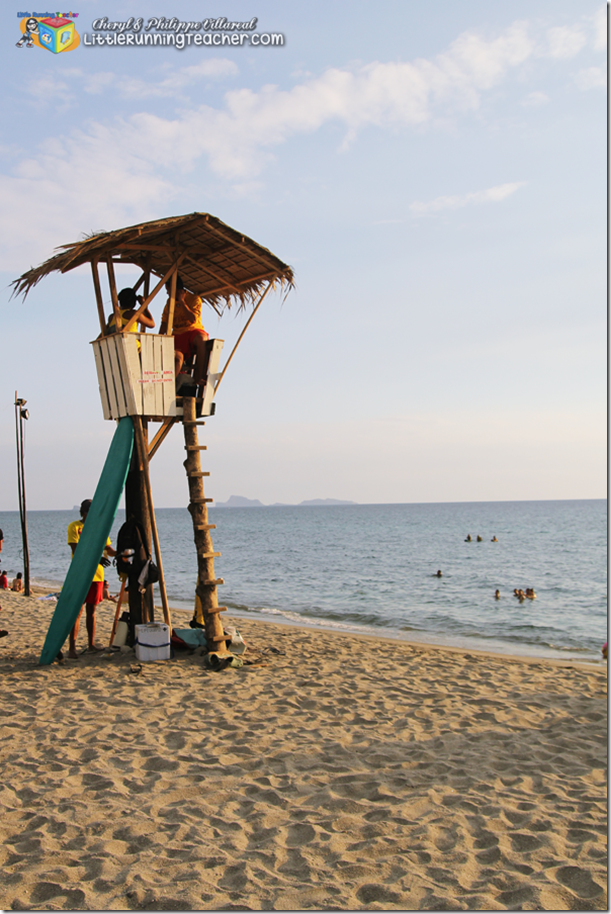 –
Read more about Metabeats HERE – /metabeats-a-fitness-and-wellness-nutrition-show-with-coaches-jim-and-toni-saret/
For more information, visit the following sites:
Facebook: https://www.facebook.com/lifestyletvph/?fref=ts
IG: @LifestyleTVPh
#LoveYourLifeNow
For updates on other events,
Follow http://www.facebook.com/littlerunningteacherpage
Twitter @cherylgolangco
Instragram @cherylgolangco