I don't know about you but I really enjoy listening to several YouTube artists more than the famous artists with their record labels. Maybe it's because it's more natural? Maybe because most of them are REALLY talented by heart! All I know is, YouTube sensations like Jason Chen, Joseph Vincent, AJ Raphael, David Choi are really good and I love them! Another YouTube sensation which I'm sure most of you know are the adorable Korean/ Australian twins Jayesslee!
Janice and Sonia Lee are now certified singing sensations thanks to the world of YouTube!  Having garnered over 61,224,536 video views around the world, these sisters are showing the world that they've got a lot of talent and love to offer people who are willing to listen. WOW!!!! I doubt anyone wouldn't want to listen to them! They're just AMAZING!
–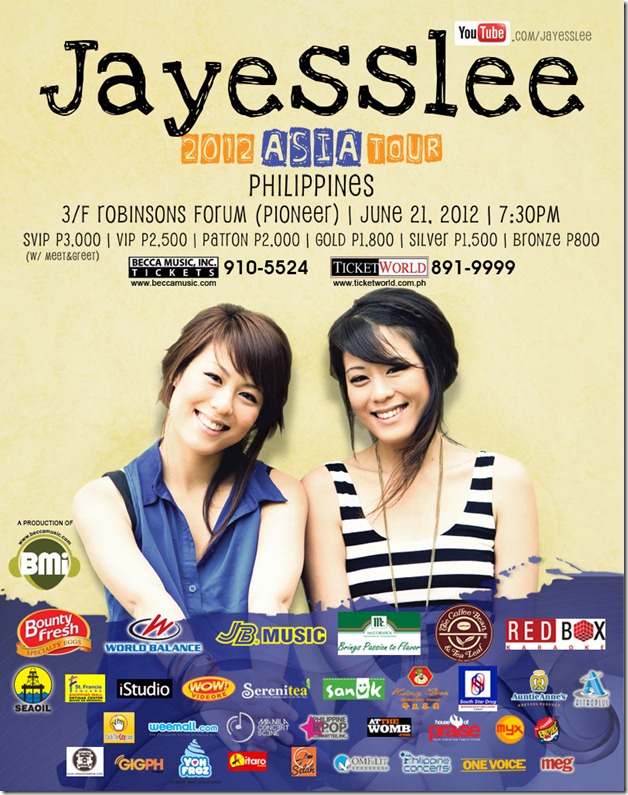 Who is Jayesslee?
In 2008, the duo discovered the world of YouTube. Fascinated by the concept of connecting with an unseen audience all over the world, they created their first account under the name"Jayesslee". The name was their attempt to be clever – fusing both of their initials and spelling it out. Born and raised in Sydney, Australia to Korean parents, Janice and Sonia never thought that they would be touring the United States of America, Thailand, Malaysia, Singapore, Canada and now – for the first time ever – the Philippines!
I remember hearing about them just 2 years ago, and I immediately fell in love with them! How I wish my voice was as sweet as theirs! Here's one of my favorite videos of Jayesslee!
So save the date guys, 'coz on June 21, 2012 (Thursday), JAYESSLEE will be coming to the Philippines to show us what they've got! This time, they won't be inside our monitors but LIVE on stage at the 3/F Robinsons Forum (Pioneer) at 7:30 in the evening with their inspiring, feel good and passionate music.
–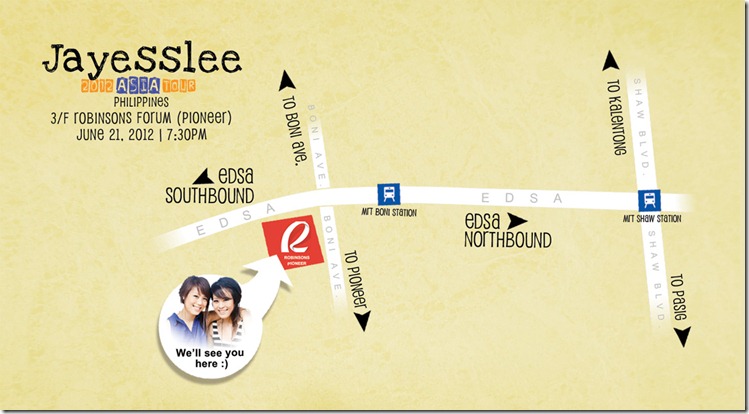 Catch JAYESSLEE LIVE IN MANILA as they continue their Asian tour in the Philippines!
For tickets, call Ticketworld (891-999) or BMI Tickets (910-5524)
Ticket prices:
SVIP (with Meet & Greet) 3,000
VIP 2,500
PATRON 2,000
GOLD 1,800
SILVER 1,500
BRONZE 800