Children, just like any other human being have rights too. However, some adults tend to forget this and abuse their innocence.  I value children's individuality, their rights, their talents and their skills. As a teacher, I feel it has become my responsibility to let everyone become aware of these too.
Last Monday, I was given the opportunity to watch a Filipino Indi Film that was first released back in 2008 entitled Boses, a short film about Julian, an abused child who ended up mute, but somehow still found his voice. I found the movie touching not because of the words said but because of the music the actors themselves played and the emotions they showed. Julian, who was only around 9 during the filming of this movie was superb! If the scene denotes fear, you would really be able to feel that fear and anger just by looking into his eyes.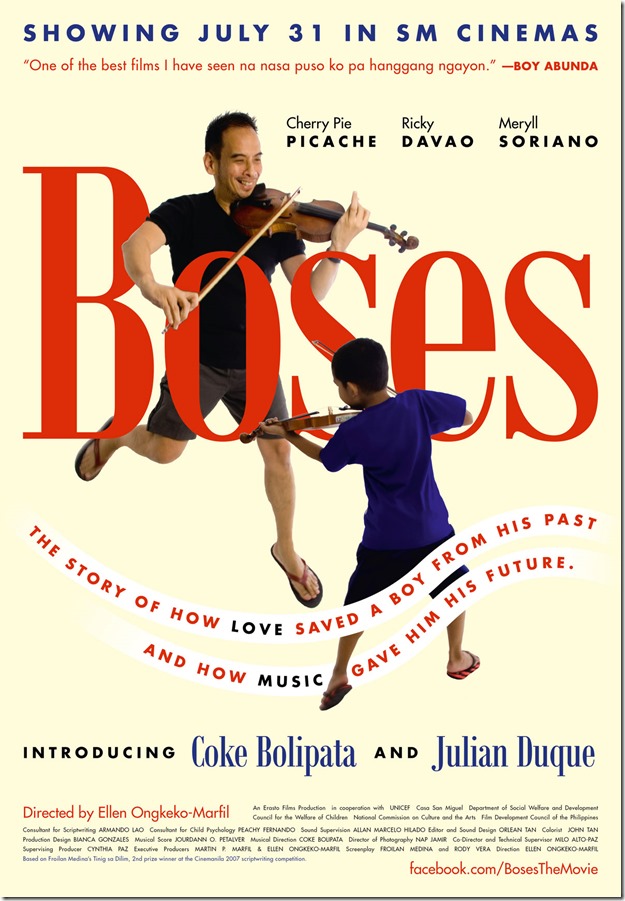 The movie starts off in a dark room with Julienne's father portrayed by Ricky Davao smoking in a dark empty room. Someone suddenly knocks loudly asking to be let in. The neighbors together with some police officers franticly search the place looking for the abused little boy, to which his father denies any allegations. Eventually, they find him hiding inside a small closet, barely big enough for him to sit straight. He is crying and his body drenched in sweat. They quickly take him away to a safe sanctuary with other children also suffering from abuse.
Throughout the film, Julian struggles to get through each day. His being mute giving him less of a voice than he already has. He struggles with memories from his past continuously haunting him, and a future that isn't too clear. Although already freed from his father's abuse, Julian still goes through bullying from other children. Later on in the film, Julian learns that though mute, he can still be heard.
Boses, though focused on Julian's struggles also shows different personal conflicts from each character. The bully whose father was killed in front of him, a girl who was sexually harassed, Coke whose wife committed suicide because of relationship troubles they were having and Julienne's father who strives hard to earn back his son's trust. In the end, I felt that he had to earn back the audience' trust too! Deep down I was telling Julian not to go back, else suffer another abuse, possible even go through worse. Somehow it made me reflect on the way I personally view people and how trusting to me does not come easily. 'Till the very end, scenes from Julian's abuse were still shown. Making the audience feel that Julian, though wanting to go back to his father still feels scared and hesitant.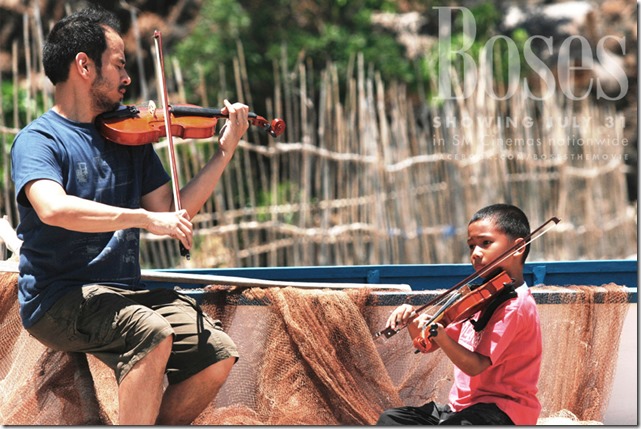 In a nutshell, the Boses the movie is about a boy who learned to overcome his past filled with fear and struggles by being loved by someone who himself was struggling to feel loved and give love. It's about a boy who felt he had no voice physically and mentally but soon learned that he can still be heard through his music. It's a story of abuse, pain, failure, hope and love. A movie that will surely leave you reflecting on your own lives.
About Boses the Movie
Just this year, "Boses" was shown to a crowd of about 1,500 students at Sienna College at a screening organized by the Couples for Christ, and almost 2,000 viewers in Iloilo at back-t0-back previews organized by the University of the Philippines Iloilo Humanities Division and CBCP Youth Commission. The film was well received by student leaders in Samar, the Filipino employees of the United Nations in Vienna, and also by the cineastes in London when it was shown at the UK's historic Riverside Theater.
"Boses," directed by Ellen Ongkeko-Marfil and written by Froilan Medina and Rody Vera, also has the distinction of being one of seven Filipino movies especially selected for a series of screenings by the Department of Foreign Affairs. The esteemed list includes Mike de Leon's "Bayaning Third World," Lino Brocka's "Tinimbang Ka Nguni't Kulang," Eddie Romero's "Ganito Kami Noon, Paano Kayo Ngayon?" Brillante Mendoza's "Lola," and Jeffrey Jeturian's "Kubrador."
With audience attendance ranging from hundreds to as much as 2,000 per screening, the production team estimates that about 100,000 people have seen "Boses." The clamor for screenings is continuous, and this early, block screenings organized by interested parties have been booked at SM Cinemas for July 31 onwards.
Boses the Movie
Opening in SM Cinemas on July 31!
For more info:  https://www.facebook.com/BOSEStheMovie.