Whenever the Christmas season rolls in, some things I've always looked forward to are Coca-cola's commercials and promotions! I've always seen them growing up, and somehow they've just become part of my Christmas memories. Well this year is no different, Coca-Cola has once again outdone themselves to bring you the best Christmas ever!
COCA-COLA MILYUN-MILYONG PAMASKONG PA-BLOW OUT promo!
In line with Coca-cola's theme of spreading happiness, they've just launched their biggest promo yet! With Coca-Cola Milyun-milyung pamaskong pa-blow out promo, it is not only the winner himself who bags the gold but everyone in his barangay too! Now that's the spirit of Christmas! This is Coca-Cola's unique way of sharing more happiness to the Filipinos.
How to Join:
Joining is easy. All you need to do is buy a bottle of Coke and look under the cap. Under the cap you will find a code which you need to text in this format COKE<code> to 2653.
As mentioned earlier, participants get a chance to win PHP 100,000 cash! And for some extra happiness and some icing on the cake,  Coca-Cola will also treat the barangay of the winner to PHP 100,000 worth of food for a special Christmas blow out! This means when you win, your entire barangay wins too! Now that's what I call open happiness! That's the Coca-Cola Christmas joy!
Promo runs from October 22 to December 17, 2012.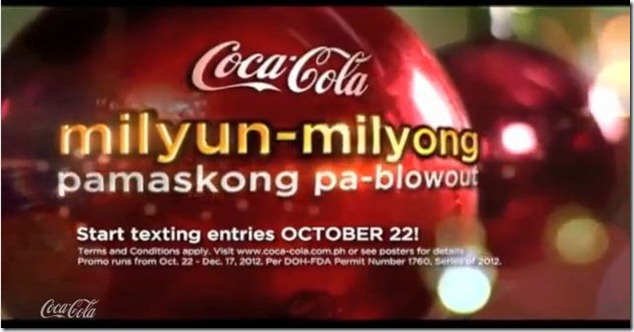 You can find out more about this and other promos through the following:
Spread the word and invite your entire barangay to join! Let's celebrate Christmas the Coca-Cola way! Catch you later, gotta start collecting those caps!