I first  heard of Soleus sometime in 2011. Back then, I knew very little about sports watches and did not have any phones or devices that could track my run. I was very much amazed though in what the Soleus watch could do. Moreover, I was very much happy to see how down to earth and friendly Soleus founder and president, David Arnold was. He shared about Soleus not as a business or such, but as something he wants to share to help people and make running easier.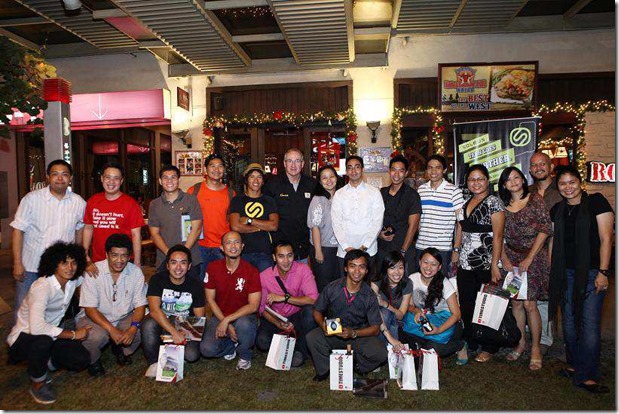 Soleus launch circa 2011 with Mr. David Arnold in the middle
This year, David once again returned to the Philippines to introduce new watches that will surely make any runner happy! Each watch has its own special function, but what they all have in common is that the Soleus team made it as user-friendly as possible at an affordable rate.
The launch was held in 100-miles café at Fort Strip, which by the way you guys should check out as the restaurant's interior is one which runners would surely appreciate. Several products were featured that day and the bloggers were truly appreciative to have gotten the chance to try out our very own Soleus GPS Fit.
Imagine, just a couple of years ago, the Soleus watch was still very limited in size and scope, today however, it can do almost anything!
Soleus GPS FIT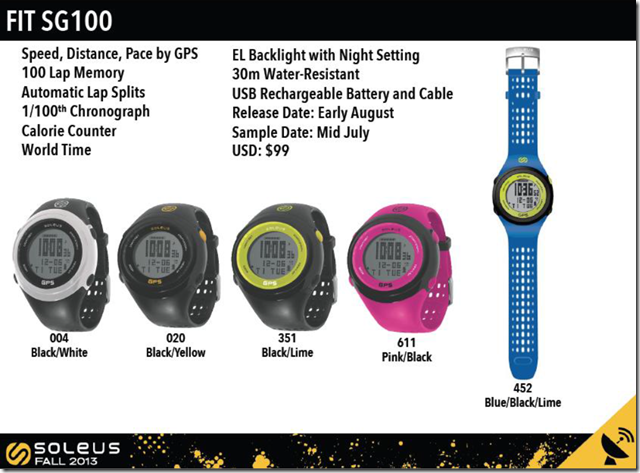 Colors and Features of the Soleus GPS Fit
The Soleus GPS Fit is an upgrade version of the Soleus GPS 1.0. Though many of the features remain the same, you will notice several differences as well such as the colors which are now more vibrant, the watch strap which is now more breathable, the buttons which were reduced from 6 to 4 (still bearing the same functions) and others. The Soleus GPS Fit also has a better user interface and uses bigger digits.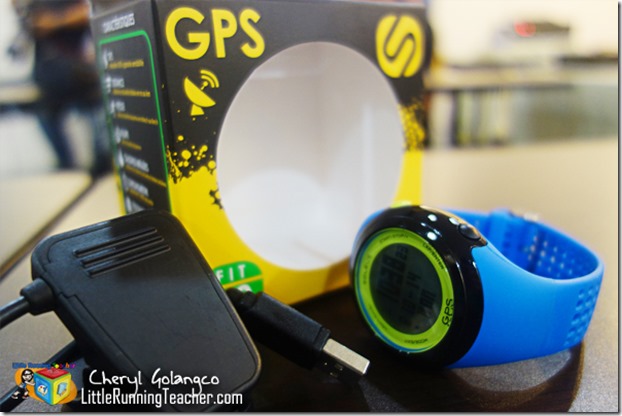 SRP: 6,150 pesos
I was so happy to learn that they came out with a blue color. Blue is my absolute favorite color, and the shade Soleus has is the best!  I've used my Soleus GPS Fit a couple of times now and one of the very noticeable differences for me is how much bulkier the old version was. Moreover, the holes in the strap made me feel less sweaty throughout my run.
GPS TIP: For those who are having trouble locking their GPS, simply remove the watch and leave it still for 2 minutes or less. This will give it an easier time to find a GPS signal. It takes much longer if you are already on the go.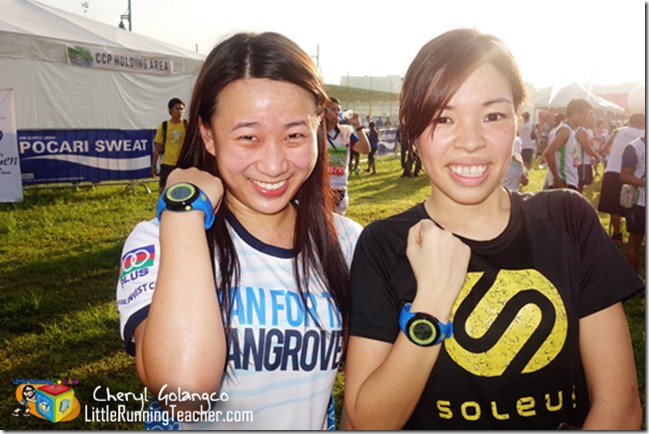 RunNurse and Little Running Teacher support Soleus
Soleus Tour SG004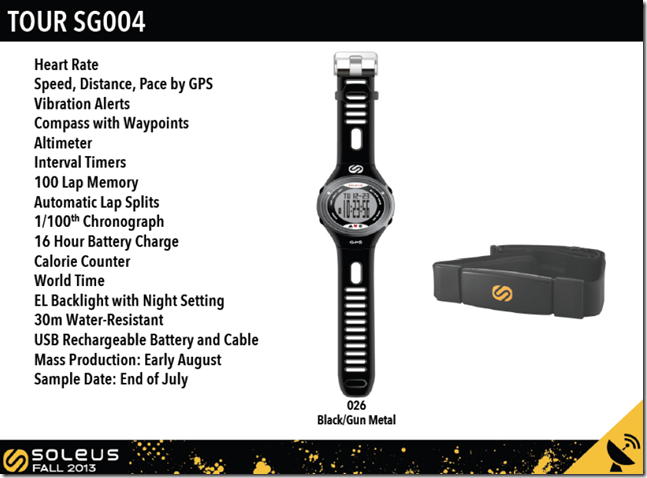 The Tour has everything you would want in a digital watch! Besides the common factors such as GPS and timers, the Tour also has a vibration alert. The vibration alert is there because we don't often hear our watch beep during a run, at least through this, we can feel the vibration. (Do you feel the vibration? Sorry, I just had to sing that) anyway, it also has a built in compass and a 16hr battery life.
Soleus Mini SG 006
The Soleus Mini has the same features as the Fit 1.0 but i s smaller. Also, the Soleus Mini has more feminine colors as more girls prefer the smaller watches. The good thing is that though it is small, it is still equipped with GPS. In fact, the Soleus Mini is the smallest GPS watch in the market today.
The Soleus Mini also has a built in USB that can be used to charge the watch wherever you may be.
I love the squiff on the Soleus Mini, "Sweat can be sexy"
Soleus Ultra Sole SR010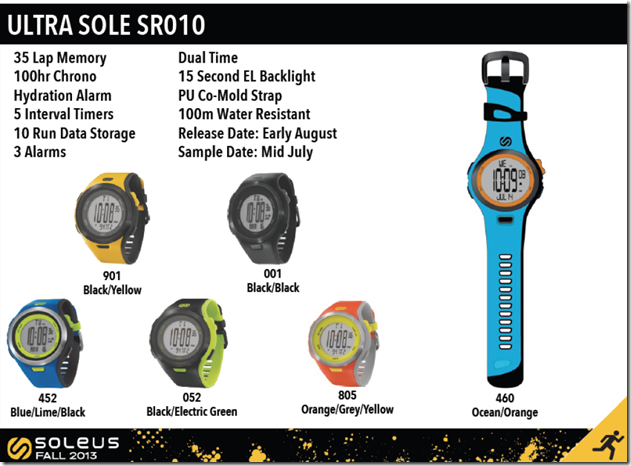 The Soleus Ultra Sole is 100m water resistant and has a 100hr chrono. However, this is still not suggested to be used for water sports. The Soleus Ultra Sole does not have GPS but one of it's cool features is the hydration alarm. Often times, we get too caught up in our running that we forget to hydrate. By simply setting his prior to the run, the alarm will sound off every time you need to rehydrate.
Soleus Chicked SR009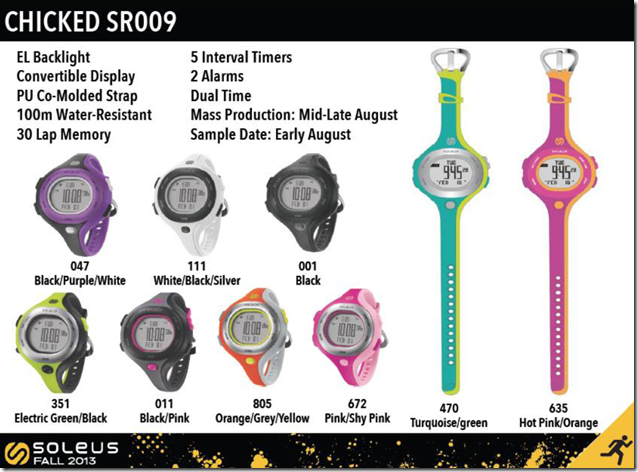 I have yet to actually have or hold the Soleus Chicked, however, I can already say that it is one of my favorites simply because of the way it looks. It has got to be one of the most colorful collections Soleus has and is actually their best selling watch they have. The cool shape of the watch and the thin strap is perfect for me. Can I have the Turquoise please?
Soleus Dash Large SR018 and Soleus Dash Small SR019
The Soleus Dash Large and Small have basically the same features except that one is larger than the other. This watch is again water resistant but not not advisable for water sports. It has 6 interval timers which is perfect for the average run. Moreover, the Soleus Dah is one f the most inexpensive sports watch in the market.
Soleus Fitness: Soleus Pulse SH006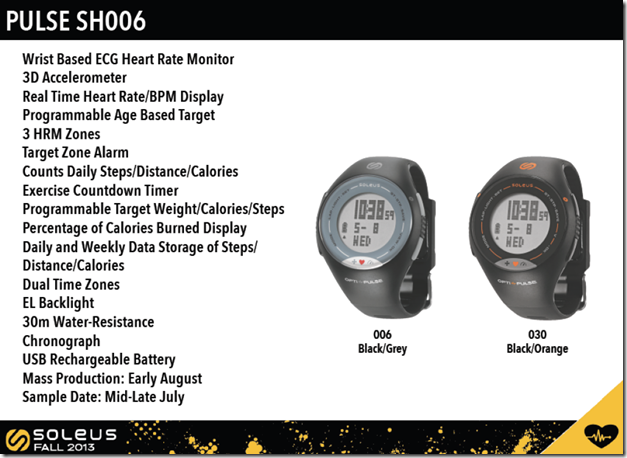 Before anything, please ignore the date on the photo  as this watch will only be release early November this year. It is one of the watches we should all be excited about as this will be the FIRST wrist-based heart rate watch! So say goodbye to those heart rate straps because with the Soleus Pulse, all you'll really need is this watch!….and a pulse of course.
If you're wondering if it's accurate, yes it is. Soleus president and founder David Arnold shares how he used this together with a heart rate monitor strapped unto chest and garnered the same results on both devices. Cool!
Soleus BlueFit HR SH008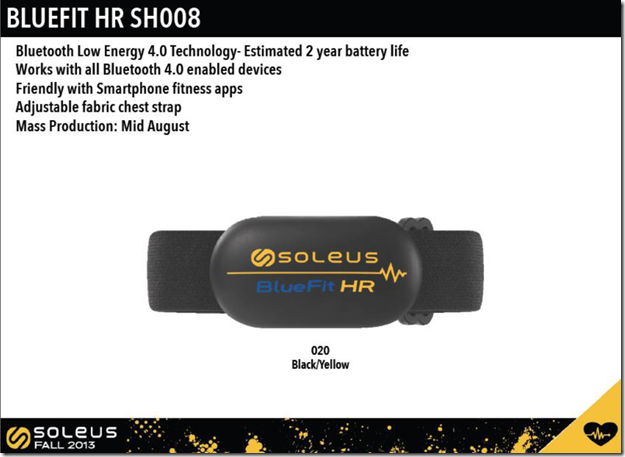 The Soleus BlueFit is a chest strap which can be connected to any Smartphone device. This way, you can check your heart rate directly on your phone!
So who says you need to spend truckloads of cash for a good watch? As Mr. David Arnold shares, "It's not about being the winner or being arrogant, it's about being the HERO. The hero has the ability to empower others to do greater things." Soleus wants to inspire people, and empower people because with Soleus, you can surely make each running moment one to remember!
LittleRunningTeacher and RunNurse with David Arnold and Judith Staples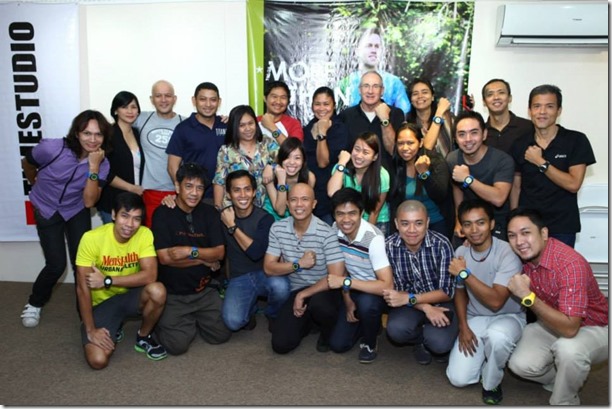 Soleus 2013 Blogger's Lunch at 100 Miles Cafe
Soleus