People of today's generation have become very comfortable with GPS! In fact, we are so comfortable with it that we have it on almost ALL of our gadgets –in our cars, on our laptops and on our phones! So it's really no surprise that the watch industry, particularly the sports watches also used this new technology.
When Soleus first began back in 2009, they were determined to be a RUNNING WATCH. They sold hundreds and thousands of watches in the past 2 years and were already doing pretty good. When GPS started taking over the industry, they were a bit reluctant to try it out. However, after rethinking the idea and debating about the pros and cons, one simple thought rose above all –the runners' insights. As I mentioned in my previous blog on Soleus, the team takes time to actually sit and talk with runners to find out what runners want and need in a running watch. Well, GPS was one of the things mentioned over and over again. Hence, the team couldn't ignore it and quickly started working on it.
Soleus wants to give runners EVERYTHING WE NEED and NOTHING WE DON'T. They want to be a watch of great value! And since runners ASKED for the GPS, they gave us the GPS!
Here are some of the key details on the GPS 1.0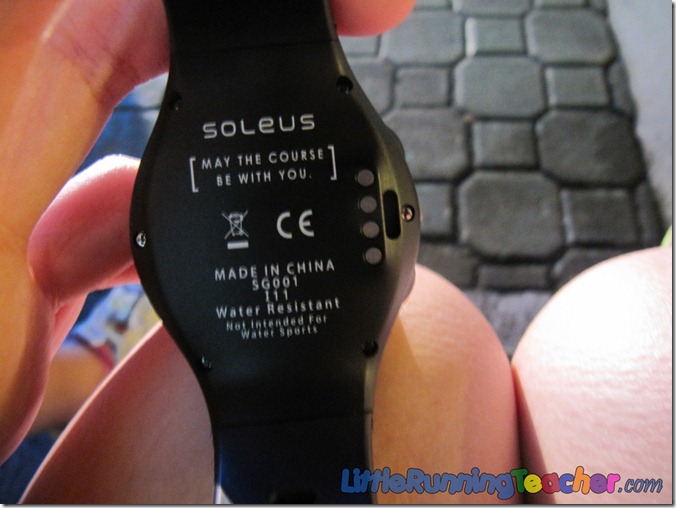 In my previous blog, I mentioned that one of the goals of the Soleus team is to inspire runners. Hence they have included short messages at the back of every watch which they call SQUIFFS. The squiff of the GPS 1.0 is "May the course be with you"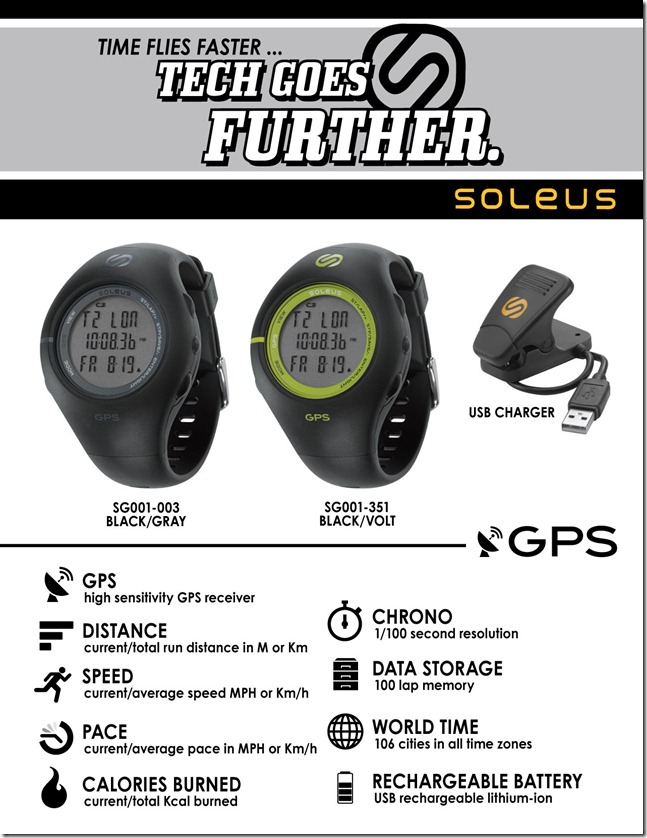 GPS is quickly found by the Soleus watch. All it needs is a minute or two to quickly scan through the area. However, if you are in a new location, it might take a bit longer.
One thing runners need is the distance we run. For most of us, we only know how far we went because of the familiar route. However, we never really know the exact distance unless we have a GPS device with us. The Soleus GPS 1.0 has been tested several times and is 99.9% accurate! You can also set it to MILES or KILOMETERS.
Average speed can be tracked. If you try riding a bicycle, the speed would automatically change
When I first started running, I had no idea what pace meant. Most beginner runners really don't mind either, however, if you're trying to reach a certain goal like a sub-2 (below 2 hrs.) for your half marathon/21km run, then your pace is very important. Knowing your pace will let you know If you need to pick up the pace or if you can slow down depending on the time.
Most male runners don't really care but most women do! We care so much that it's usually the first thing we notice on our watches after we run. I know a few friends (including myself) who get thrilled after seeing that we've burned 500 calories after one run! (heehee)
Run time in the GPS mode is 8 hours. A lot of us wish it was longer but there's no technology yet to make it last longer. The key though is to TURN OFF the GPS when you don't need it. The common mistake is that runners leave it on and the watch keeps searching for a signal and eventually drains the battery.
The charger charges real quick but DOES NOT DOWNLOAD YOUR DATA. That feature however will be possible some time NEXT YEAR when the Soleus GPS 2.0 is released!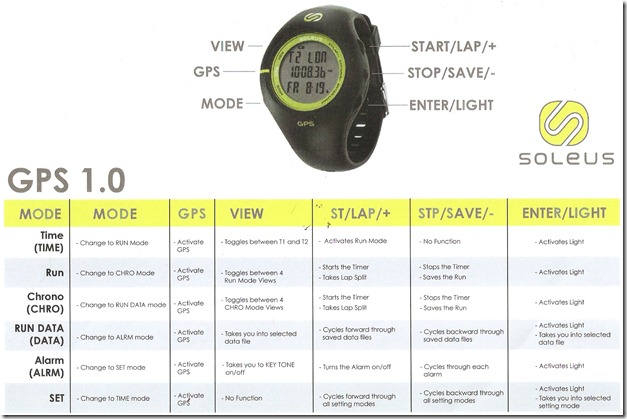 You'll surely get your money's worth with the GPS 1.0 selling at a SRP of only 6,150php!
I don't have my own YET but my friend, Ivica of RunNurse won hers during a raffle at the Soleus press launch. She allowed me to play with it for a day! I couldn't figure it out yet BUT I instantly notice how much EASIER it was to figure out than other watches! It's really a user friendly watch. One more cool feature is it's automatic back light at night. When any button is pressed, the back light turns on first before the function is performed! That way, you don't accidentally stop or erase all your date just because it's too dark! :)
 –
That's it for now, but you can expect even MORE EXCITING NEWS from Soleus by early next year! To keep you excited… let me give you some teasers. By Feb 2012, the Soleus GPS 2.0 and 3.0 will be released! Both will have a feature where in you are able to download your runs to your computer! The 3.0 on the other hand will also have the functions of a heart rate monitor!! Nice! I'm already excited and am eagerly awaiting the release of the 3.0! Aren't you?  Time to save up!
SPRING 2012 RELEASES:
GPS 1.0 – Adding 2 additional colors
GPS 2.0 – Includes all the great features of 1.0 plus interval timers and USB rechargeable battery with PC uplink: 2 new models
GPS 3.0 – Includes all the great features of 1.0 and 2.0 plus HRM and fabric chest strap
Soleus watches are available in L Timestudio, Timegear & select Wristpod boutiques.
To learn more about Soleus and their other products:
 The Soleus GPS 1.0 Digital Sport Running Watch