Adidas is one of the leading sports brand in the world and I personally know the brand for their shoes. The Adidas name stands for innovation and sports performance since the time of its founder AdiDassler's first shoe factory in 1920. The aim was simply to provide every athlete with the best possible equipment.
Adidas is divided into two sub-categories namely the Adidas Originals and Adidas Performance. The Adidas Originals are designed for fashion and sports-lifestyle consumers while the Adidas Performance is more focused on core, regular and recreational athletes.
Adidas Originals
Adidas Originals was introduced in 1972 and is represented by the three leaved plant, the Trefoil. This category creates products that extend the brand's unique and authentic heritage into the lifestyle market. Adidas believes in creating a lifestyle that is an expression of who you are and in order to create that lifestyle, Adidas redefines sport with today's fashion trends. As a result, adidas came out with a fashionable product ground in sport heritage.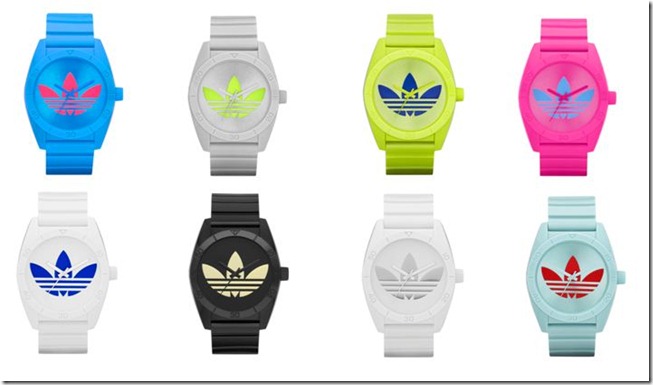 I love the blue! or neon one! Can I have one? :)
First introduced as a steel/leather option in Summer 2008, Santiago has been redesigned and reconstructed as an opening-price analog platform that tells the Adidas-brand story like no other platform in the range today.  Offered in both polyurethane with an oversized Trefoil on the dial or in fabric with the Three-stripes running down the length of the strap, Santiago makes its mark as a truly iconic addition to the Adidas Originals Timing range.
Commemorating the 40th Anniversary of the Trefoil, Adidas Originals watches is proud to introduce two special edition Cambridge watches. The black or white nylon bracelets feature a 44-mm case with a large trefoil on the dial.  These are only available through the end of 2012.
Adidas Performance
Introduced in 1991, Adidas Performance was born. Represented by the Performance logo, the Sport Performance Division creates products that are designed to meet the needs of athletes. Adidas Performance believes that everyone is an athlete and to make people better athletes, Adidas combines form and function that speaks to all levels of athletes.
Adidas Timing is proud to introduce the lightest platform in the Performance range. adiZero fuses lightweight construction, sleek design and top-of-class functionality, making it an outstanding Running watch.

 Oooohhh… again loving the blue!
adiZero: ADP3500, ADP3502, ADP3506, ADP3508, ADP3512
Features: 100 lap memory, 5 ATM, chronograph, timer/interval timer, training timer, start lap, ventilated PU strap and 2 alarms.
Referee: ADP3119
Features: 100 lap memory, 10ATM, chronograph, timer/interval timer, training timer, referee function, vibrating alarm, start lap, low battery indicator and 2 alarms.
Visit LTIMESTUDIO boutiques in malls nationwide for the latest in adidas watches.
Check out www.ltimestudio.com
Like them on Facebook at www.facebook.com/timestudio.
Disclaimer: I have yet to try on these watches, but these are their specs. Hoping to have one of those soon!