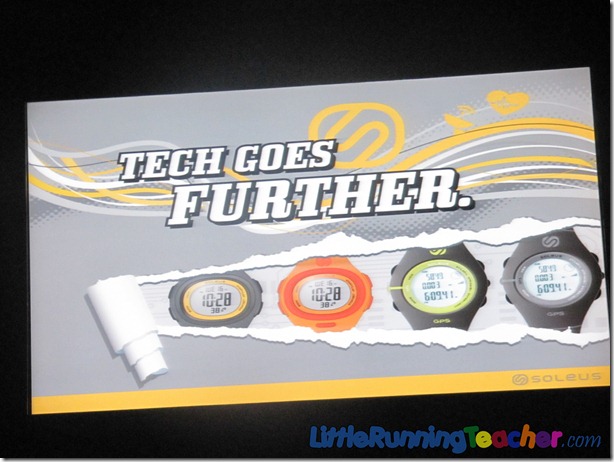 First and foremost, what does Soleus mean? I've heard the term, and I've even seen their team in several fun runs throughout the year, but I've never really thought about the meaning of the word. To me, Soleus was simply a sports watch. Well, for those of you who didn't know, the word soleus is actually a muscle in our body. It is a powerful muscle in the back part of the lower leg (or calf) and runs just below the knee all the way to the heel. It is the key muscle used for standing, walking and of course, RUNNING! So why name a sports watch after a leg muscle in the first place? Besides the catchy name, the team behind Soleus wanted their watches to be specific for runners! They don't design watches for daily use or other reasons, their watches are for the running community!
Last Nov. 28, 2011, I had the wonderful opportunity to meet Soleus owner David Arnold. I'm always in awe with people who have accents and David was one fella who came straight from the heart of Texas! Gotta love the accent! Anyway, David recognized how running has become a fast growing sport here in the Philippines and took the opportunity to inform everyone of the upcoming changes and models for the Soleus sports watch!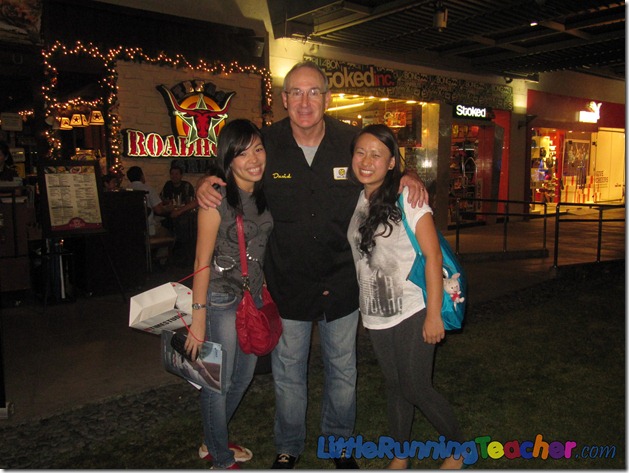 The strategy of the Soleus brand has been to introduce timing products that are completely focused on runner's insights. Design features such as extra large digits, lightweight materials, and ease of operation are all featured throughout the entire line. The Soleus line consists of running watches, Heart Rate Monitors (HRM) and GPS digital watches. The designs contain features needed by runners of all abilities.
Soleus was launched in October 2009 and is still a very young company but has already gone so far in such a short amount of time. As I mentioned earlier, the team wanted to focus on RUNNING. As David said so himself, "I want people to know that we are RUNNING, first and only." Other brands have a wide and broad variety of watches, but Soleus is nothing less or more than a RUNNING brand. "It's ALL ABOUT RUNNING."
Another thing they focus on were the NEEDS OF RUNNERS, they wanted to know the insights and do something about it .So what the team did was to do a survey and ask runners like ourselves what they wanted, what they needed and what they were looking for in a watch. What they found out was that runners were looking for simplicity.They don't want too much information, but they want accurate information that are easy to get.
Personally, I like it simple as well. I used to have a sports watch which I couldn't really use properly because I didn't understand it. The only thing I could get out of it was the time and my calories I was burning. There were other things it could do too, but I just couldn't figure out how to get it there after I lost the manual.
Soleus watches are SIMPLE and INTUITIVE. By intuitive, they mean that whenever you push a button on the watch, all the buttons are basically going to work the same way. There's nothing more frustrating than having to stop or slow down during a run because you accidentally pressed the wrong button! I know the feeling 'coz it's happened to me several times! The Soleus team didn't want their watches to be too technical and complicated to use. Though all the other components are useful, most runners don't really need them/ want them/ or know how to use them.  Soleus offers great watches at great values! They are EASY TO READ, EASY TO USE and THEY LOOK GOOD ON YOU!
Also, the Soleus brand wants to INSPIRE. To those who already have the watches, then you should know what I mean. To those who don't… the team have placed short quotes on the back of every watch to offer a little inspiration to the people that basically tells us to GET UP AND RUN. They called these short quotes SQUIFFS, and each watch has them.  For example, the GPS 1.0 has the squiff, "May the course be with you!"
So basically, runners asked for a LARGE VIEWING AREA, LARGE DIGITS and CORE FUNCTIONALITIES. Soleus worked with all these and also added some AGGRESSIVE COLORING and FUNCTIONAL UPGRADES.
Now Soleus already has a great line of running watches, several of their best sellers even being female watches! –proof that women are slowly taking over the running community too!
The watch lines include the Target Time feature, which allows runners to preset their marathon "pace bracelet" or other target times into their watch and track progress against those times during a run. The three running styles include the Convertible Display feature, which shows current lap time and total time in a split view where both numerical readouts are the same size. The running watches also include a view button at bottom center, so runners can easily toggle their viewing options among current lap time, total time, and both.
–
Here are some of their running watches:
1. Chick (noun) – the woman who just passed you
Chicked (verb) – the act of getting passed by a stronger woman athlete
Squiff: "Sanity is slow, run wild."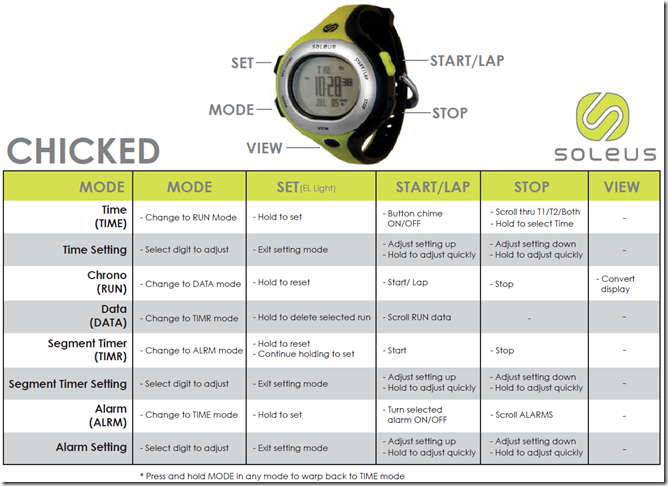 2. Tigress – graces the wrist of the active woman from morning yoga to an evening run
Squiff: "I eat miles for breakfast"
The tigress watches are made of silicon!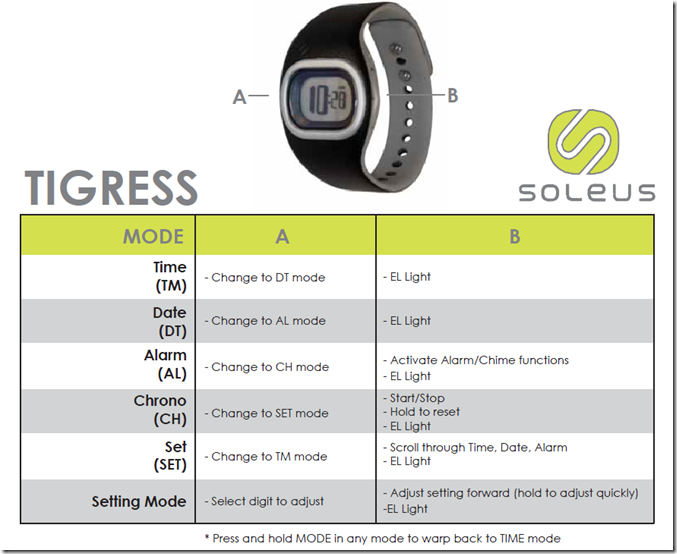 3. P.R. – Achieve your personal record with the P.R. The bold color makes sure the runners you just passed takes notice
Squiff: "Run. Race. P.R. Repeat"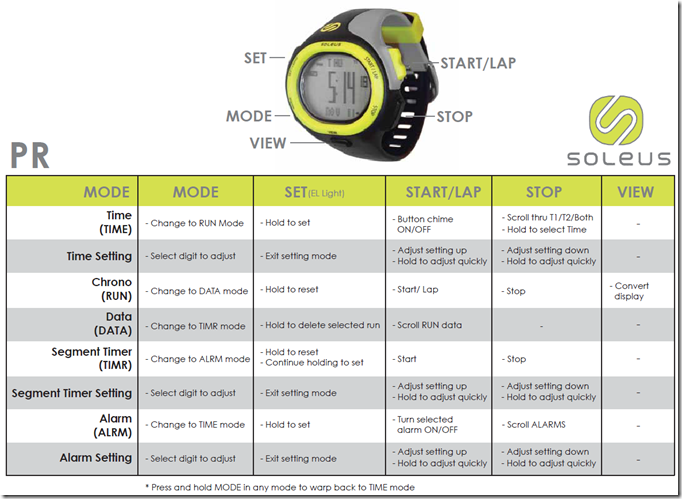 4. Ultra Sole – Ultra Sole is the ultimate running watch. The 100 hour chronograph, 15 second backlight and hydration alarm provide you with the ultimate look for the ultra marathon.
Squiff: "Sedentary sucks"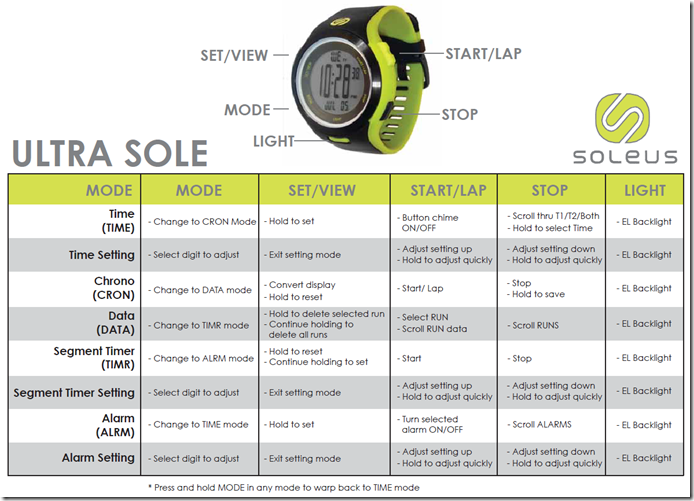 –
Heart Rate Monitors
Squiff: The beat goes on
The HRM offers all of the functions that are vital to an excellent running watch while incorporating ECG accurate heart rate data for the passionate runner.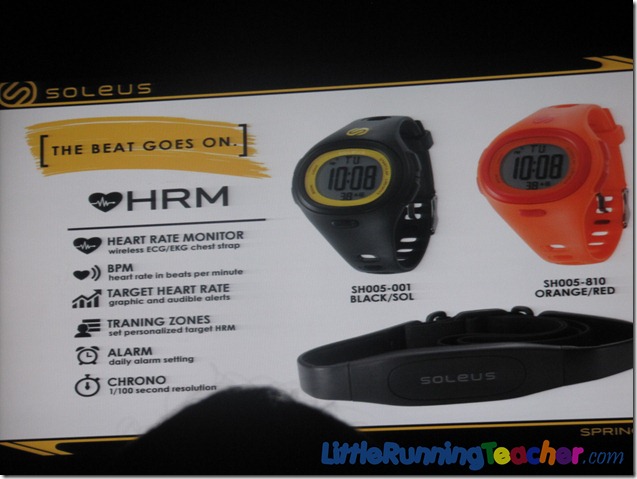 –
So that's it for their current line of RUNNING WATCHES, but Soleus lets tech go further and introduces their GPS 1.0 watch before the end of 2011! For more info on that, check on my next blog entry which focuses mainly on the GPS 1.0 HERE.
Soleus watches are available in L Timestudio, Timegear & select Wristpod boutiques! Grab yours now!
For more info, check out the Soleus website HERE