If you've read my blogs, you'd probably know how much I enjoy BREAKOUT. Every room has a different story, every room is a challenge, every room has a problem to be solved, and in every room, you have to work together in order to break out before your time expires.
Breakout is usually held in Paragon Plaza, there, they have 5 rooms with varying themes. However, every once in a while, the organizers want to break out and try different venues for the fun of it. This month, they're taking Breakout to Trinoma!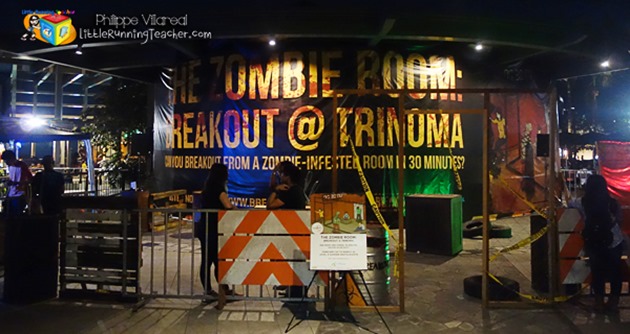 "It's dark. You've been popping in and out of consciousness not knowing where you are. Then you discover you are in a cage.
At least you're alive…for now. You hear a growl. A sound you only hear in nightmares. You see a zombie across the room.
You and your friends have 30 MINUTES to escape from not only the room but the flesh eating zombie as well.
Can you Breakout or will you become zombie bait?"
Just like the other breakouts in Paragon Plaza, you are blindfolded and led into a room. There, you will have a limited amount of time (in this case 30min.) to find the right clues to escape. The catch however with Breakout Trinoma is that there are zombieS (with an S) in the room! Yikesss!!! They won't really touch you but they CAN be scary and really distract you from your goal.
Thankfully, I had an awesome team and we were able to solve the puzzle and escape with 1 minute and 29 seconds left to spare! Woohoo! It was a fun "teaser", and perfect to bring your friends who are still hesitant to play this type of games. However, if you want something more challenging, I'd try one of their rooms at Paragon Plaza.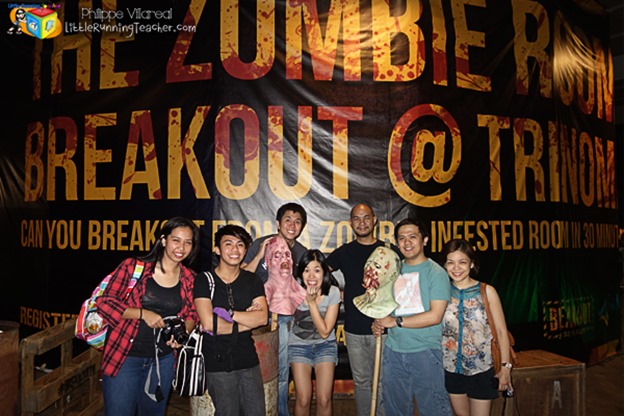 Outbreak Trinoma will run from February 20 –March 22 at the Level 4 Garden Restaurants. Price is only P300 per head (with P50 surcharge for online transactions). Interested participants can register through Breakout's website at http://www.breakout.com.ph/schedule
For more information,
Visit http://www.breakout.com.ph
https://www.facebook.com/breakoutphilippines
Email support @ breakout.com.ph
For updates on other events or to just keep in touch
visit http://www.facebook.com/littlerunningteacherpage
twitter.com/cherylgolangco