Plan, solve, escape – that is Breakout Philippine's game plan. I feel however that this isn't enough for their newest room because of a special "guest". Think you can handle being trapped in a room with an alleged ghost? Yep, you read that right. AN ACTUAL GHOST.
For those who have no idea yet about how Breakout Philippines works, you are basically locked in a room with your group where you need to find hidden objects, decipher clues and solve puzzles until you finally BREAKOUT from the room. And as if this wasn't difficult enough, you will be pressured even more as you only have forty-five minutes to escape. Else, you'd be lock in there for the next 5 hours! ..just kidding. (about being locked in for 5hrs)
Breakout Philippines is the first real escape room game in the Philippines. It currently boasts 2 branches in the Metro, with seven rooms that have drawn the inner "Sherlock" of thousands of Filipinos to date.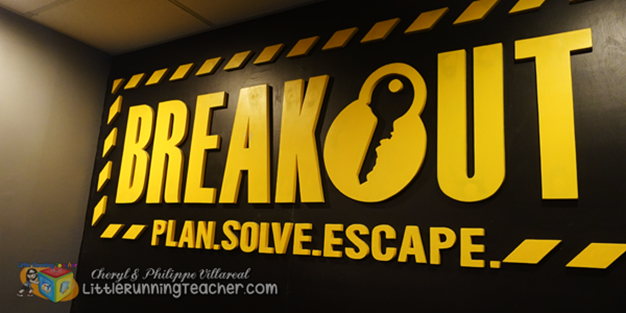 Breakout Ph's Newest Room: Hide and Seek
To those following Breakout on Facebook, you would recall that a few months ago, they posted some sad news that one room was going to be closed down. The reason? Reports from staff and players on sightings of a little girl running around the hall. Breakout Managing director Angelo Cruz admits to never actually seeing this himself and is personally unsure whether the rumors were real or not. However, due to the number of reports, he decided to close down the room to prevent any further damage. During the media launch, Angelo also shares how several thought this was a marketing ploy, but as much as he would like to say it was, it really wasn't.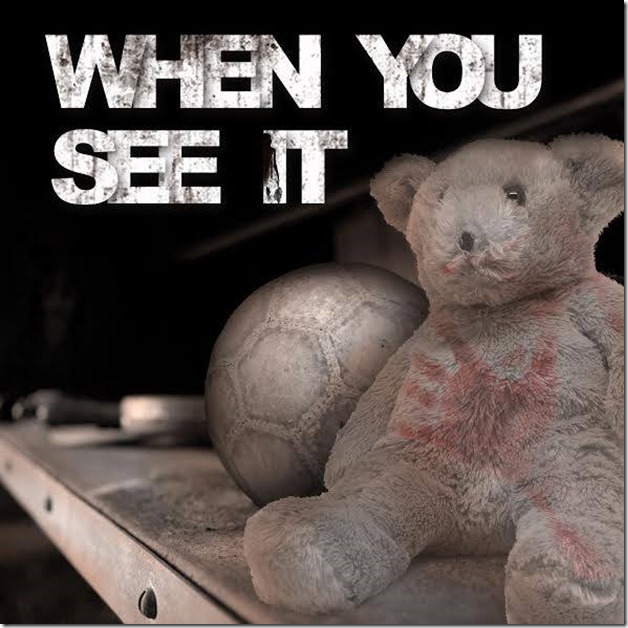 On the other hand, due to the high number of reports, Angelo and his team decided to just make use of it anyway. Instead of leaving the room empty, they turned it into an actual HORROR escape room. Whether you believe in ghosts or not is all up to you.
Unlike other rooms where the main objective is to break out, one more thing you'll need to do in this room is to SURVIVE.
According to the creators, this room does not really have a concrete story as all the participants seem to have different experiences inside the room. "We crafted a logical flow of puzzles and a solid story line that ties everything together. But participants afterwards would share stories that were not part of the script we wrote. It's surprising to hear and really freaks us out, to be honest", says Angelo Cruz. "A few groups have claimed that they felt like they were trapped for hours despite having a 45-minute time limit."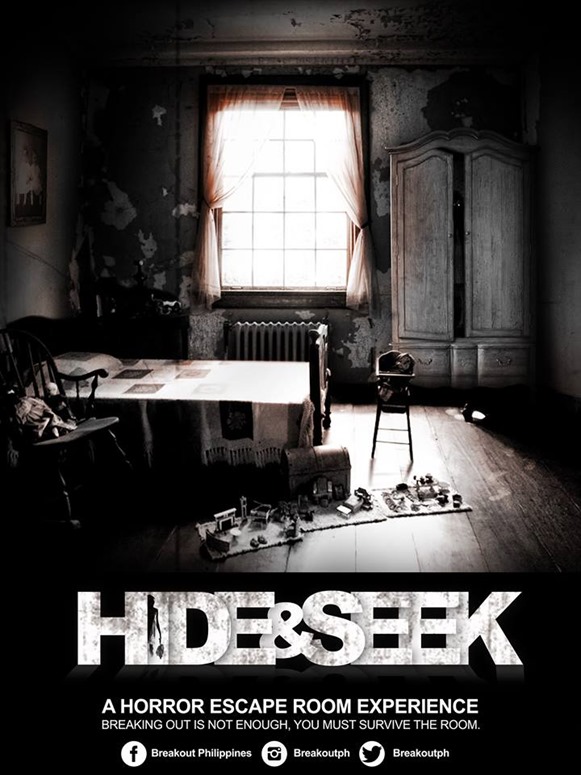 The horror-themed room opened its doors to the public last March 17, 2016 with a long line of players waiting for their turn. But don't think it's not for the faint of heart. All its effects and surprises are in good fun, making it a must-try escape room experience that both young and old will enjoy.
Breakout Philippines Rooms:
Breakout  Philippines currently has 2 branches – Katipunan and Paragon Plaza and a total of 7 rooms.
Katipunan branch rooms:
1. Clown House
Rumor has it that those who enter this infamous clown house never make it out alive. Being skeptic of urban legends, you and your friends want to prove that the house is just one big joke. A sinister clown approaches you as you enter and show a deck of cards. What seemed like the beginning of a cheap magic trick turned out to be a classic case of misdirection. The clown disappears. You and your friends are now locked inside. Passing through smoke and mirrors, can you Breakout or will you be trapped inside the Clown House forever?
MAXIMUM TEAM SIZE: 7 PLAYERS
DIFFICULTY LEVEL: 4 out of 5
2.Walking Dead
Can you BREAKOUT from a room with a lurking walker? FOX's The Walking Dead is once again teaming up with the country's premier escape room game to bring you an experience like no other! You and your friends have 45 minutes to escape while trying to keep your wits together as a flesh eating walker breathes down your necks. Can you Breakout? Or will you be walker bait?
MAXIMUM TEAM SIZE: 6 PLAYERS
DIFFICULTY LEVEL: 3.5 out of 5
3. Detention
After being caught sleeping in class, you and your friends are punished with detention. Upon entering the classroom, the door shuts behind you and you can't get out. Are your classmates playing a prank on you or is there someone teaching you a lesson you will never forget? You have 45 minutes to BREAKOUT or be trapped in DETENTION forever.
MAXIMUM TEAM SIZE: 6 PLAYERS
DIFFICULTY LEVEL: 5 out of 5
Paragon branch rooms:
1. Hide and Seek
There have been rumors that a particular room has had some paranormal activities. Being a skeptic of such, you and your friends decide to rent it out and put all those rumors to test. But once you get inside, the door locks shut. And you slowly discover the rumors are not rumors. Something is there… Waiting… Hiding. Breakout Philippines presents: HIDE AND SEEK. A Horror Escape Room Experience. This time, breaking out is no longer enough. You must survive the room.
MAXIMUM TEAM SIZE: 6 PLAYERS
DIFFICULTY LEVEL: 4 out of 5
2. Room 13
You and your friends check in at an old motel after experiencing car troubles in the middle of nowhere and cannot call for help. But this place is giving you the creeps. Something doesn't feel right. Your group tries to leave the room but the door knob falls off– and for some reason, you feel like it wasn't an accident. You try to force your way out but to no luck. You are trapped inside. Can you find a different way out or will you and your friends be trapped forever?
MAXIMUM TEAM SIZE: 8 PLAYERS
DIFFICULTY LEVEL: 3 out of 5
3. Limbo
It is told that we use only 10% of our brain. Research attempts have started to try to unlock the remaining 90% and reach the brain's full potential. You and your friends have enrolled in the latest social experiment by a group of researchers to uncover the full subconscious. The experiment procedure is to have you go through tests that push the bounderies of what is real and what is not by having you go into the subconscious of the rest of your team. During the experiment, tests go haywire and you run in the risk of getting stuck in the subconscious state.  Do you still have what it takes to Breakout? You have 45 minutes to try and figure out what's real and what's not, or else you'll be trapped in Limbo forever.
MAXIMUM TEAM SIZE: 6 PLAYERS
DIFFICULTY LEVEL: 5 out of 5
4. Adarna's Lair
You are a detective trying to discover more about the virus during the initial spreading of the Zombie Outbreak in Manila. Succeeding rumours of Dr. Adarna being involved with the Outbreak, you investigate his house to look for solid evidence and perhaps a way to stop the infection before it becomes too late. Upon entering the premises, you get a feeling you are not alone. You start hearing sounds you only hear in nightmares. Can you find the information you need and breakout before you become zombie bait?
MAXIMUM TEAM SIZE: 7 PLAYERS
DIFFICULTY LEVEL: 4 out of 5
For more information and reservations,
visit http://www.breakout.com.ph
or call 0927-2571602/ 0919-8154461
or email [email protected]
FB: https://www.facebook.com/breakoutphilippines/?ref=ts&fref=ts
For updates on other events and the like,
follow http://www.facebook.com/LittleRunningTeacherPage