It's a cold stormy night and you're trapped in a creepy motel room… how do you get out? Just when you thought it was all over, Breakout Philippines comes out with another exciting and "frustratingly fun" room to escape from: Room 13!
"After getting an eerie feeling that you are being watched, you and your friends try to leave the room. The doorknob falls off. You try to force your way out but all exits are sealed tight. This isn't some unfortunate accident. There's more to this room than you thought. The nightmare has become a reality. You are trapped inside. You have 45 minutes to Plan as team, Solve puzzles and Escape before time expires. Will you be able to #Breakout or be #TrappedForever? "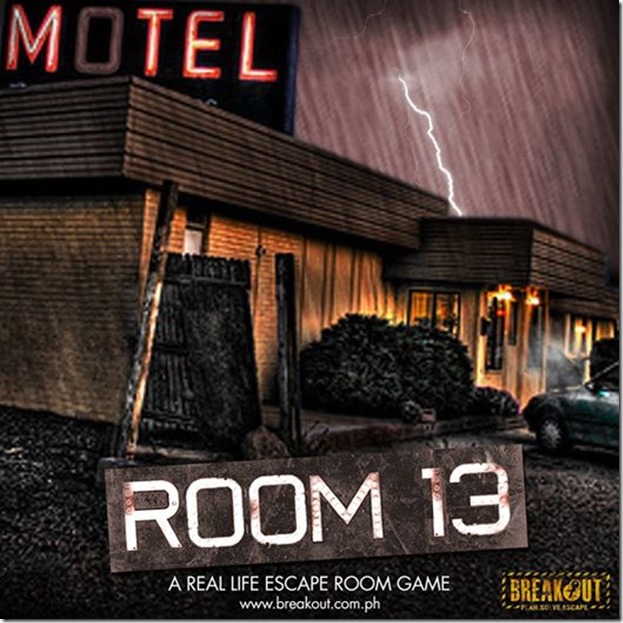 For those unfamiliar with the concept of Breakout Philippines, it's basically a REAL-LIFE escape room game. Breakout is an interactive game where participants will have to team up to find clues and solve logic puzzles based on various story lines and themed rooms. Read more about it here
Since it first opened last May 2014, Breakout Philippines has had several fully booked weekends with people dying to try their luck at escaping either Adarna's Lair or the Prison Room. Well, this August, Breakout Philippines is opening up a brand new room for you to trap yourselves in. (That sounded wrong. haha)
For Room 13, a total of 8 players are allowed to play. Before going in, you are given a short briefing of what to expect as well as things to do or to NOT do. Kristine, gave our briefing at 8:30pm last Saturday and despite having given these briefings several times already, she was still full of zest and energy! Good work Kristine! Your energy definitely made us all the more excited.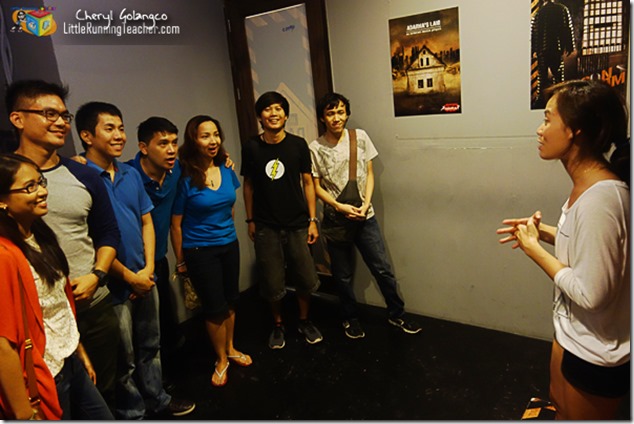 Breakout Ph : The team looking really excited of what's to come!
After blindfolded, we were led up to the 2nd floor where Room 13 is located. There we were asked to put on some blind folds before entering the room itself in order to focus the senses. We listened to an audio recording of the room's history and soon after removed our blindfolds. A CCTV with built in mic and speakers is placed inside the room so that the marshals are able to watch you from the outside and warn you if you're about to do something crazy (like break a lock or electrocute yourself). A huge timer is also found inside to warn you of your remaining time left.
I'm not about to give any spoilers but I HIGHLY recommend any of the 3 rooms to friends, office mates and families! It's a fun game that will allow you to test your wits, memory and teamwork. Room 13 is said to be the easiest among the 3 rooms but I can guarantee it is still full of excitement and surprises! All I can say is EXPECT THE UNEXPECTED and DON'T TAKE ANYTHING FOR GRANTED.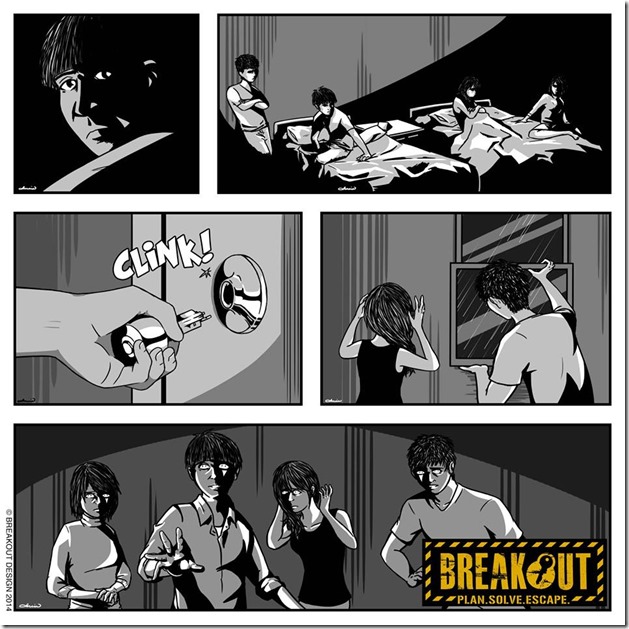 Breakout Philippines: Game Mechanics
This game won't put you in real danger
We want to play a game with you. For those who follow the Saw Series… No, we won't ask you to do anything crazy like chop off your foot or anything like that.
We offer several themed rooms, each one masterfully designed to be filled with elaborate logic puzzles you need to solve in order to Breakout.
You have to collect items, identify clues, solve mysteries, and break puzzles within 45 minutes.
This game requires teamwork, observation, creativity, and communication.
WHAT HAPPENS AFTER 45 MINUTES?
What do you get if you successfully Breakout? The prize is the priceless moment when everything falls into place and you finally find the solution. You will be the envy of your friends proving that you are, in fact, McGyver, Sherlock Holmes and Michael Scofield rolled into one (brilliant) person. The fastest ones will also earn a spot in our Hall of Fame and you will be honored… Your parents will be so proud.
If you don't escape, we will keep you in the room forever. Just kidding. Keeping you in the room against your will is breaking the law.
"Failure is just one step closer to success!" Feel free to play again. Breakout Philippines' offers a membership card that can get you up to 50% off your second try of the same room!
*Note that only your time during your first attempt will be eligible for the Wall of Fame.
I'm happy to share that our team got out on our first try with a few minutes to spare! Definitely gave us a high to escape from the crazy Mr. M!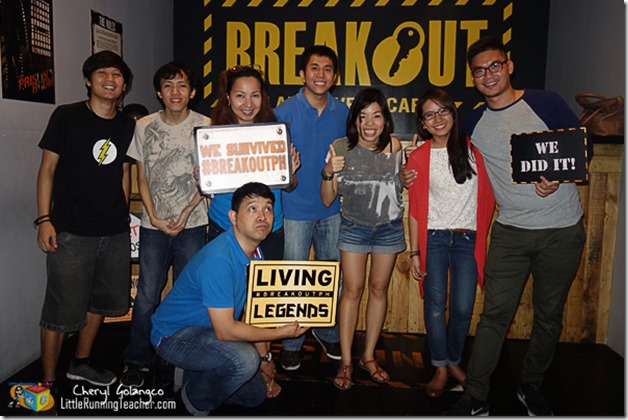 Breakout Philippines: Woohoo! We did it! (Que in Dora the Explorer music here)
Breakout Philippines: Registration Fees
For 1-2 persons  – P600 per person.
For 3-4 persons – P500 per person.
For 5 or more persons – P400 per person
*Avail of the Membership Card
Pay a one time fee of P500 for a lifetime membership.
Get a 10% discount for the first game of each room you play.
Get a 50% discount for the succeeding games you play of the same room.
Get a 10% discount on official Breakout Merchandise.
* If your group is less than the maximum number of persons per room, you can opt to combine with other groups to try and get as much help as you can.
* Firm believer of STRANGER DANGER? Keep in mind that the price per person decreases the more you are in a group.
Breakout Philippines: Payment Options
OPTION 1: Online Reservation and Payment.
This is the quickest and easiest way to GUARANTEE your preferred room, date and timeslot for you and your friends. Simply go to this link and follow the easy instructions
*Note that there is a P50 additional fee per person for this payment method.
OPTION 2: Bank Deposit
Still a bit wary of online transactions? That's ok. We can do it the old fashioned bank deposit way. Send us an email at [email protected] with the email SUBJECT: BREAKOUT ROOM RESERVATION.
Please note that since accommodating your email may take some time, please INDICATE 3-5 preferred options of your preferred ROOM, DATE and TIMESLOT.
Expect them to get back to you within 24 hours for your room reservation confirmation and bank deposit details. We will need a scanned copy of the bank deposit within 24 hours. Failure to do so will cancel your reservation.
OPTION 3: WALK-IN
If you choose to live dangerously, you can opt to simply drop by DURING game days and take your chances for an availability in the rooms.
And just so you can't say we didn't warn you, we'd just like to let you know that we do NOT recommend this option. The last thing we'd want to do is to break the hearts of excited walk-ins just because all slots are filled.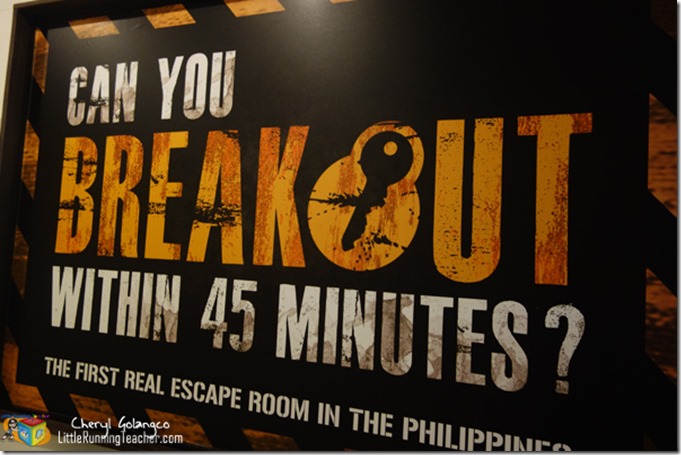 For more information,
Breakout Philippines
Paragon Plaza Ground Floor Reliance St., corner EDSA, Mandaluyong City, Metro Manila 1550
Website:  http://www.breakout.com.ph/
Facebook: https://www.facebook.com/breakoutphilippines
Twitter: @breakoutph
IG: @breakoutph
For updates on fun runs or to just keep in touch
visit http://www.facebook.com/littlerunningteacherpage
twitter.com/cherylgolangco