I love Breakout Philippines! I've tried 2 of their 3 rooms and they just added a 4th room this week!! Woot woot! Go BOOK now before slots are filled! You'd definitely want to experience this!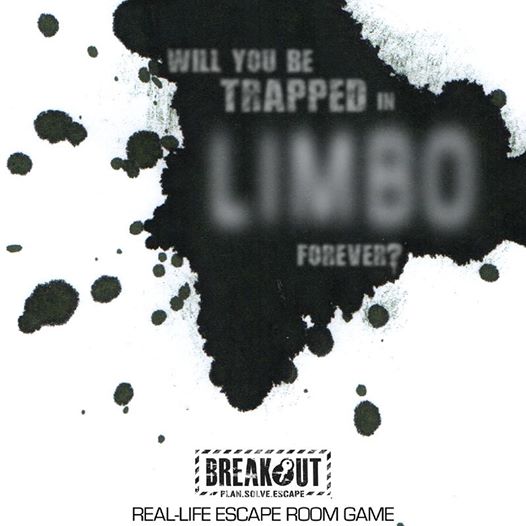 PRESS RELEASE:
The first real-life escape room game in the Philippines has another surprise for you all! Breakout Philippines is opening another room called Limbo this Sunday, December 14, 2014. We would like to invite everyone to play the newest themed room and test your skills if you will be able to breakout, or be trapped forever.
Limbo is the fourth room of Breakout Philippines, and it will test your imagination. It is told that we use only 10% of our brain. Research attempts have started to try to unlock the remaining 90% and reach the brain's full potential. You and your friends have enrolled in the latest social experiment by a group of researchers to uncover the full subconscious. The experiment procedure is to have you go through tests that push the boundaries of what is real and what is not by having you go into the subconscious of the rest of your team. During the experiment, tests go haywire and you run in the risk of getting stuck in the subconscious state.
Do you still have what it takes to Breakout? You have 45 minutes to try and figure out what's real and what's not, or else you'll be trapped in Limbo forever.
Breakout Philippines opened last May 2014, and has released three rooms since then. Previously released rooms are Adarna's Lair (Outbreak Manila Room), Prison Room, and Room 13. With over 2,500 groups who have tried, only a few were able to successfully breakout. Each room has their own theme and story line but in the end, players still have to look for their way out. The puzzles in each room has been carefully thought out and meticulously tested, so expect that they all connect to each other and not disjointed. It is a great bonding experience for friends, family, or co-workers because everyone has to work together in planning, solving, and escaping.
Game rates are listed below:
1 – 2 players: Php600 each
3 – 4 players: Php500 each
5 players and up: Php400 each
Room capacity:
Adarna's Lair: minimum of 1 player, maximum of 7 players
Prison Room: minimum of 1 player, maximum of 6 players
Room 13: minimum of 1 player, maximum of 8 players
Limbo: minimum of 2 players, maximum of 8 players
Booking starts now. www.breakout.com.ph/schedule
Breakout Philippines is located at Ground Floor Paragon Plaza, EDSA corner Reliance Street, Mandaluyong City. (Between Boni and Shaw MRT station, near Greenfield District)
We are open for the general public during Fridays to Sunday, from 10AM to 10PM
We also accept corporate bookings. Please email us at [email protected] for more info.