For the past years, I've been trying a variety of workouts and have even grown addicted to some!…my motivation? No one else but my workout buddy and fiance, Philippe. Working out is really more fun when you have friends or people to support you, and this is exactly what makes CrossFit Mad Minute stand out.
–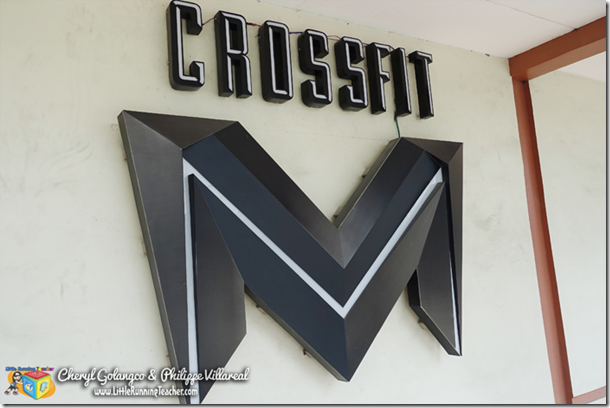 –
Crossfit has grown widely popular in the Metro as more and more people are recognizing its benefits. There is probably a crossfit gym not far from where you work or live. Recently, I tried out Crossfit Mad Minute in Yakal, Makati. What I discovered? The attendees and coaches here are more than just gym buddies… they're a family.
–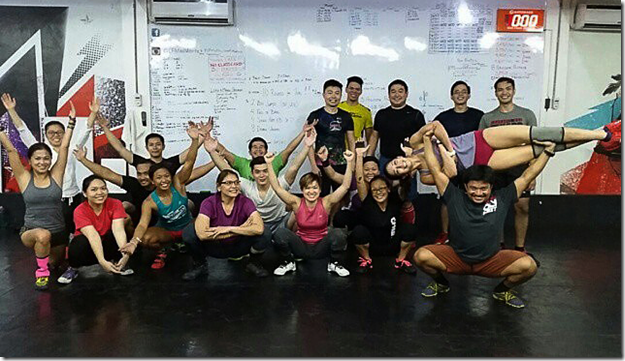 Photo by owner, Isabel Falco (the lady in purple being lifted)
–
"Opening a gym has always been a dream of ours, but had always sort of been an "in 5-10 years" plan. But the opportunity came much sooner and we couldn't let it pass. There's something very fulfilling about helping others discover a much better quality of life — helping them become healthy and fit for longer, and enabling them to do things they'd never thought they'd be capable of." shares owner, Isabel Falco.
–
The CrossFit Mad Minute Community: Small Beginnings and Importance of Community
"Community is one of our central tenets because a great community of supportive, like-minded people will help you achieve your goals so much more than if you were alone. They will be there to cheer you on, urge you to do one more rep, nag you to get your ass to your gym when you're feeling lazy, and celebrate your every PR. (personal record)," says Isabel.
Crossfit Mad Minute Weightlifting class
–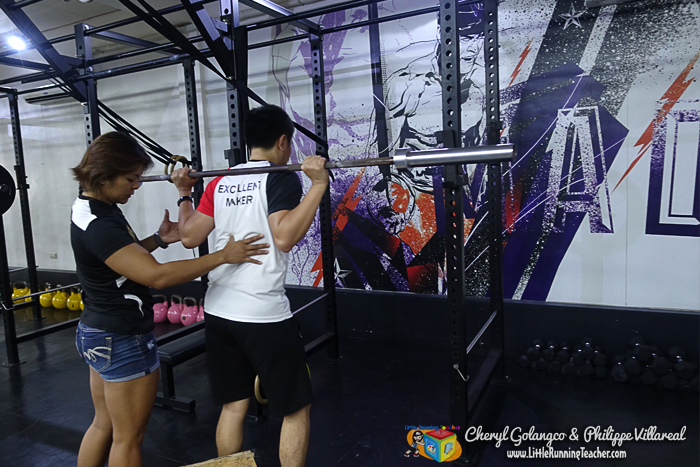 Coach Irene asked if Philippe wanted to try lifting an empty bar and when he said yes, she guided him through out
Birthdays at CrossFit Mad Minute:
I do believe in the importance of community. I feel that is is the support of fellow members that will really make you want to keep going. One tradition I observed at Crossfit Mad Minute is how they celebrate birthdays! Normal people celebrate birthdays by eating out, blowing a cake or even just singing a Happy Birthday song. Not here. At Crossfit Mad Minute, members and coaches will celebrate your birthday by doing a number of burpees equivalent to your age! So if you're 60 years old, PLEASE choose not to go that day! (haha kidding)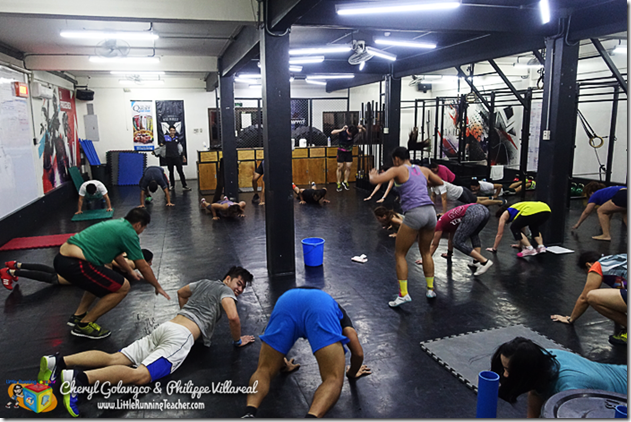 Happy Birthday from Crossfit Mad Minute!
When asked why she continues to workout at CrossFit Mad Minute, member Jaye Querubin shares her story.
"I'm also not sure how to explain it. Haha but It was one of the best decisions I've made with regard to my fitness lifestyle. I was very hesitant at first 'coz I was afraid that crossfit just wasn't for me. I tried it once in a different box/ gym, I was sore for a week. Then one day I just made a decision to enroll for good at Crossfit Mad Minute. It turned out to be everything I needed. It was time efficient as each class only lasts 1 hour. It was fun because boxmates are really friendly and supportive, the coaches are also very concerned about the proper form and not just the max reps. They always makes sure to teach you something new. The environment is very welcoming and the everyone's support for for each one's fitness goals is there. It's the first time I felt that I wanted to workout everyday despite how sore it made my body. Haha. Mad Minute isn't just a place to work out for me, I've only been there for almost two months but it really feels like home to me."
The CrossFit Mad Minute Community:  Bootcamp VS Crossfit
If you're new to the crossfit scene, it is important for you to know that before you can start doing any deadlifts or the like, you are required to take a Crossfit Foundation class. This usually takes about 5 sessions where they train you with the basics of crossfit. Hence, some gyms would opt for you to take bootcamp instead. However, Crossfit Mad Minute has a different take on this.
Crossfit Mad Minute does not offer bootcamp classes, instead they let you join the class but with scaled down workouts. This means, you don't do any weight lifting, but you are given alternative workouts that still more or less hit the same muscle group.
I was given lighter weights than that supposedly used for this workout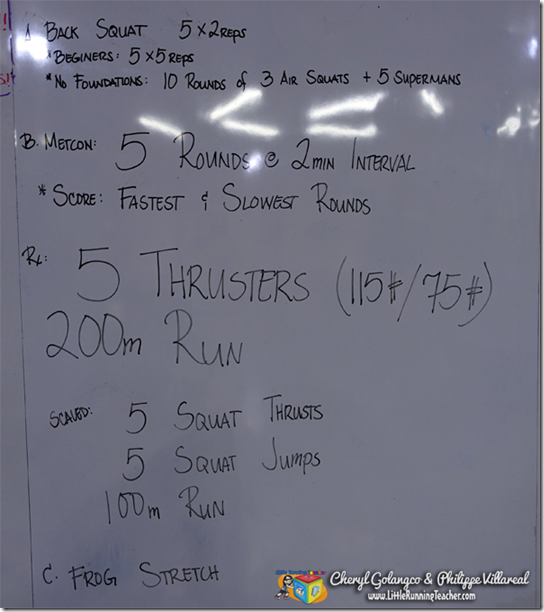 An example of the daily workout with the scaled down version below
On my first day at Crossfit Mad Minute with this scaled workout, I thought to myself… this is too easy. I'm not even sweating, I don't like it here. But then… it turns out, the coach was just testing us and warming us up. The succeeding days became CHALLENGING and I started sweating buckets!! I take everything I said back, I'm loving it here.
There were still times I felt my workout was easier than those who were actually doing lifts, but after I was done, I'd feel it was more or less the same (minus the weight) as my body would slowly feel all "noodlely"  and weak. What's great about being able to do a scaled down version of the workout is that you get to have a little taste of crossfit. Moreover, your gym mates and coach are always willing to give you some tips to help you transition to basic crossfit.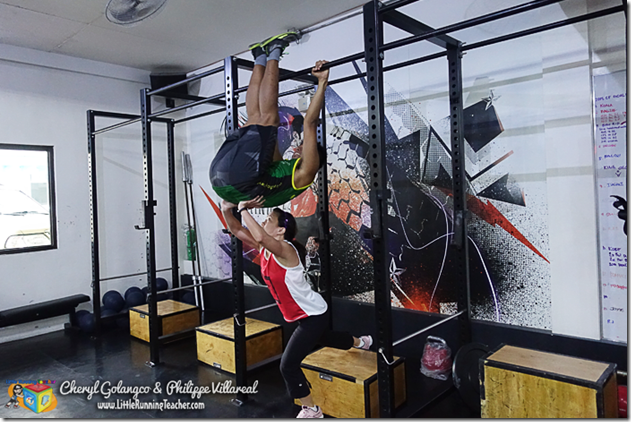 "I got your back (literally)"
The CrossFit Mad Minute Community: Consultations with the Coaches
Since Mad  Minute thrives on being a community, the coaches are always ready to offer tips and tricks to help you maximize each workout. You can approach most coaches before, during, or after a class. However, if you feel you need more than just a few minutes, you can always schedule a one on one session with the coaches.
On my 2nd week, I got to spend some time with Coach Jamie. He is the Crossfit Mad Minutes resident coach and physical therapist. Hence, he was able to answer certain questions I had, one of which was a throbbing pain in my knee that I got as a result of too much running.  (To my runner friends, it wasn't ITBS) Coach Jamie specified that this wasn't really an injury but a result of improper form when running. He then performed a couple of tests to find the root of the problem. Afterward, he taught me a couple of stretches/exercises that I could do at home to strengthen my knee and get me back to running in no time.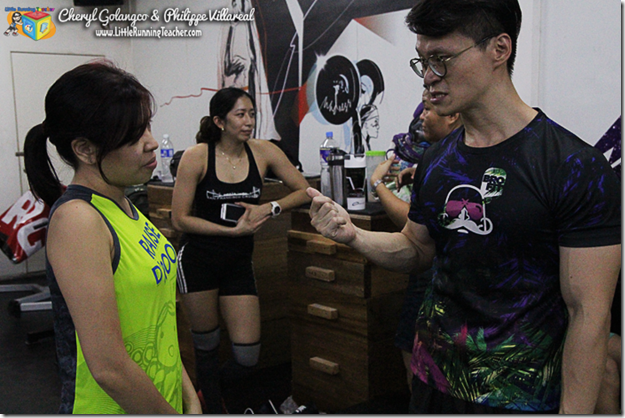 Coach Jamie diagnosing the problem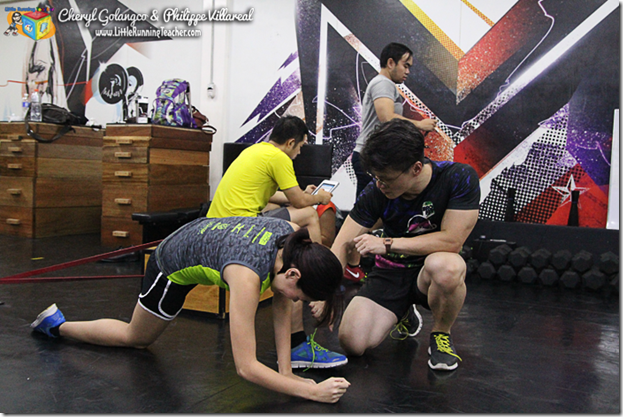 A few sample workouts to stretch the muscle
Crossfit seems very intimidating. It looks scary and it looks like only the really strong people can do it. I know this because I too felt very intimidated by it. But just like any new venture, it is only scary at first. Crossfit Mad Minute can also help ease the transition with the friendly coaches and members who will all make you feel like home. As owner Isabel said, it's not just about the workout, it's about the community.
The best thing about crossfit is it helps strengthen various muscle groups to help your further in a certain sport/area. In my case, I noticed how I started feeling less pain in my knee when running after only 2 weeks of continuous crossfit!  So what else are you guys waiting for? Let's do it!
CrossFit Mad Minute
Unit G 7433 Yakal St. (Makati)
(02) 5514281
https://www.facebook.com/CrossFitMadMinute
IG: @cfmadminute