A couple months ago, I started hearing about this cool new crossfit gym in Makati. My friend had just started working out there and highly recommended it. However, since I never tried crossfit, I was hesitant to try it out. I'm sure glad I changed my mind.
Primal Ape Crossfit is located along Chino Roces Ave. in Makati. Outside, it still looks very small as construction around it is still ongoing. However, upon stepping in, you'd be amazed at how big this gym is! I have yet to see all crossfit gyms, but it's the biggest one I've seen so far. If you wanna try it out, just use this link for a complimentary 3 day trial and P1000 off membership!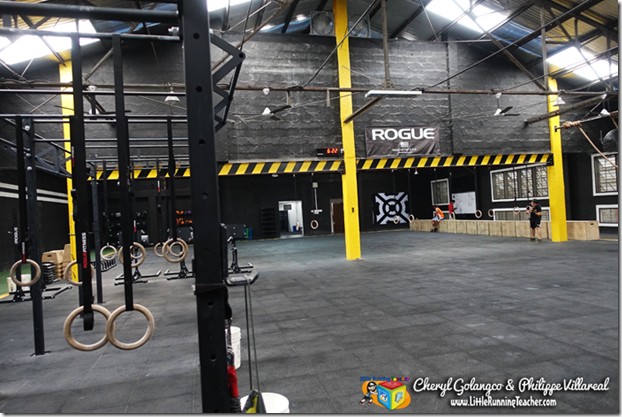 Primal Ape Crossfit: The Space
As mentioned earlier, the place is HUGE with about 1600 sq. meters of space – more than enough for a variety of movements! Primal Ape Crossfit is also fully equipped by Rogue.  The benefits of having the gym this big is that they are able to have simultaneous classes – while the crossfits pros do their thing on one side, the beginners or those without foundations can have their boothcamp on the other side.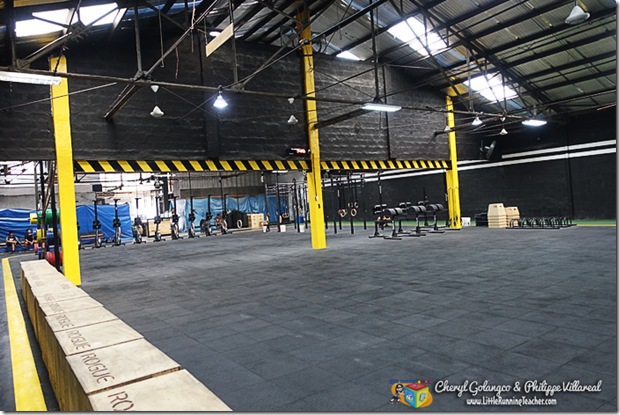 Running around the gym is about 100m! I like that we can run inside as it's a really good warm up exercise.
Primal Ape Crossfit: CLASSES
First off, you can check out their schedule through their Facebook page and website. Just remember to COME ON TIME. If you arrive late, you're asked to do penalty burpees. If you arrive too late, you are no longer allowed to join the work out. What's great about this is that it really disciplines you and builds the habit.
Now if you've seen friends posting photos carrying what seems to be really big and heavy barbells, chances are they're doing crossfit. So that's EXACTLY what I expected to be doing! As it was my first time, only then did I learn that doing crossfit required some basic foundation classes first. The classes will help teach you proper ways of lifting and the like to prevent injury.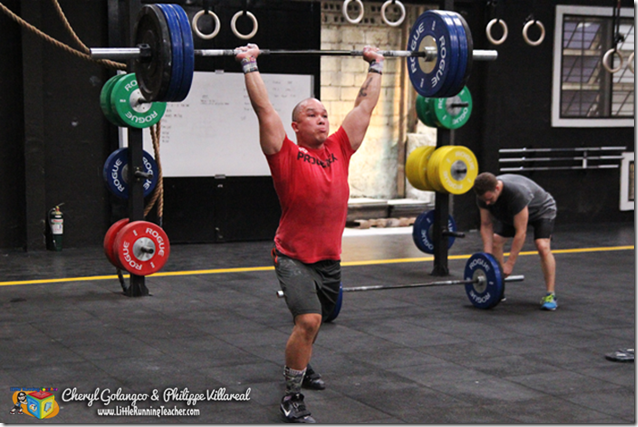 More than just the regular classes, I also like that Primal Ape Crossfit always has something else going on on the side. They have class parties, rowing classes, etc. They really turn this place into a very non-intimidating and friendly environment for all.
The difference of a crossfit gym from just any regular gym are mostly the CLASSES. In regular gym, you're left to do your business on your own. Here, there are classes and schedules you have to follow. It's great 'coz there will always be a coach guiding you towards your goal.
Primal Ape Boot Camp
So what can those with no crossfit background do? While other gyms sometimes offer a scaled down version of the workout, Primal Ape lets you do boot camp instead. The perks of having a gym this size is that while other attendees are doing crossfit, others can have boot camp. Boot camp is what it is. Military, hard core workout that'll push you to your limit!  It might sound a bit scary and intimidating, but it's not. It's gonna push you – yes, but the feeling afterward is priceless! Let me break it down for you so you won't get too scared to start.
First off, your coach would describe the workout. Not to worry as they would also demonstrate it prior to the workout.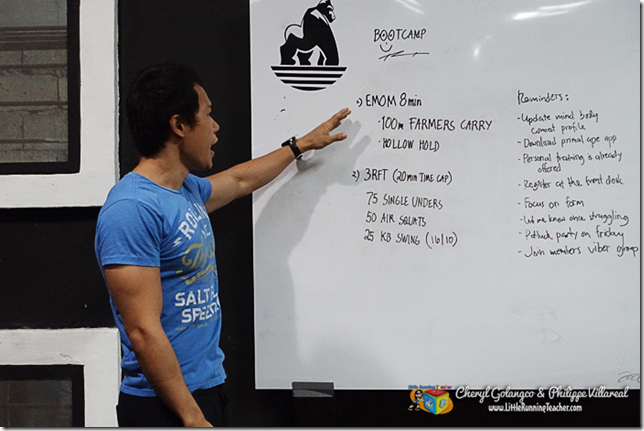 This is Coach Sean, I felt he was the most approachable among the coaches. Don't worry though as the other coaches are also very approachable. Some might be a little bit more strict than the other, but all have one goal in in mind for you, and that's to get you fitter and stronger.
–
To make the most of your workout, make sure you really push yourself. It may be tiring, but try not to rest too much in between. The only person you're cheating is yourself. Before each workout, the coaches would also properly explain its benefits. Hence, if for some reason you really CAN'T do it, they will modify your workout to still hit the right muscle groups.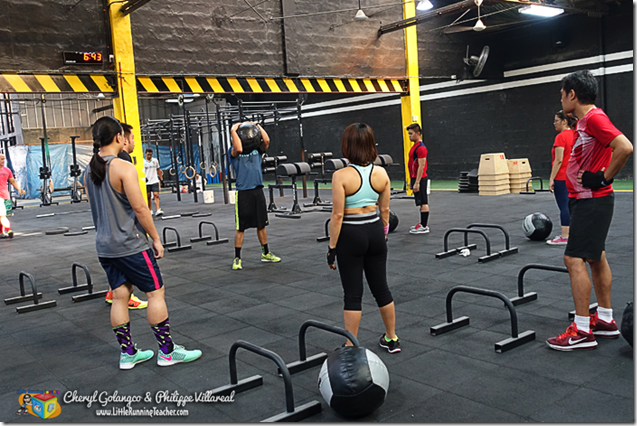 Coach Sean showing us the Do's and Don't of our next workout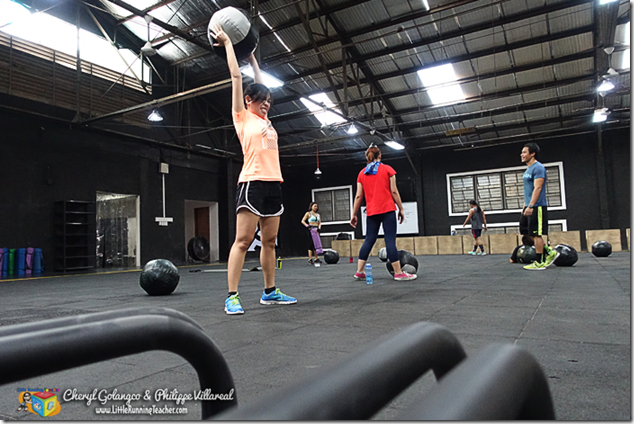 Need to build more muscle in my arms!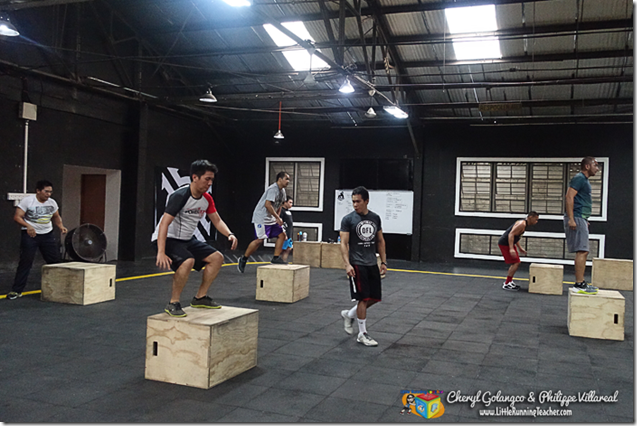 Box jumps to me are fun, but when Coach Sean decided to do a combination with burpees, it got extra challenging!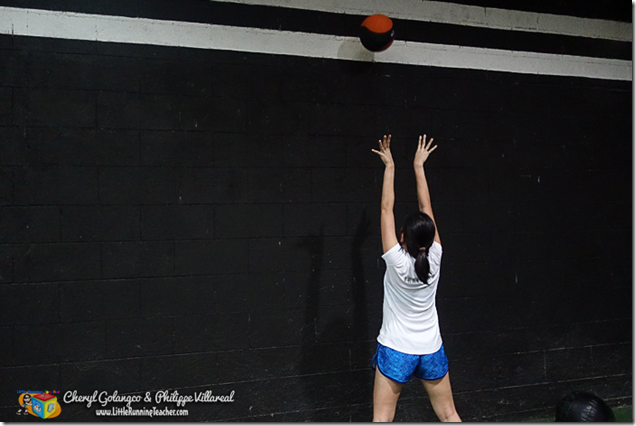 Wall balls look easy, but to challenge yourself further, GET A HEAVIER BALL. Oh it's gonna be so satisfyingly painful!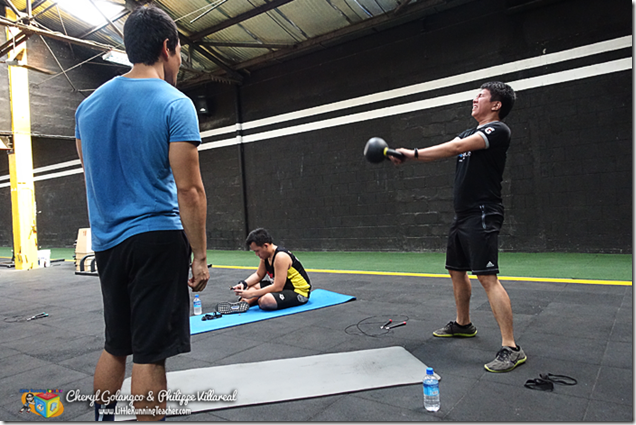 Philippe was about ready to give up, but Coach Sean encouraged him to push harder and divide his workouts into smaller sets! He was able to complete the workout thanks to that!
Primal Ape Crossfit: Coaches
Primal Ape currently has around 7 different coaches who each work on their individual schedules. The coaches all have their own unique skills and attitudes. You might be intimidated by some but don't worry, they don't bite! They're there to help you reach your goal, they will push you if you need it but will also adjust if necessary. They are very approachable and would gladly share a few tips or so if you're working on a specific goal.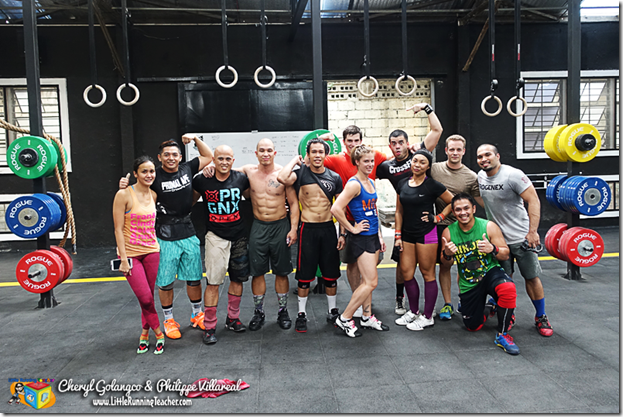 Some of the buff coaches and their crossfit students
FREE 1 Day Trial + P1000 OFF MEMBERSHIP
If you want to get abs like that… then guys, CROSSFIT is the way to go!! sign up now and get a free trial! Just click the link and voila! –> CLICK HERE FOR FREE TRIAL
–
For more information visit
via http://www.primalapecf.com/
https://www.facebook.com/primalapecrossfit
IG: @weareprimalcf
For updates on other runs or to just keep in touch
visit http://www.facebook.com/littlerunningteacherpage
twitter.com/cherylgolangco