Is it just me or have crime and investigation programs on TV become more interesting? In the past year up 'till now, I find myself engaged in programs such as Law & Order, NCIS, Criminal Minds. The more I watch it, the more I feel like a "real" detective! (haha)…well sort of. You knw that feeling when you're watching the show and you're also somehow solving it while in your living room? Yeah, that's how it feels! So when I heard about of Breakout's new event that allows participants to play detective…. OOOH WAS I EXCITED. I'M GONNA BE A DETECTIVE!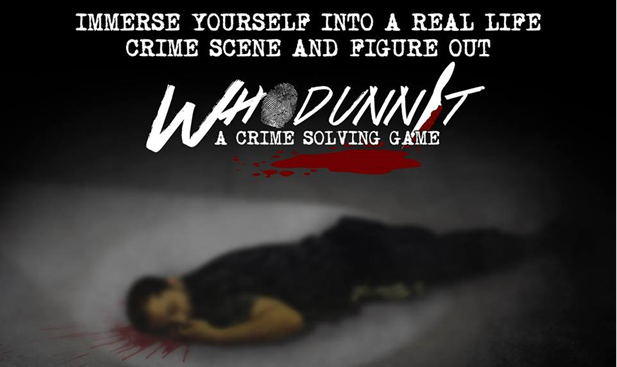 Breakout Philippines, the country's premiere escape room game, unlocks a whole new side to theatrical entertainment. This 2015, Breakout Interactive Theater (BIT) will be launching its first public event called WHODUNNIT.
Experience it first-hand what it feels like to be a detective for a night! Feel like a star of your very own movie that will test all your seven senses. Immerse yourselves in a crime scene for one night where you'll be running around looking for clues, interrogating suspects, and investigating crime scenes! And yes, running may or may not be required.
Think of it like an interactive play, so instead of just watching the story unfold, YOU get to be part of it. In fact, YOU will play one of the biggest roles in the story. You play the detective.
This night is perfect for all the detectives at heart. It is a complete experience that comes with a 2-course dinner from The Belly Rub, and prizes for the top groups. Best detective and press costumes will also be awarded!
Bring your friends to form a group of 5, and write your own adventure in this exciting new way to play a game.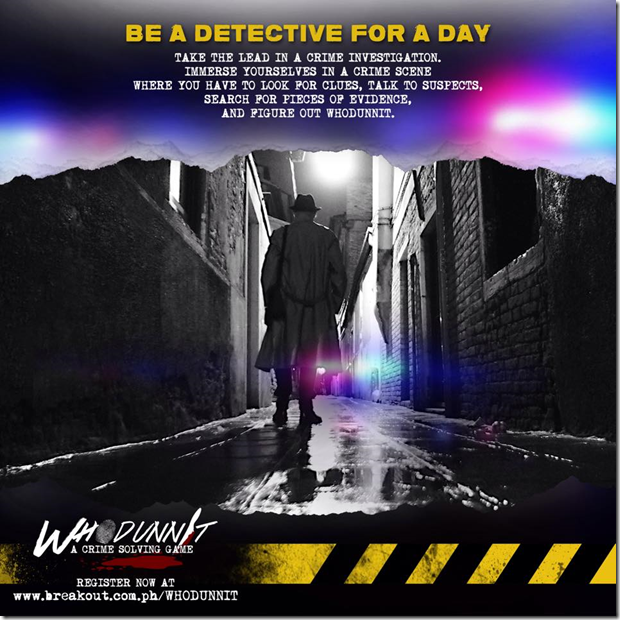 WHODUNNIT – A Crime Solving Game by Breakout Interactive Theater
When: July 11, 2015, 6:00pm –10:00pm
Where: Commerce Center, Filinvest Alabang
*Disclaimer: This is a special event and will only be a 3-hour Breakout Interactive Theater instead of our usual 45 minutes escape games.
Registration Details:
Registration Period: June 21 – July 10, 2015
Registration Fee: You have the choice to pick between Package A and Package B
Package A: Without Meals
Registration fee is only P1200 per person
Package B: With Dinner Included
Registration fee is only P1500 per person
Meals will be provided by Belly Rub. Click HERE to see the menu choices of the night.
Note that all the meals come with bottomless iced tea.
*Each package is already inclusive of your own Whodunnit Kit (detective notebook, pen, and accusation sheets)
*Prizes are given out to the best dressed team and the top team (score wise) of the night.
How to Register:
OPTION 1: ONLINE RESERVATION AND PAYMENT
This is the quickest and easiest way to guarantee your preferred timeslot for you and your friends.
Simply go to this LINK and follow the easy instructions. Pay through PayPal or your credit card!
Note that there is a P50 additional fee per person for this payment method.
OPTION 2: BANK DEPOSIT
Still a bit wary of online transactions? That's ok. We can do it the old fashioned bank deposit way. Send us an email at [email protected] with the email SUBJECT: BIT WHODUNNIT RESERVATION.
Inform the organizer HOW MANY you are in the group and if you're going to AVAIL OF PACKAGE A or B. If you will choose Package B, please also let us know what meal you will get based from the menu on the day.
Expect them to get back to you within 24 hours for your reservation confirmation and bank deposit details. We will need a scanned copy of the bank deposit within 24 hours. Failure to do so will cancel your reservation
WHODUNNIT Game Mechanics:

Runtertainment, Inc. is the team behind Outbreak Manila — the 5-km zombie infested fun run, Breakout Philippines — the country's premiere escape room game, and the 1,000 ft slip-and-slide for Slidefest Philippines.
So what are you guys waiting for? Go register and let's enjoy a night of crime fighting!
For more information, visit:
http://www.breakout.com.ph/whodunnit
https://www.facebook.com/profile.php?id=245629388944742&fref=ts
https://www.facebook.com/events/120356741632272/
For updates on other runs or to just keep in touch
visit http://www.facebook.com/littlerunningteacherpage
twitter.com/cherylgolangco