Hey moms, whenever you're trying to apply your kids to school, one requirement asked is their birth certificate. When we ourselves are applying for a job or maybe a loan, several legal documents are also asked, one of which is also the birth certificate. Our birth certificates are one of the most important documents we have and yet we often lose or misplace it. Thankfully we can always call NSO to have on delivered… but it was ALWAYS such a hassle to order a birth certificate as well as deposit the payment. Well, NOT ANYMORE.
Citizen Services: Birth Certificate Online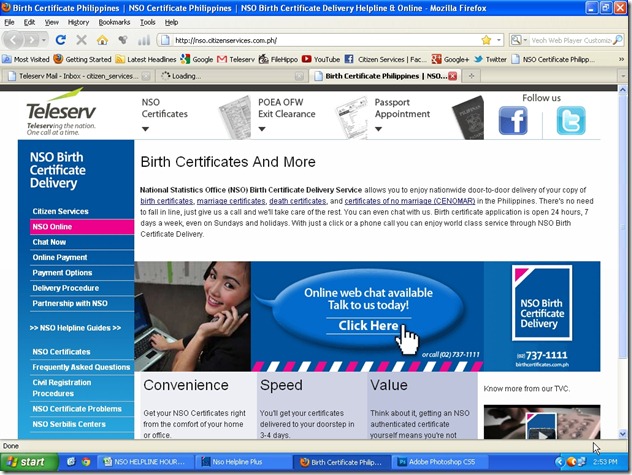 "NSO Birth Certificate Delivery powers birth, marriage, death, and even Certificate of No Marriage (CENOMAR) door-to-door deliveries. By simply calling the NSO Helpline 737-1111, citizens can enjoy the convenient request and procurement of their NSO certificates without the hassle of traffic, queue, and waiting."
"NSO Birth Certificate Delivery Helpline 737-1111 is open 24 hours a day, 7 days a week even on Sundays and holidays. With nationwide coverage, everyone from Batanes to Jolo can enjoy the same world-class service that Pilipinas Teleserv Inc. has been providing for the last 9 years."
But hold on, this is what I've been doing ever since, so how has Teleserv made life easier for me? Well, with the help of an online channel that accepts credit card payments for NSO certificates, you now have a choice to pay through the usual bank deposit in Metrobank, Bayad Center and Bancnet. or in the comforts of your home! All you need to do is dial the Helpline (02) 737-1111 or chat online at www.birthcertificates.com.ph. Through the website, you can chat with the friendly Customer Care Officer, know the answers to your NSO concerns, and settle your payment all with just a click of a button. Your NSO certificates will be delivered right at your doorstep in 2-3 days wherever you are in the country.
Now what about our relatives who are OFWs that are struggling to get the required documents so they can take a quick vacation back home? Well, here's a solution for them.
Citizen Services: The POEA OEC Balik-Manggagawa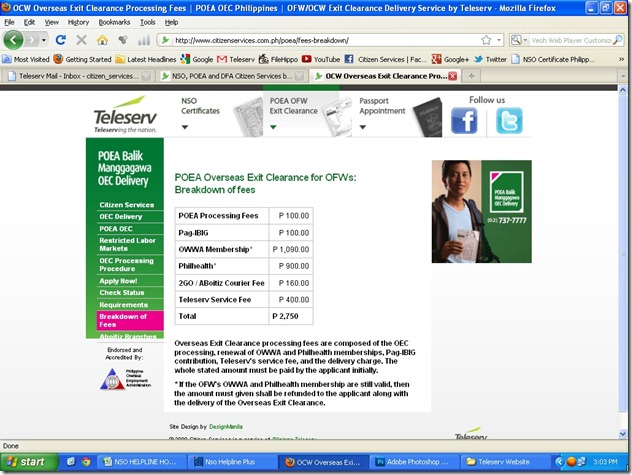 For busy OFWs (Overseas Filipino Workers), leaving the country for a vacation need not be a hassle for you anymore too! With the upcoming improvements on the online website www.oecdelivery.com.ph, OFWs can now find more information and useful tips for their vacation here in the country. The website empowers OFWs to process their OEC (Overseas exit clearance), know the status of their application, check the needed requirements based on the country or jobsite, know current fees, and check on restricted labor markets without going to the POEA. (Philippine Overseas Employment Administration)
And… if YOU want to visit your relative and friends abroad but don't have time to take care of your passport, well, it just got easier too!
Citizen Services: The DFA Passport Appointment System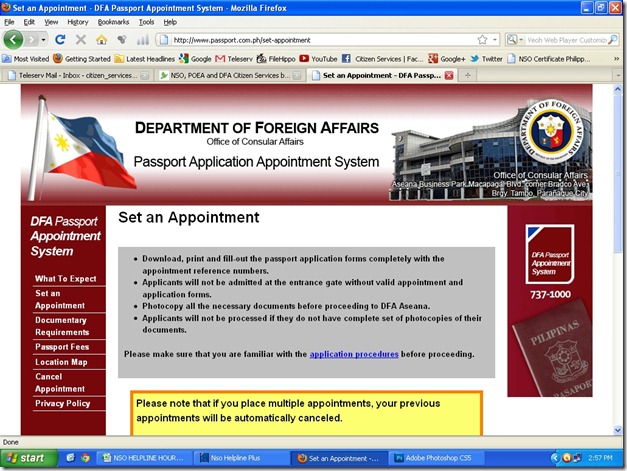 "In the new location all applications for electronic passports (ePassports) will only be accepted and processed via the appointment system. Applicants may set an appointment by going online through its dedicated website www.passport.com.ph or by calling the DFA Appointment Hotline 737-1000. The new system aims to bring the passport processing service at par with world class consular services. The new appointment system is available for free. The system is designed to help eliminate long queues formed with the old walk-in system, as the applicants would be pre-processed using information given via hotline or online."
Get to know more about the advantages of Citizen Services for you at www.citizenservices.com.ph.