I'm sure most if not all of you have heard of the store Handyman. I tried asking some friends what they knew about it and one common answer arose, "It's a hardware store". Personally, I would've said the same thing. Handyman however, is more than just a hardware store 'coz it's the place to go for all your household needs. They've got a variety of products which range from gardening needs to pet food, to light bulbs and more.
So to make people more aware of what Handyman has to offer while having fun, Handyman held their very first Family Day event at Robinson's Place Manila last October 26, 2012.  It was a day of fun, challenges, games and more. The best part about it was that all participants went home with several bags of freebies from Handyman! Nice!
Upon registration, we were each given a passport. There were a total of 9 demo/challenge booths we had to visit to get the right stamps as well as a clue for the mystery item. After getting all 9 stamps, we will then need to review all the clues to find the mystery item. Pretty simple right?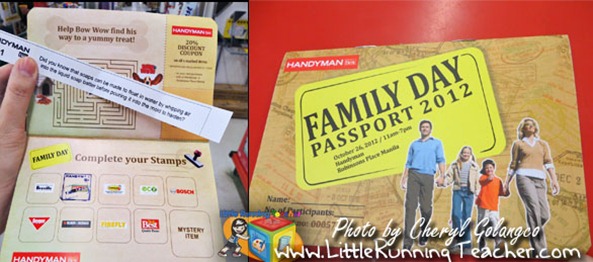 My passport and the first clue to the mystery item
–
Kids were also invited to join the fun by participating in this cool art class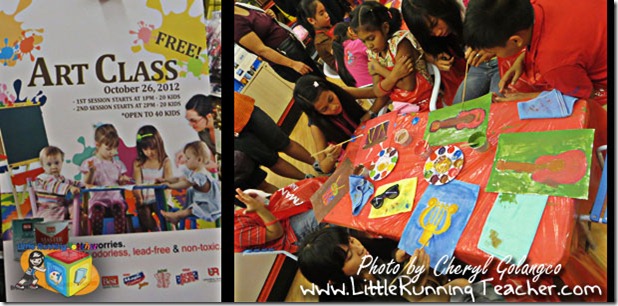 9 Booths at Handyman's Family Day Event:
1. Primero
Primero is a water-based multi-seal and can be used to cover cracks and holes. Moreover, the product is also very eco-friendly! To prove just how well their product works, they covered some newspapers with Primero and let it dry. Once dry, the papers became hard enough to hold water…with fishes! The best thing about that is that the fishes were actually okay, that's how eco-friendly it is! Cool!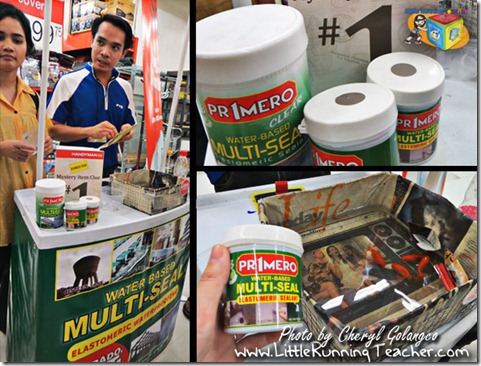 See the goldfish swimming along happily?
2. Command: Damage-Free Hanging Solutions
I've actually been using this brand for quite some time now and I must say it really is one of the best. The adhesive is so strong that it can hold up to 1kg… or sometimes even more! They actually asked me to try and remove it by pulling the hook and the entire divider almost fell down.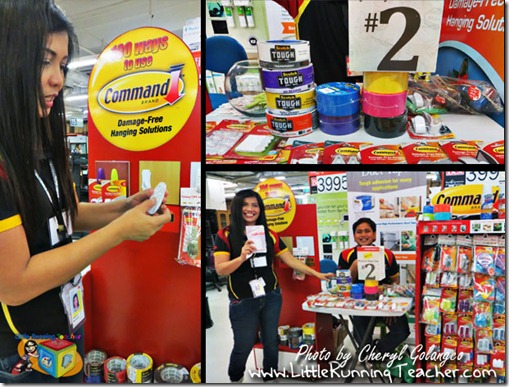 3. Eco Sense
Ecology+Sensibility = Eco Sense. We all know how important it is to save water, yet we neglect how much water we actually waste every time we take a shower. To prove this, the guys from Eco Sense did a quick demo with a shower head from Eco Sense and another from brand X. In just 30sec., the sink with the brand X shower head already had 3.5L of water while the one using Eco-sense only had 1.5L. Funny thing was, the force of water coming out was the same that I couldn't even tell the difference. I think we should all switch to Eco Sense now!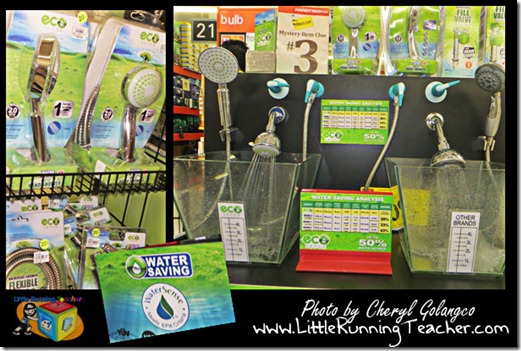 4. Bosch Power Tools
For the 4th station, we needed to drill some nails into a piece of wood. I'm the wrong person to ask about Power Tools, but according to Philippe, (my fiancé in green below) their power drill was quite easy to use.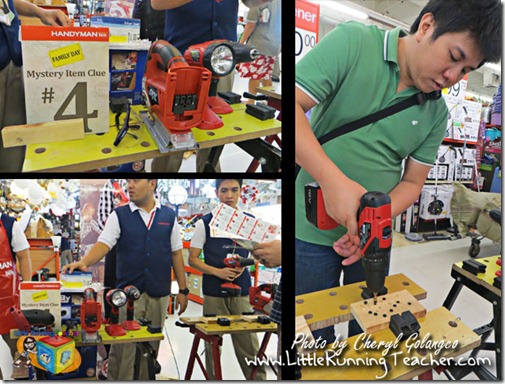 5. Baygon
The number of people who've had dengue in the past year has increased and the best solution for that really is to keep the community clean. However, we have to admit that there will always be places overflowing with garbage and mosquitos, so what's the next best thing to do? Use OFF. Here I was asked to find 3 words connected to mosquitos before I was given the clue to the mystery item.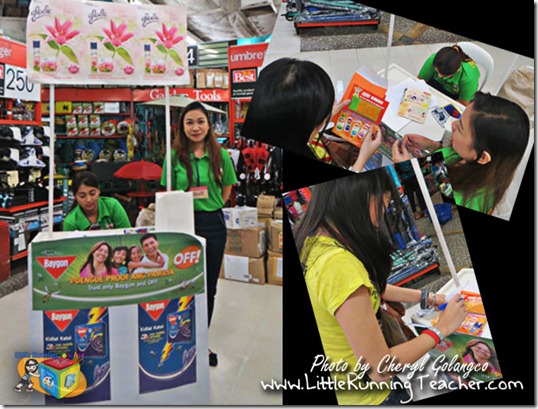 6. Black & Decker
I tried drilling the nails myself this time and I found Black & Decker's power drill perfect for me! Now I suddenly feel the urge to drill some nails in my wall! Hmm….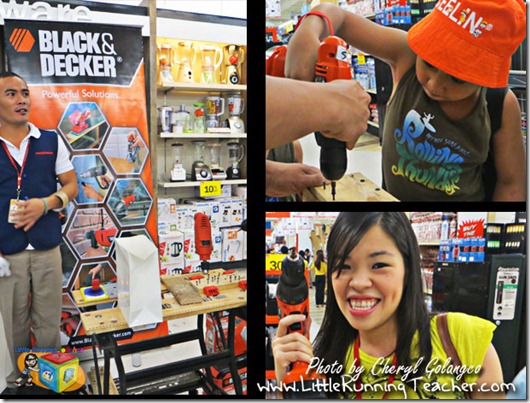 7. Firefly Lighting
Here we were asked to toss some rings to get the prize. Unfortunately, I wasn't able to shoot any! Oh well, at least I got a pen!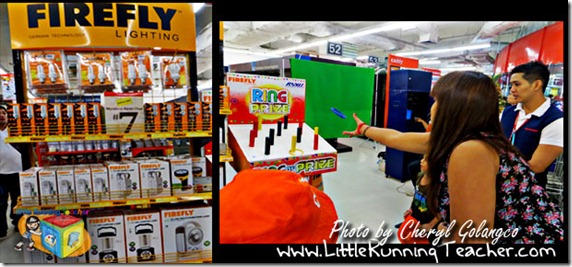 8. Do it Best Quality Paints
My preschool teacher skills came in useful here as we were asked to answer a small card about colors. Green+Blue=? and so on! haha For a short moment, I had to rethink my colors!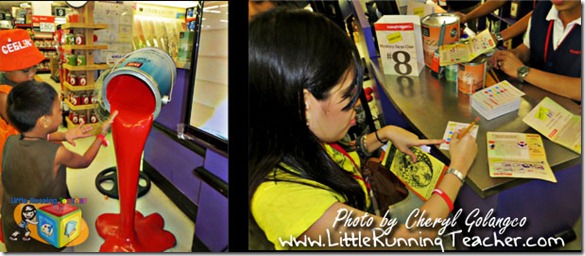 9. Breville and Matstone
In this station, we had to pick what challenge we were going to take. In my case, I picked "Drink Me". I was given some juice and I needed to guess at least 1 of the 3 ingredients used. For my juice, I guessed apples and carrots and I turned out to be right! I loved how the carrots tasted so much better when I drank it! This is definitely a good way to get the kiddos to eat/drink their veggies!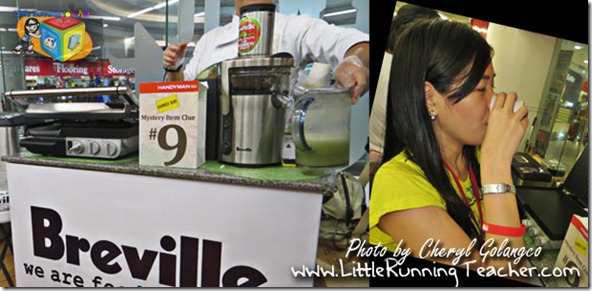 Awesome Freebies at Handyman's Family Day Event
So finally I finished the challenge and found the mystery item, which for those of you who are curious to know was the Wishy-Washy hand soap. After that very informative walk around Handyman, all registered participants who've completed the stamps on their passports went home with A LOT OF GOODIES!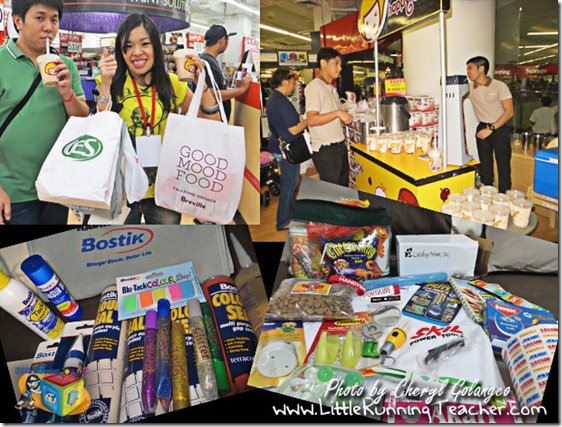 Some of my friends also joined in and were very much pleased with Handyman's Family Day event! Thanks Handyman for a very eventful day! Looking forward to another Family Day!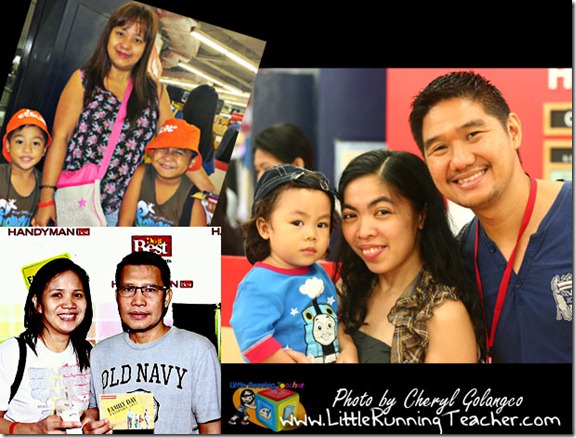 –
Visit the closest Handyman store to you now! Check here for available branches.
–
For more info, check out the following links:

Facebook: https://www.facebook.com/Handymanphilippines
Twitter: twitter.com/handymanph
Website: http://www.handyman.com.ph