In the recently concluded Run United 1, Unilab Active Health introduced the idea of pacers to help runners achieve their target time and finish faster and stronger.
Maintaining an active lifestyle has always been the advocacy of Unilab Active Health. To elevate Run United's training component, pacers were introduced in Run United 1 held on March 8 at the Mall of Asia grounds in Pasay City. Unilab Active head Alex Panlilio says pacers provide in-race training to help runners reach their goal time known as "PR" or personal record. Pacers are seasoned runners who provide that extra push, especially when one's energy dips. They are identified through their shirts, bibs and the colorful balloons they carry as markers.
One of the Run United 1 pacers is race organizer Jaymie Pizarro who ran her 21k at at a 2:11 pace but ended up finishing 2 minutes earlier with her pack! She says pacers act as team leaders, and she had fun leading her pack.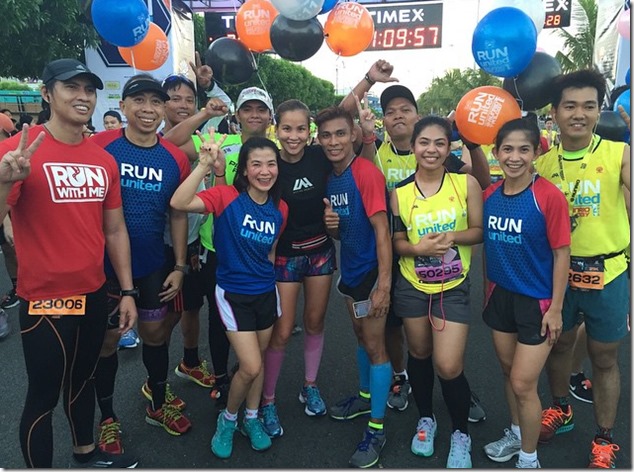 Photo taken from Jaymie's instagram account
"I'm used to focusing on my own time goals, but for Run United 1, I've paced runners and it was a fulfilling experience. It felt great reaching the finish line together, and it was heart-warming to know that they have reached their PRs."
Here are some tips Jaymie shares with runners who look forward to running with the pacers in the upcoming Run United 2:
Train for pace. Make sure you've trained for your target pace and that you can sustain it. If unsure, sign up with a slower pace group and work your way up.
Practice variety. Run a mix of interval and tempo runs to build your speed, and long runs to build endurance. Practice running at your goal pace without checking your performance in a watch or an app.
Run with a group. It is easier to sustain the pace running with group; you can draw energy from each other.
On the other hand, CJ Lampad of RunAdoboKing led the 5k group with a 35minute pace.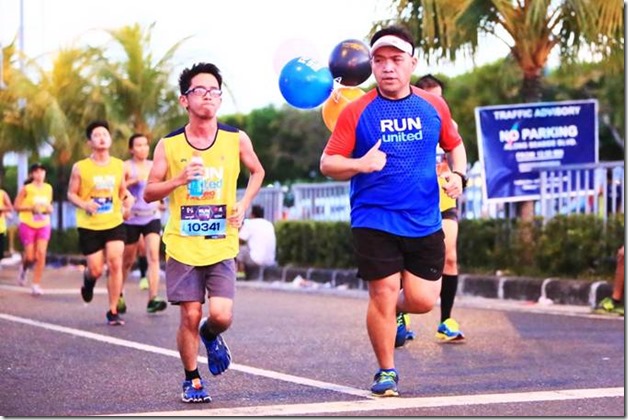 RunAdoboKing pacing the 5k runners at 35min
Cj shares some tips as well for those joining the succeeding runs:
Just join. Some runners are too shy. They secretly follow pacers—which is just okay. Always remember that you can stray from the group if you find the pace too fast, or go ahead if you can run faster.
Expect a steady pace. There won't be bursts of fast or slow runs; the target is to maintain a pace of say, seven minutes per kilometer, and finish on time.
Talk to your pacer for guidance.
Another pacer was Run United organizer coach Rio de la Cruz who paced 5k runners at 25-30 minutes. For 10K, pacers were triathletes: Peter Gonzalez for 50 minutes, Ed Inocentes for 55 minutes, coach Raul Cuevas and Gino Abano for 60 minutes, Odj Reyes and Joseph de Lara for 65 minutes, Vincent Co Say and Ting Joson for 70 minutes.
Coach Mherlz Lumagbas, Run United 21K first-place winner in the women's division, has these final reminders: "Start slowly and gradually. Focus on training, not mileage, to avoid injuries. Make time for training and take a supplement such as Unilab Active Health Gel during the race for a boost of energy. Join pacers in races, but train regularly."
Marathon finishers paced for 21K. These are TV host Kim Atienza and FrontRunner magazine editor in chief Jonel Mendoza who paced runners for a 1:55 time. Pinoy Fitness website founder Jeff Lo paced for a 2:37 target, while triathletes Vince Corpus and Bobby Go paced runners to finish at 2:27.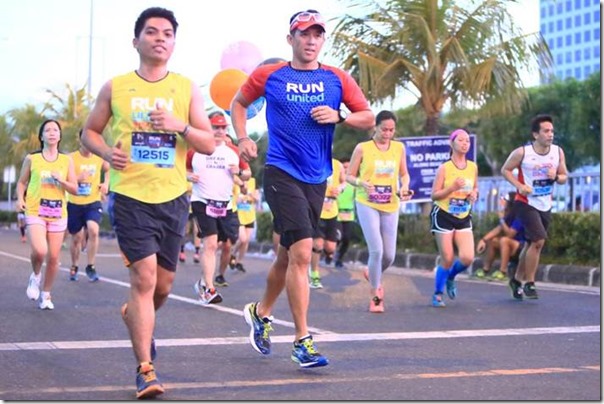 ULAH broke the mold of marathons when it introduced pacers during Run United 1, held on March 8, 2015 at the Mall of Asia grounds. For easy identification, they were clad in blue Run United shirts with red sleeves, with a set of balloons tied on them which indicated the distance and specific time they were pacing.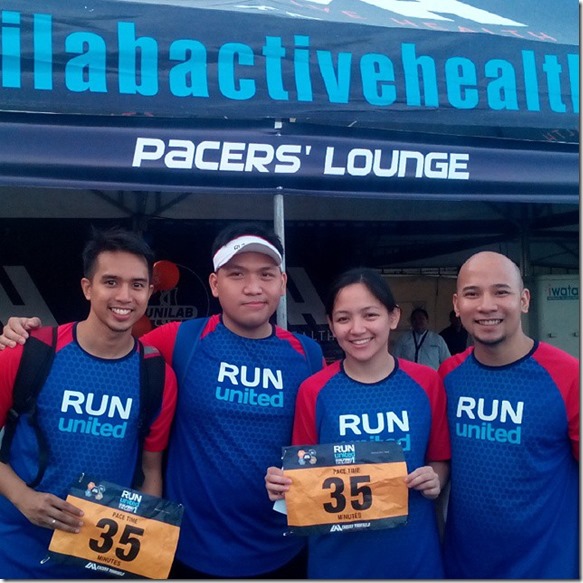 The beauty of running with a pacer is that not only is real-time in-race training present, but camaraderie is fostered in running and finishing the race together.
So this coming June 7, make sure you find a pacer to follow and exceed yourself! It's about time we started going further, and these pacers are here to help! More details on Run United 2 HERE –> /run-united-2-2015updates-and-changes-in-the-registration-of-the-run-united-series/
For more information visit
http://www.unilabactivehealth.com/
https://www.facebook.com/UnilabActiveHealth?fref=ts
For updates on other runs or to just keep in touch
visit http://www.facebook.com/littlerunningteacherpage
twitter.com/cherylgolangco