The Run United is one of the most sought after runs in the country. It's grown to be so big and so popular that even non-runners mark their calendars, deciding if they're ready to join their first run. What makes the Run United series so special, more than just the connecting medals, is that it pushes runners to exceed themselves. Making runners train harder and push further to achieve a new personal record. With that goal in mind, Unilab Active Health has introduced a lot of changes in the Run United Series since it started way back then. This year, they're adding a few more changes, hoping to exceed themselves as well.
Here are a few other IMPORTANT changes you should know about too:
Unilab Active Health's change in logo
If you noticed, what used to be a simple triangle has now transformed into a hexagon… in fact, five hexagons. The new look wasn't made just for appearance sake, but to support Unilab Active Health's new visions and beliefs when it comes to health and fitness.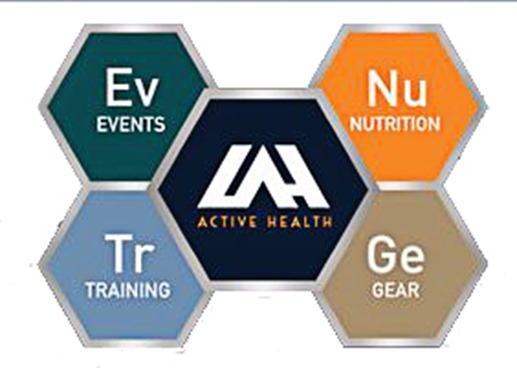 The old triangle logo was about an athlete's continuous journey upward. However, what Unilab Active Health noticed that a progressive athlete rarely goes further on his own, most of the time, it's a team effort. It's not a lone journey but a community of athletes working together to exceed themselves, hence the hexagon – a combination of 3 triangles or progressive athletes all working together for a similar goal.
So why FIVE hexagons?
For the progressive athlete to go further in his chosen field, he needs more than just a simple dream. He needs a combination of proper training, nutrition, gears, etc. The hexagons symbolize the different features/services Unilab Active Health hopes to be able to provide the progressive athlete – events through their runs, training through different clinics, nutrition by offering a nutrition package when you register for Ru2 and gear through the new Unilab Active Health singlets and the like.
Run United 2 2015 Details
When:       June 7, 2015 (Sunday)
Where:      Seaside Blvd., Mall of Asia
Race Categories:      32k, 21k, 10k, 5k
Gun Start Times:        TBA
Race Organizer:         RunRio Inc.
Run United 2 2015 Registration Details

Run United 2 2015 Registration Procedure
Runners may opt to pay through credit card or to simply buy a prepaid card and register at home. You have the option however to pick up your race kit if you do not wish to pay the additional delivery fee.
Pls. note that there will be NO MORE in-store registration. You may simply visit the store to PURCHASE your prepaid cards.
Moreover, you CANNOT purchase more than 1 prepaid card. This is to avoid scalping.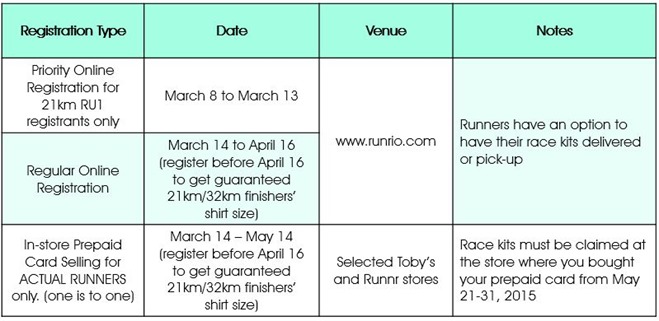 *Upsize your registration – Pay Php 60 and get a customized exceed yourself training plan from Coach Ani de Leon-Brown and it comes with a PERSONALIZED race bib and feree 3pcs. Enervon Activ and 1 40GMS Enervon HP Recovery Drink.
*Additional delivery fee of Php 150 for those who will have their kits delivered
In-Store Prepaid Card Selling Venues:
You may purchase your cards from Monday-Sunday from 12:00noon to 8:000pm
(except Toby's Robinsons Metro East)
Runnr Store BHS (B1 Bonifacio High St. The Fort, Taguig City)
Runnr Trinoma (G/F EDSA – North Ave., Terminal Proj 6 Quezon City)
Toby's Shangri-La (Ground Level EDSA Shangri-La Plaza Mall, Edsa cor., Shaw Blvd., Mandaluyong City)
Toby's Mall of Asia (SM Mall of Asia, G/F Entertainment Hall, Roxas Blvd., Manila)
Toby's Arena Glorietta 2 (3/F Glorietta 2, Ayala Center Makati City)
Toby's Robinsons Metro East (3/F Robinsons Place Metro East, Marcos Hiway, Brgy. Dela Paz, Santolan Pasig)
What's New in Run United 2?
So just to summarize all the changes and updates, here's what you can look forward to in Run United 2 as well as the succeeding runs in the Run United series.
Guaranteed Finisher Shirt Size –  The organizers understand how several runners really look forward to the finishers shirt, and of course, in getting our desired sizes. Hence, by starting early in the registration process, they are giving runners a chance to GUARANTEE their shirt size. I strongly encourage you guys to register BEFORE April 16 to make sure you get the finisher's shirt that fits you best.
All ONLINE registration process – For the past years, registering for races in the Run United Series has become such as task. I remember reading Facebook statuses that share how disappointed or how stressful they were because of the long lines. Hence, by making everything online, registrants need only go to the store to purchase their cards – making the process a lot quicker. Moreover, since runners can only purchase pre-paid cards for themselves, the process will be even faster. (more on this below)
With 2 additional registration sites – to cater to more runners from the different parts of Manila, RunRio has added 2 new registration sites – Toby's Glorietta and Toby's Robinson's Metro East. Yey!
With 11 days race kit claiming period – claiming period will be from May 21-31, giving runners AMPLE time to claim their race kits.
Prepaid card selling to ACTUAL runners only – sorry guys, but you can no longer register for your friends. There are too many scalpers who take advantage of this race. If you don't have time to go to the store, you can always opt to just register online and pick up your kit in your desired site to do away with the additional delivery fee. Though not mentioned specifically, I'd suggest you to bring an ID upon registration to confirm.
*Run United 2 will also continue to have pacers to help runners exceed themselves! Woohoo!
Run United 2 Runner's Kit
Run United 2 Singlet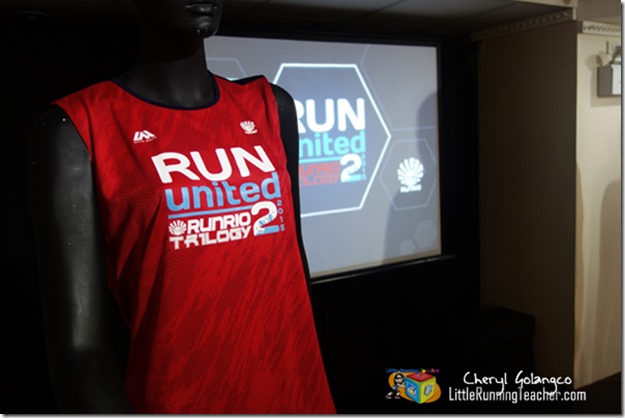 Run United 2 Finisher's Shirt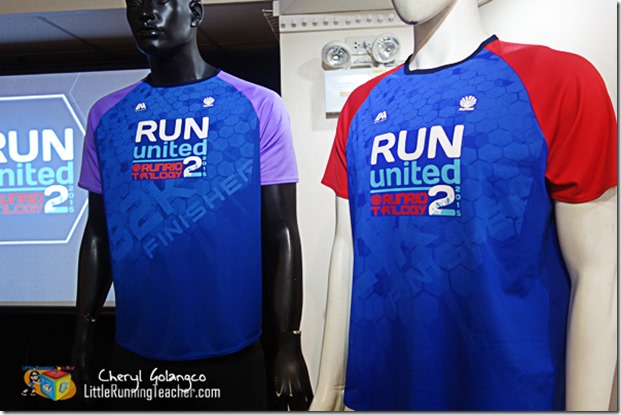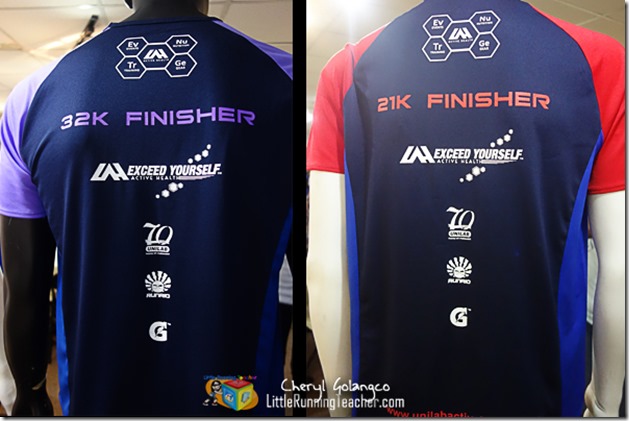 Run United Series Medal Collection
These medals are all for Run United 1, however, I thought to share anyway how the medal would more or less look like once you complete the series.
Did you know….
the medal is designed in such a way so that you may continuously connect medal. This feature is perfect for teams or families who join the Run United series. You can now hang your medals all together and even create some type of wall art.
RunRio noticed how the strap is often cut when connecting the medals, so for this year, they added a Velcro to the strap. Hence, you can simply remove the medal from the strap if you wish to connect it without destroying the strap.
The organizers are planning on using the same medal design for the succeeding years (with a few changes) so you may continuously add on and connect your medals
The medals are BACK-to-BACK. Unlike most medals with a plain back, the medals for the Run United series are designed with the logos of the different sponsors.
For your reference, here's how the medals will look in the upcoming Run United series.
For more information visit
http://www.unilabactivehealth.com/
https://www.facebook.com/UnilabActiveHealth?fref=ts
For updates on other runs or to just keep in touch
visit http://www.facebook.com/littlerunningteacherpage
twitter.com/cherylgolangco