When we think of running or working out in general, we often think of different ways we can go further and get stronger. We often think that all we need is a little push and strength of mind. We keep pushing and pushing hoping to get better and faster, not realizing that what we really need is some rest and recovery.
This year, Run United got runners to go longer, faster and stronger with the 3 RU installments. With every run, the organizers included longer distances to encourage runners to train and push a little bit harder. However, when it comes to training, it isn't all just about pushing harder and harder. At times, we also need to let our bodies recover so it can get stronger the next time we run.
This year's "Surprise" run by Run United aims to educate the running community of the importance as well as proper techniques of recovery.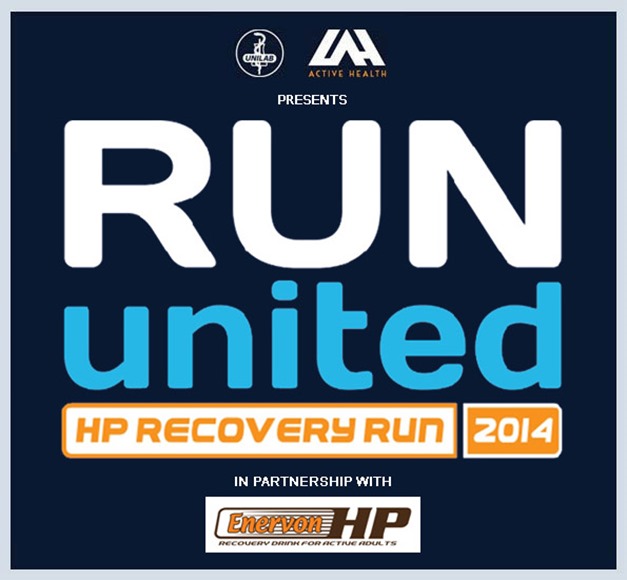 What:        Run United HP Recovery Run 2014
When:       December 14, 2014 (Sunday)
Where:      Bonifacio Global City
Race  Owner:            Unilab Active Health
Race Organizer:        RunRio Inc.
Race Categories:      5km and 10km recovery runs, 21km LSD or easy run
*Only finishers from 1 or all of the Run United 2014 series are eligible to register for this race
Assembly Times and Gun Start times:
5km – 4:30am assembly, 5:30am gun start
10km – 4:30am assembly, 5:00am gun start
21km – 3:30am assembly, 4:30am gun start
Run United HP Recovery Run 2014 Registration Details:
Registration Period:
In-store registration: November 17-30, 2014
Online registration: November 10 – 30, 2014
Registration Sites:

Online registration at: www.unilabactivehealth.com
In-store registration at the following:
Runnr Store BGC (Mon-Sun: 12nn to 8pm)
Toby's SM Mall of Asia – G/F Entertainment Hall, Roxas Blvd., Manila (Mon-Sun, 12nn to 8pm)
Toby's North Edsa The Block – 3rd Floor SM The Block, North Edsa (Mon-Sun, 12nn to 8pm)
Toby's Robinson's Galleria – 3/F Robinson's Galleria, EDSA cor. Ortigas Ave. (Mon-Sun, 12nn to 8pm)
Registration Fees and Race Inclusions:
5km Recovery Run – P 750
10km Recovery Run – P850
21k Easy Run – P950
*All finishers (regardless of category) will receive a race bib and D-tag (pre-race) and a HP Recovery Run tech shirt, recovery drink and recovery village pass (post-race)
*no singlet will be provided pre-race. runners are instead encouraged to use their singlets or finishers' shirts from any of the Run United Series 2014
Run United HP Recovery Run Finisher's Shirt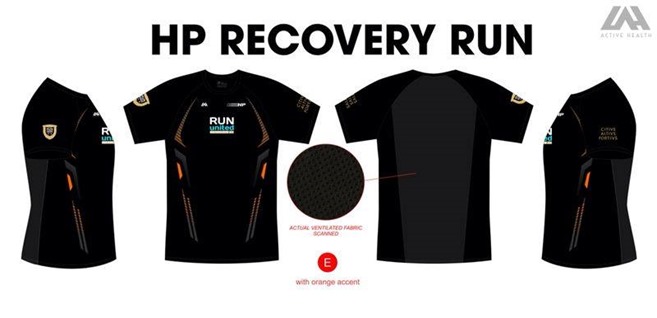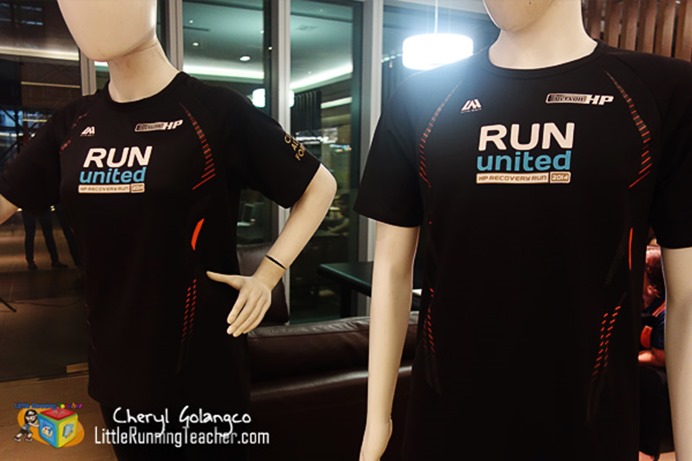 Run United HP Recovery Run: What to Look Forward to
During the recently concluded bloggers night for the Run United HP recovery run, the bloggers were graced with a short talk from various people in the running industry. Here, we were educated on why rest and recovery is just as important as training.
The first ever Run United HP Recovery Run is something to look forward to because…
New venue! Most Run United runs are done in Mall of Asia, this time, they're taking on BGC
Not your typical run as it is NON-COMPETITIVE. Meaning, there will be no winners as the primary objective of the event is to educate runners with the value of recovery
Enervon HP Recovery Village. Everything inside will be related to recovery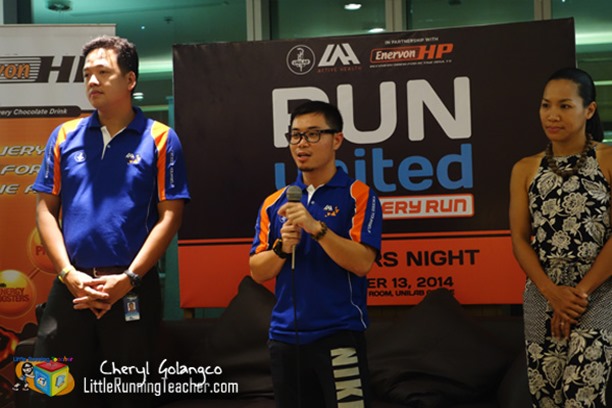 Sir Lester Castillo, Coach RIel and Coach Ani De Leon Brown
During the short talks given at the Run United HP Recovery Run, I learned to appreciate the value of recovery so much more. Recovering well after a run relieves our muscles. It allows us to keep pushing harder NEXT TIME. Pushing harder is not always the solution, sometimes, we just really need to stop and rest. Proper recovery also reduces chances of injury. A recovery run usually lasts 15-45min. long wherein runners use as little effort as possible.
Run United HP Recovery Run Pacers
There will be pacers reminding runners to take it slow at the Run United HP Recovery Run. The pacer times were customized and based on the average time runners finished during the 3 legs of the Run United 2014 Series.
5km Pacers
John Chicano – 40min
Mark Hosana – 45min
Kim Mangrobang – 50min
Claire Adorna – 55min
10km Pacers
Benjamin Rana – 1hr.,20min
Jaymie Pizarro and Lit Onrubia – 1hr., 25min. (Run-Walk Intervals)
Philip Atento – 1 hr., 30min.
August Benedicto – 1hr., 40min.
Ani de Leon Brown and Dan Brown – 1hr., 50min.
*no pacers for 21km because it's more of an easy run than recovery run. Again, the time is based on runners finish times in the past Run United series. These are RECOVERY runs so they are really SLOWER than usual.
–
For more information visit
http://www.unilabactivehealth.com/rununited/
https://www.facebook.com/UnilabActiveHealth?fref=ts
For updates on other runs or to just keep in touch
visit http://www.facebook.com/littlerunningteacherpage
twitter.com/cherylgolangco