Want to watch a fun musical for the whole family? Then you should definitely check this out!
The Princess and the Red Carp is a light-hearted, magical tale that will enthrall its audience's young and old alike.
.
Are you familiar with the tale of Cinderella?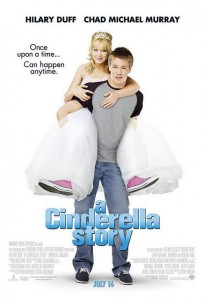 No….. not that one!
.

I'm talking about the good old Walt Disney classic that we all used to watch when we were younger. The one with the dancing mice and singing birds!  "A dream is a wish your heart makes… when you're fast asleep…." I think for those on the same age bracket as myself, this version of Cinderella was the most famous one.
.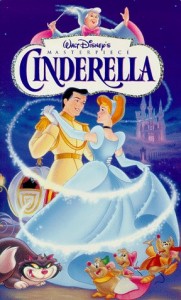 Yep! That one!
.

Most of us are only familiar with the version presented by Charles Perrault or the Grimm Brothers; which are both similar to the Disney adaptation. We failed however to realize the many other versions this classic tale actually had. Cinderella actually had different versions in different cultures!
.
From  Theater Down South, artistic director Michael Williams from the original Miss Saigon cast brings you the one of kind musical of "The Princess and The Red Carp". The book, music and lyrics are even by company member Joonee Garcia. The musical opened last August 22 and will have its final run this Sunday, September 19, 2010. The play targets the young audience but is still very appealing to the older crowd.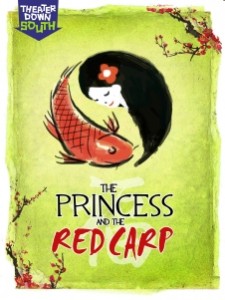 .
The Princess and the Red Carp is  based on the Chinese version of the story which was written way back in 850 A.D. It is considered the earliest existing version of the famous tale. The protagonist being a young girl named Yeh Hsien who triumphs over adversity with the help of her friend, the Red Carp. The magical Red Carp provides her with clothes, jewelry, and the famous pair of tiny golden slippers! In the story, you will meet the kind Emperor and his servant, the Wicked Step Mother, Yeh Hsien's bratty but funny Step Sisters, a magical Red Carp plus a host of lovable characters!
.
THE CAST
.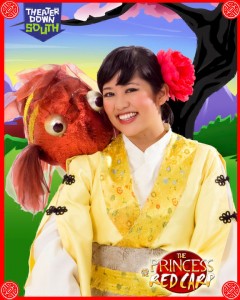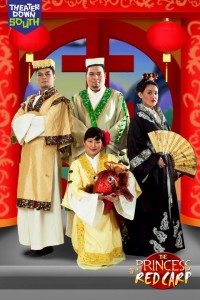 ____Kahna Cortez as Yeh Hsien_________Left to Right (Back): Zig Hagamann, Mikey Llorin , Celine Fabie
.
Kahna Cortez-Velasco is Yeh Hsien
Celine Fabie – Step Mother
Zig Haggamann – The Young Emperor
Joonee Garcia – Step Sister
Marie Delgado – Step Sister
Mikey Llorin as Prime Minister
Chino Veguillas – The Red Carp
plus the TDS Company
.
SHOW SCHEDULE AND VENUE:
.
August 22, 29 – September 5, 12, 19 at 3:00 PM
Insular Life Theater, Filinvest Corporate City,
Alabang, Muntinlupa City

Tickets will be available on-line at Ticketworld starting July 22, 2010
Ticket prices:

PhP 515.00




PhP 463.50




PhP 412.00




PhP 309.00
For more information, contact the organizers through:
Mobile Phone: +639166436976
Duo Landline: 025056380
e-mail: [email protected]
SEE YOU THERE!
.