Looking good isn't just about the right clothes or pretty make-up, our hair plays a pretty big role too. Whether your hair is long or short, straight or curly, there are certain ways to maintain it to make sure you always look your best. Of course, a proper brush or comb is always important to make sure our hair isn't all over the place. Unfortunately, if you're hair isn't that soft, brushing it can be stressful. All those tangles will require us to constantly pull our hair just to detangle it. OUCH!
Kids have to go through the same thing. Their moms or nannies would spend hours combing their hair, trying to get those tangles out! I even tried combing my 4-year old student's hair and didn't last 5 minutes 'coz she said I was hurting her. There was just too many tangles.
Well, someone must've heard these children's cries 'coz with TANGLE TEEZER, your hair becomes so smooth in just seconds, without the pain of pulling.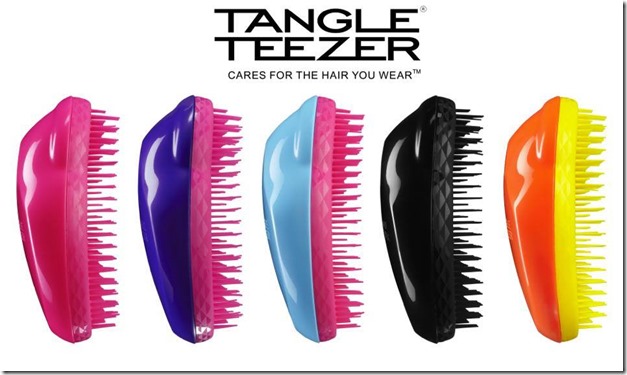 What is Tangle Teezer?
Tangle Teezer was created by Vidal Sasson trained Shaun Pulfrey, a celebrity color technician who has over 25 years of hair care experience.  Shaun Pulfrey believes that tangles were not just a salon problem, but a global one. Tangle Teezer is a line of professional detangling hairbrush from the UK which is ideal for all types of hair.  It's a hairbrush that looked different and felt different, so naturally, it performed differently.
Who is Shaun Pulfrey?
A celebrity color technician with over 25 years of hair care experience. The inventor behind Tangle Teezer, he is your main man when it comes to putting you in control of your hair!
Having gained immense experience in the highest profile salons in London, New York, Los Angeles and Boston, Shaun understands hair, it's condition always being his number one priority.
Seeing clients tearing out their hair by brushing, which ended up in breakage and cuticle damage, Shaun saw that they were always achieving a poor finish. He realized that the answer was a hair tool that would gently ease out tangles along with smoothing the cuticle. This brushed in a high shine and Tangle Teezer was born.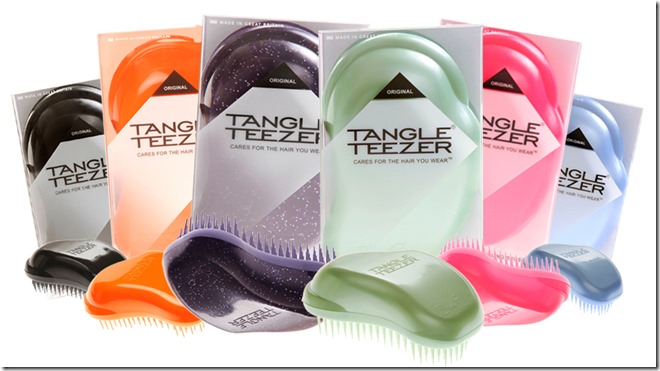 When I first saw Tangle Teezer, I thought to myself, "okay, it looks different, but so what? What makes it special anyway?" But then, I tried brushing my hair and I was left speechless. The bristles on the brush were really soft, hence making each brush stroke feel like a massage on my head. The brush was also really easy to hold as it fit perfectly in the palm of my hand. When it comes to detangling, this brush really does the trick! For some strange reason, it is able to remove my tangles without pulling my hair from its roots. It's a pain free detangling brush and I love it!
Me and my partner absolutely loving our Tangle Teezer
Seeing the picture, you might be thinking that anyone can achieve the same results with any brush. I guess you're right. However, the process is way different. As mentioned before, Tangle Teezer goes through tangles as if they were nothing. Hence making brushing one's hair much more easier and pain free.
So I knew the adults loved it, now to let the kids try it. My fiancé's cousin Agerica, loves her hair. She has really long hair that goes all the way down her back. She combs it everyday with her regular brush and has pretty much gotten used to pulling her hair with her brush. I then decided to give her the Tangle Teezer Magic Flowerpot – their brush for kids.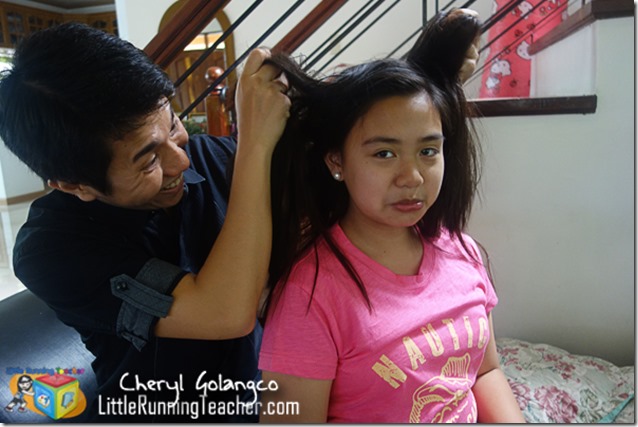 Philippe loves teasing his cousin and playing with her hair
When I gave Agerica the brush, I didn't expect any reaction. She was after all, used to all types of brushes. However, from that first stroke, you could immediately see how her face lit up. She was amazed that it got through smoothly! I asked her how it felt and if she liked it and she answered, "opo, sarap!" (Yes, it feels good). I gave her the brush and 2 hours later, I caught her in her room still brushing her hair! (hehe) She claims she really loved it!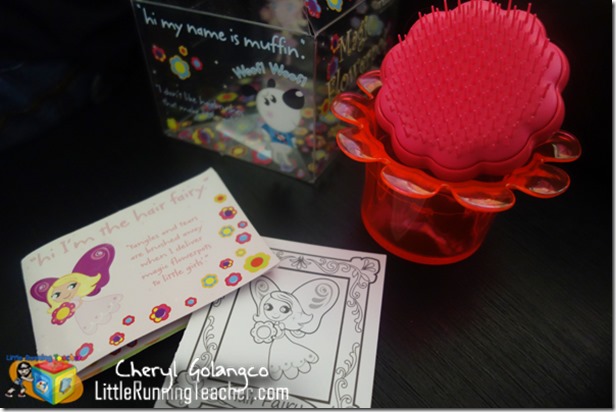 The Tangle Teezer Magic Flowerpot also comes with a small coloring book for kids and a mini container perfect for clips and ponies

Tangle Teezer: No more tears for the little ones when brushing their hair
I really like how Tangle Teezer works with my hair, but what I love more is how the kids reacted to it. It's not often that you see a child enjoy brushing out her tangles with a smile on her face! Gotta love it!
Let me summarize why you should have your own Tangle Teezer, and why you should get the kids one too!
Why use Tangle Teezer?
Can be used easily and speedily without pulling or yanking
Detangles smoothly and painlessly
Excellent for detangling both wet and dry hair. Also perfect for vulnerable, color-treated hair.
It's a workout for the hair. Tangle Teezer gives a blissful, relaxing head massage even for the most sensitive of scalps.
Unlike conventional brushes and combs, Tangle Teezer can be used from roots to ends and mid-length to ends.
Ideal for taking conditioner evenly through the hair when wet. Tangle Teezer ensures a light and even distribution of product which adds up to weightless blow-drying.
Suits every hair type – thick, fine, long, curly.
Tangle Teezer brushes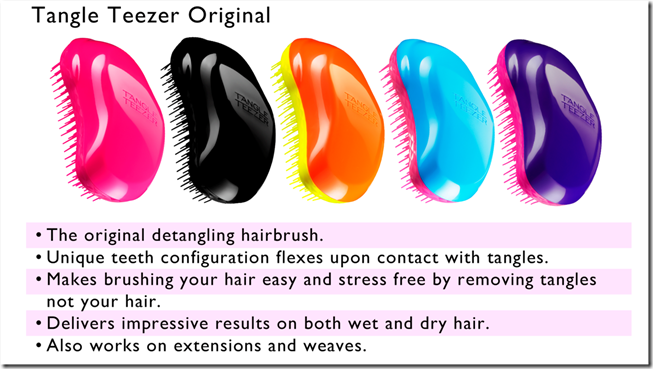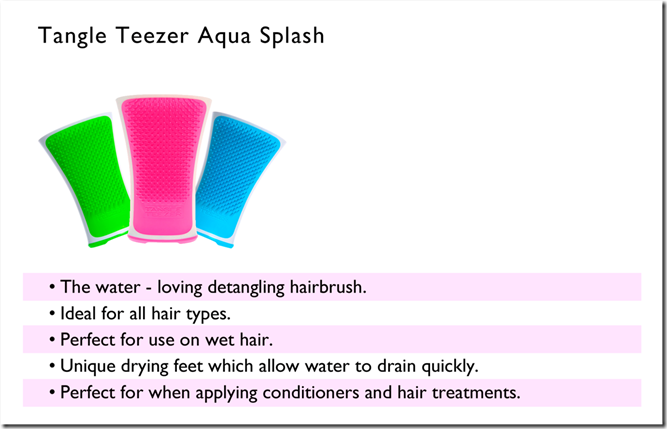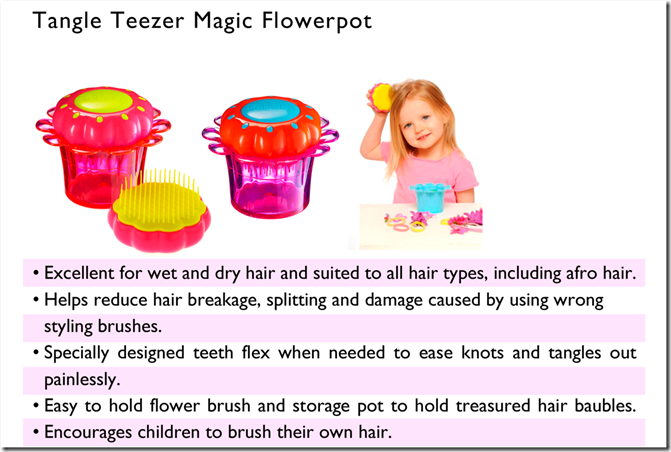 Tangle Teezer will be available in local department stores, salons, beauty shops and kiddy boutiques soon.
In the meantime, you may contact Vima Mendoza at  [email protected] for questions or inquiries
For other updates or just to keep in touch,
follow me on Facebook at https://www.facebook.com/LittleRunningTeacherPage
or on Twitter through @cherylgolangco