Recently, I posted a blog on top cartoon costumes for Halloween! This time, let's get a little more creative and try making cute and unique costumes! Here are some of the photos I found off the internet! All I did was type an object and added the word costume! For example, "Ipod costume" and I was surprised that there actually were costumes like that! Here are my top Halloween costumes for 2010! Do share if you find more!
Disclaimer: None of these photos are mine. I just found them through google.
.
ANIMALS
Dress as a cute little alligator or a chubby little lobster! I never thought dressing up as these animals would turn out to be so adorable!
.
ICE CREAM
Since they love ice cream so much, why don't you let them dress as one? I'm sure it wouldn't be a problem getting them into these outfits!
.
SWEETS
Take your picks! Tootsie Roll? Smarties? or some M&M's! Chocolate madness!
.
ON THE ROAD
Be the road.. be the traffic light… or simply be the car freshner! All unique and creative ideas for kids!
.
TOYS and GADGETS
Just get a box and paint it with the toy/gadget of your choice! A lego block looks really creative! So do the Gameboy and Ipod!
.
ART STUFF
We do art, we make art, we have so much fun with art! So why not dress as art as well! Pencils and crayons for the artsy kid!
.
RECYCLE BIN
Save the trees! Save the planet! Learn to recycle! Let's go green!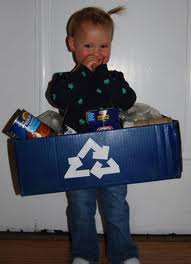 .
GROCERY BAG
I found this to be really cute! Just take a big piece of brown paper and tape random stuff on them and you're an instant grocery bag!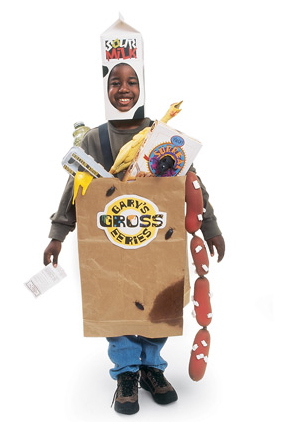 .
.
RAINING CATS and DOGS
Take the idiom literally and you have this cute little outfit! All you need is an umbrella and cat and dog dolls! (NOT THE REAL ANIMALS ALRIGHT?)
.
SMILEY FACE
See, even the smiley face icon can turn out to be a really cute costume! Just look at this adorable baby! Couldn't help but smile!
.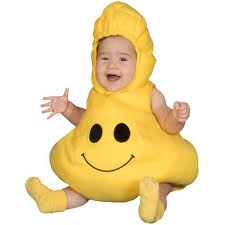 .
So what are your kids dressing as? Do share! I'd love to see them!
.