Anyone ever tried playing Lazer Tag? If you haven't, I strongly urge you to go try it! And why not even join the Philippe Battle Tag League and battle it out Lazer Xtreme style!
LazerXtreme Philippe Battle Tag League
LazerXtreme, the leader and pioneer in the laser tag entertainment in the Philippines, together with various contest sponsors, brings you the opportunity to battle it out with different teams and vie for the spot as the country's ultimate Laser Tag team through the Philippine Battle Tag League 2012 (PBTL 2012). The competition, composed of two divisions (Invitational and Open) aims to establish Laser Tag as a sport in the Philippines, as well as seek out enthusiasts and players all over to see who can be part of the country's All-Star Laser Tag group.
LazerXtreme is inviting groups of three (3) members to play in PBTL 2012; a different kind of tournament, with a diverse group of contenders. This prestigious competition, happening on August 25, 2012 and September 22, 2012, is a gathering of laser tag players from all over to battle it out with other groups, and determine the best-of-the-best in the country.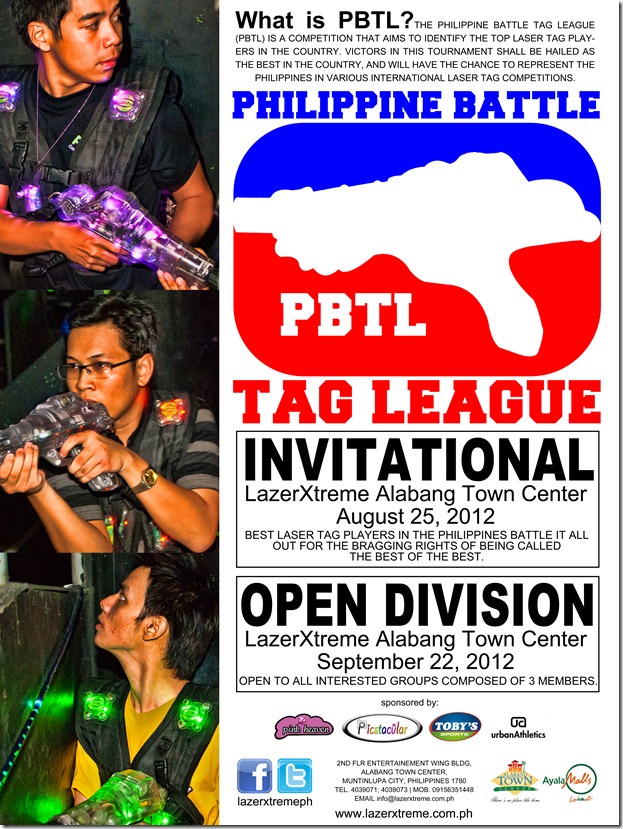 LazerXtreme's bringing the sci-fi battle of the different laser tag groups as they compete for the top spot in the Philippine Battle Tag League (PBTL) 2012.
The competition will be holding two categories. The first battle in August 25 was an Invitational, which drafted champions of the past tournaments, runner-ups, and other laser tag players who have exhibited excellent performance in casual laser tag games which may include players from Laser Blaster and LazerMaxx.
PBTL's second leg is the Open Division happening on September 22, calling on all interested laser tag groups. For this leg, the Invitational's winner will be playing as a wildcard group.
Requirements:
1. PBTL Invitational: only groups invited for the event will be allowed to join.
PBTL Open Division: Open to all laser tag groups.
2. Each team must consist of 3 members (Plus 1 registered substitute) and must submit a duly filled-out registration form.
3. Participants must be 12 years old and above. If below 18 years of age, participants must have the consent of a guardian included with the registration form. (Please see attached waivers)
4. Each team must pay the registration fee of P400 for the Invitational and P600 for the Open Division per team member, on or before Draft Season ends.
************************************************
Interested parties must inquire and register at any of our branches: LazerXtreme Market! Market! (856-6467 ) or LazerXtreme ATC (403-9071).
For more info: