So any of you guys ever heard of Lazer Xtreme? If you haven't then I strongly urge you to head on over to Market Market at Fort Bonifacio or Alabang Town Center to try it out now!
I've tried playing Lazer Xtreme with my friends a couple of times now and it really brings out the inner child in each of us for a while! Imagine adults like ourselves hiding behind wall, running around and even tripping on obstacles and just having fun! It's a shooting game for teens and adult and really takes out all the stress! This is the place to go to just hang out and have fun!
LazerXtreme also has a bunch of packages for teambuilding activities…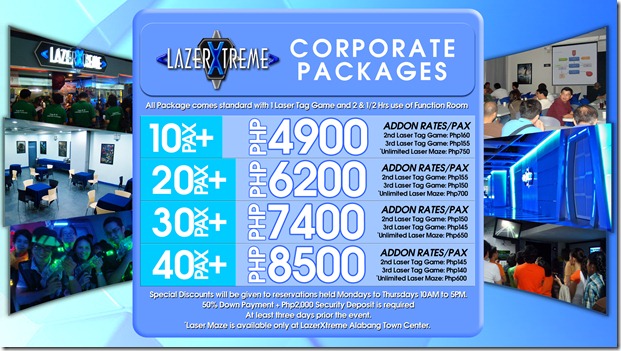 and even for the Christmas season!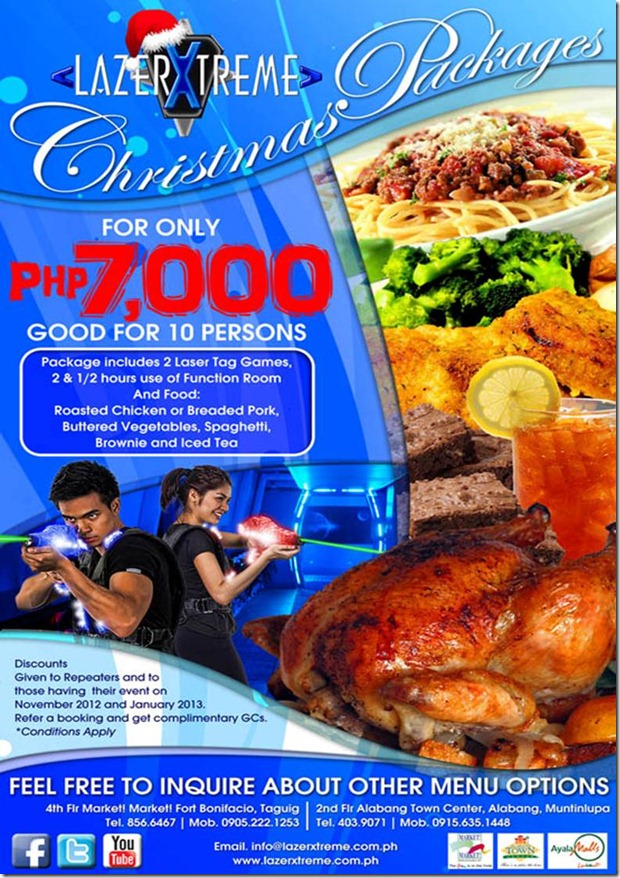 LazerXtreme Philippines
Laser Tag
Weekdays (Mon to Thu) PhP 170
Weekends and Holidays PhP 190
*Less PhP 20 on succeeding games
Laser Maze (only available at ATC)
1 game PhP 80
2 games PhP 150
3 games PhP 180
5 games PhP 250
10 games PhP 500 +1 Free
For part 5 of my giveaway, I'm giving 3 winners four GCs each to play a game of LazerXtreme with their friends!
Contact or visit them at:
4th Flr. Market! Market!
Fort Bonifacio, Taguig
Tel. 856-6467
Cel. 0905-222-1253
2nd Flr. Alabang Town Center
Ayala-Alabang, Muntinlupa
Tel. 403-9071
Cel. 0915-635-1448
For more info:
Email at: [email protected]