I have been joining the Outbreak ever since its first run in Nuvali last year. I've experienced running away from zombies, and I've experience just walking around as part of the media team. This time however, I was given the opportunity to see things from a different end, or should I say, from a different life.
I always had fun seeing the different zombies during the runs. When I joined the first time, I remember coming up with different tactics for the zombies to keep away from me. Funny how they just don't seem to be 'regular' people with make-up when you're running for your life!
Outbreak BGC 2: The Zombie Experience
Outbreak BGC wasn't too start 'till 6pm but the zombies had to be there as early as 2pm! So if the runners got impatient waiting for the gun start, just imagine how much more restless the zombies got.
I rushed over to BGC after a morning run in Filinvest. I was still confused what costume to wear but eventually decided on this long black dress one of my friend's left with me. Don't worry, she didn't want it anymore! haha There were several make up artists from Make Up Academy waiting inside this tent. Each table having been assigned their own zombies. Each table also having their own styles and materials. I wasn't sure if there was a competition amongst the artists but they were definitely sticking to their own group.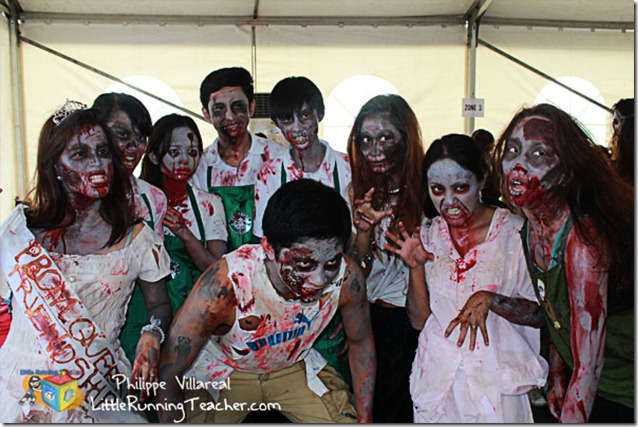 Check out the Starbucks zombies at the back
Outbreak BGC 2 Zombie Makeup
I went to my assigned table where my make up artist started putting some grey stuff on my face layer after layer. There wasn't a mirror in front so I couldn't see exactly what was happening, all I knew was that it was horrifying! After all those layers of brown and grey stuff, it was time to put in some BLOOD! The blood was a mixture of syrup and food coloring so it was completely edible. Only problem was, it was all over my face, arms and hair! Made it really difficult and sticky!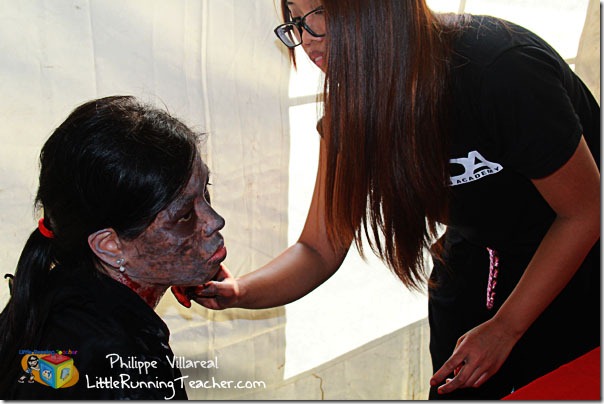 Zombie makeup! cool!
The artists on my table didn't do any prosthetic, so I looked for someone who wasn't busy on the other tables and asked for some extra skin on my face! hahaa Cool! By now, my hair was already filled with sticky syrup and hairspray!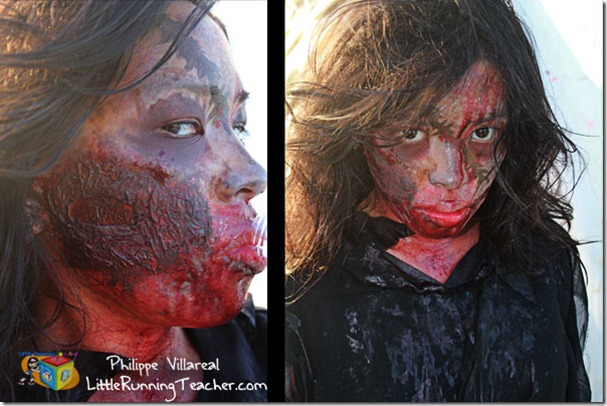 Zombies gone wild at Outbreak BGC 2
We waited a couple of hours inside the air-conditioned tent. We were also given some snacks to keep us from devouring runners as they pass by. We were then assigned to our designated posts and area where we waited patiently for the runners.
And finally… it was time!
Like most zombies, I was hesitant to grunt or do "scary" poses to amuse runners, but eventually, my inner zombie kicked in and I was scaring the freak out of the runners as much as I could! I can't even count how many guys actually screamed like girls when I scared them! haha It was fun! Several also fell down and as much as we wanted to help them, they felt we were going to "attack" them.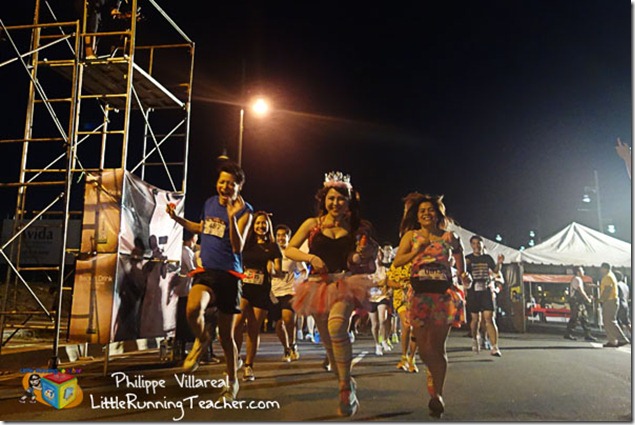 Runners running for their lives!

What makes this installment of Outbreak Manila the craziest of all? Angelo Cruz of Runtertainment Inc. says, "This night run has really got that apocalyptic feel. The team also went out to level-up on obstacles that challenged our participants, especially those who have taken on Outbreak Manila several times. Plus, the zombies are extra excited this time—enough to incite panic to even the most experienced thrill runner".
Everyone had an awesome time, and having experienced being a zombie sure was a lot of fun! It made me see things from the other side! As difficult as it was to remove all that make up and sticky stuff on my face, I sure wouldn't mind doing it again! You guys should try it too!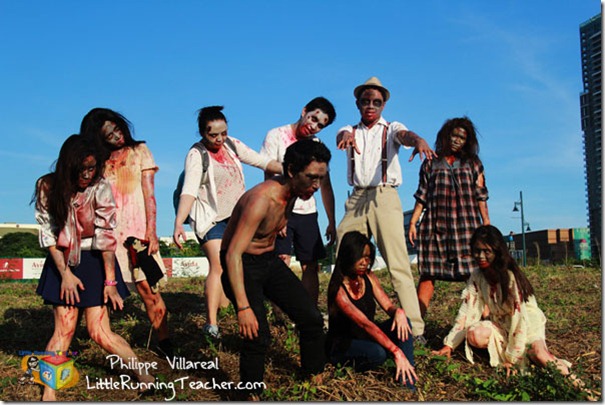 Zombie pictorial while waiting "munch" time
The headless woman and Rey Mysterio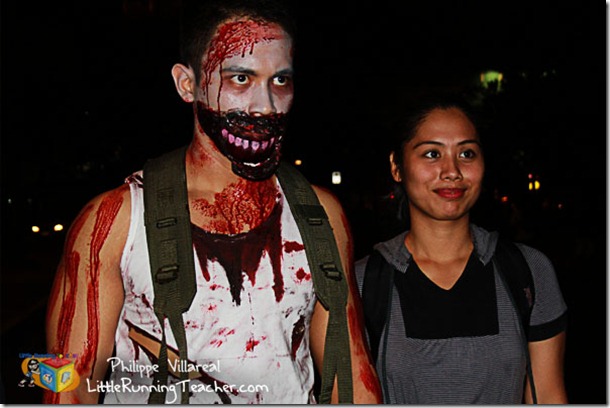 I love the make up on this zombie's jaw!

Looking forward to the next Outbreak Manila!
Where do you guys think they should hold the next Outbreak Run?
Do share your answers below! Who knows, it might just be held there!