Last April 14, around 5,000 innocent runners participated in Outbreak Manila – an unusual, light trail run with few obstacles along the route. However, though the obstacles may have slowed us down, the hoard of the undead hungry for human flesh definitely sped us all up!
An average person could finish running a 5k course in 30-45min., I personally set my PR at 30min., but last April 14, people were breaking their all-time best as they scampered for their lives! As for me, well my 30min. turned into an hour and 15min. as the first 2 kilometers already got me too tired after running from hordes and hordes of zombies! YIKES!
For maximum thrill, Outbreak Manila offered 25 waves with 200 runners each. My friends and I got to be part of the 15th wave! Besides the race number, each runner was also given a belt with 3 flags – each flag representing one of their three lives. You can wear it any way you want, some even placed the flags NEAR their crotch areas hoping that the zombies would feel shy to take it! The object of this unusual race was to get to the finish line the fastest with at least one flag intact!
Prior to the race, each runner was asked to sit and listen to a short briefing of the rules and some reminders. One of which was a reminder that both runners and zombies are not allowed to touch each other.
RULES:
You are not allowed under any circumstance, allowed to push, kick, punch, kiss, hug, or hold hands with any of the zombies around. If you are found or discovered to have done so, then our marshals will escort you out of the race area.
Weapons of any sort are not allowed inside the race and must be surrendered
To those who will not be able to finish, there is a station called "The Walking Dead" Station where runners may go so marshals may assist them back to the safe area
Please watch out for any special characters roaming around the course. These special characters have special flags which if you end up with, you will be part of Team Bon Chon which grants you very special prizes. On the other hand, if you find and catch WALDO, you will also win a special prize from Cheesesteak Shop.
Water stations are your safe zones
Afterward, each runner was given a small bottle or a shot of Booster C energy shot and off we went!
Outbreak Manila: The Zombie Invasion
We were eagerly waiting for the gun start and we already very nervous! Our heart beats were racing and my friends and I agreed to stick together! I figured the zombies would be somewhere in the middle of the course, so I felt calm at first, but suddenly, the runners were starting to run and scream! That's when I saw him… just a few meters after crossing the finish line, a zombie awaited us! Everyone started freaking out! A bunch of runners even fell down trying to escape the zombies! It was like an actual zombie chase from a horror movie! This is one run that will definitely end with a lot of happy faces amidst the many injuries the runners might get!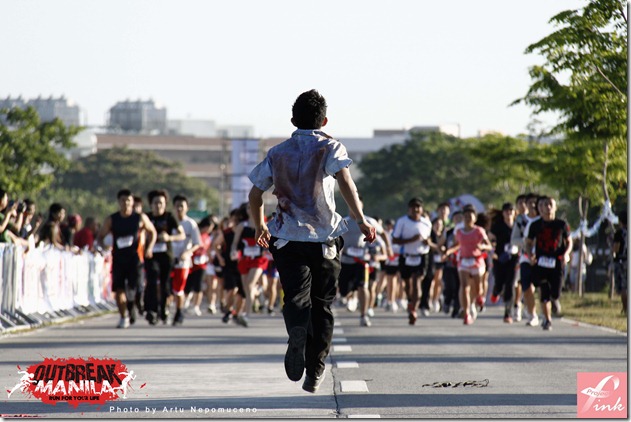 In less than 500m, I had already been panting as if I ran a 5k! This race seems to be more tiring than my 16k and 21k because of the emotions running through me!
Outbreak Manila: Obstacle Course
There were a few obstacle courses which runners could go through to get an extra life flag! Other obstacle courses did not offer extra flags, but were just there for runners to enjoy the race even more!
The course was a semi-trail run and inside the tall weeds and grasses, zombies lurked as well! Some of them even jump out on us and drove us into a very panicky state!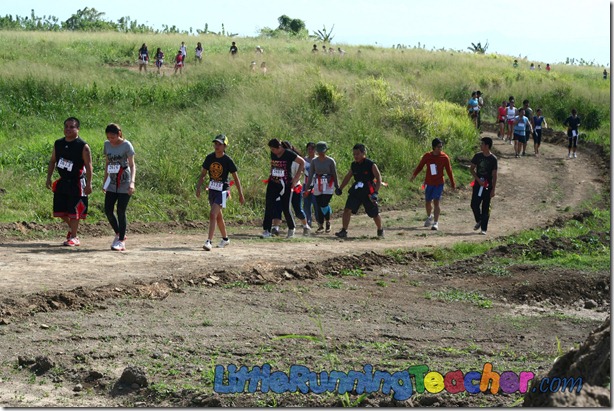 Several parts of the course made the run even more exciting than it already was, the signs warning the runners of zombies were helpful but at the same time the reason for our nervous breakdowns! At the fork of the road, runners were divided! Some chose to go the easy way, while others picked the "Horde" way. For most of the runners with me that time, we picked the horde way. As one runner said, "Paminsan lang to eh! Lubusin na natin" (We rarely do this so let's just enjoy it to the fullest)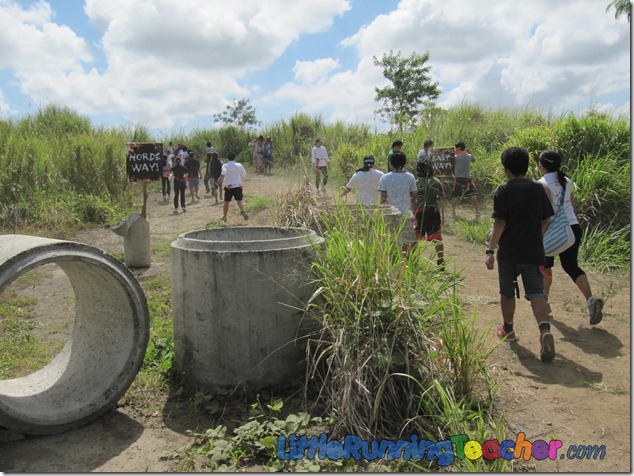 Outbreak Manila: Zombie Guts
Somewhere along the route, runners were also asked to take a bunch of fabric which was cut lengthwise and dumped into a big drum of murky water and tie it around themselves, pretending that these were Zombie Guts! Afterwards, we needed to walk through a horde of zombies! The only way to spare ourselves from these zombies was to walk and sound like a zombie! haha It was really fun seeing everyone (especially my friends) pretend to be zombies!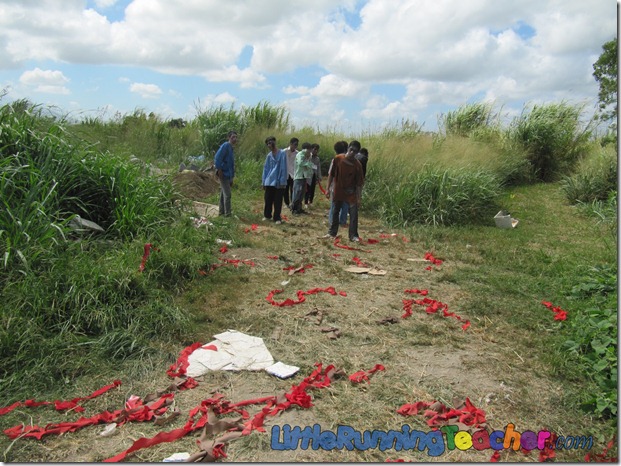 We started walking for the next few kilometers. At times, we would even ask the zombies to please be nice and let us pass! In Tagalog, "Kuya, wag na please! Peace tayo!"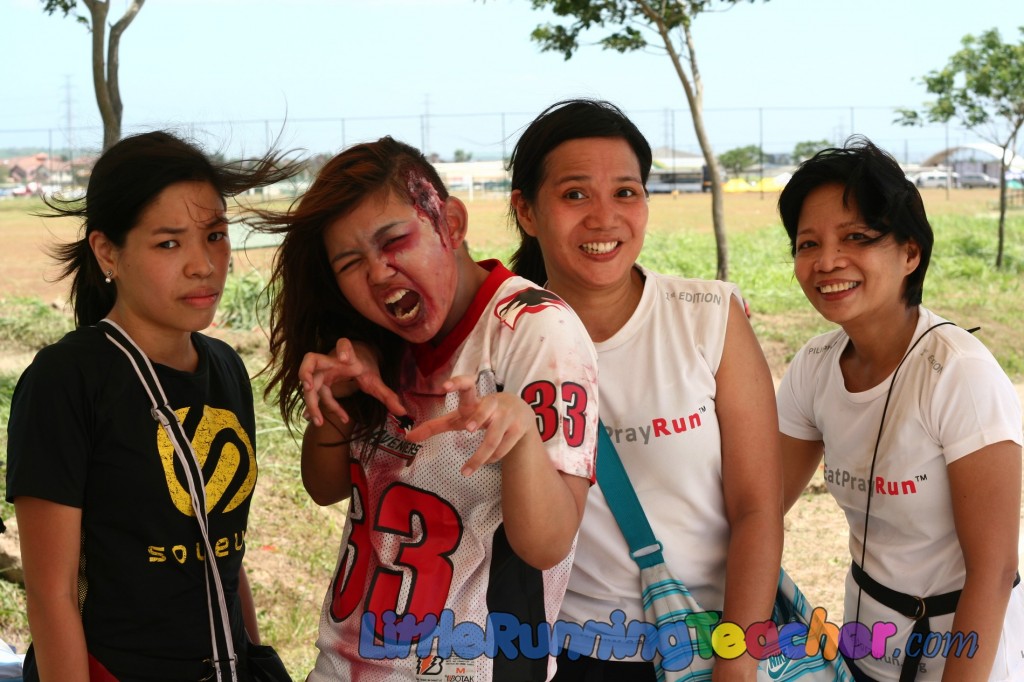 Outbreak Manila: My 'Favorite' Zombies
Here are some of my "favorite" zombie costumes during Outbreak Manila! LOVEEEEE IT!!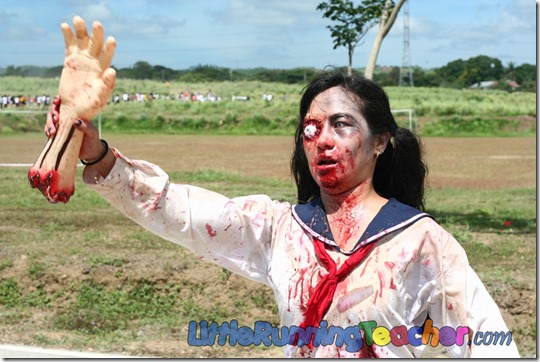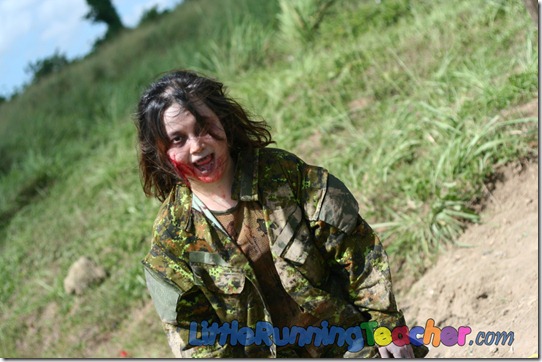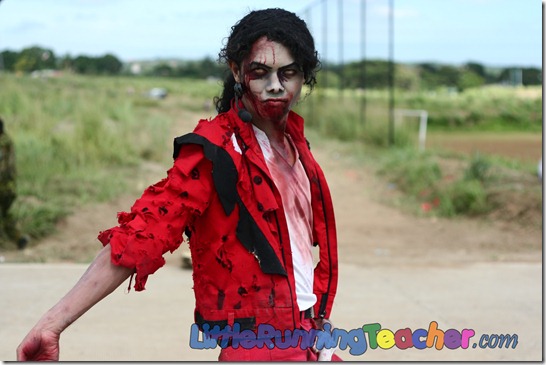 Outbreak Manila was A LOT of fun for the adults, just not too sure about the kids! This kid must have thought the zombies were real and burst out in tears after seeing the many scary faces around her! Poor kid!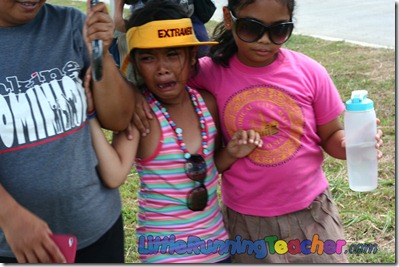 Overall, it was a very FUN and EXCITING run because of not only the zombies, but also the twists and obstacle course that the organizer decided to add to make the run even better! Most importantly, I enjoyed the run A LOT because of the friends I ran with! I ended up with a few scratches and wounds from the thorns of plants, but it all ended up great! A proposal was even done amidst the chaos!
–
Can't wait for the NEXT OUTBREAK MANILA!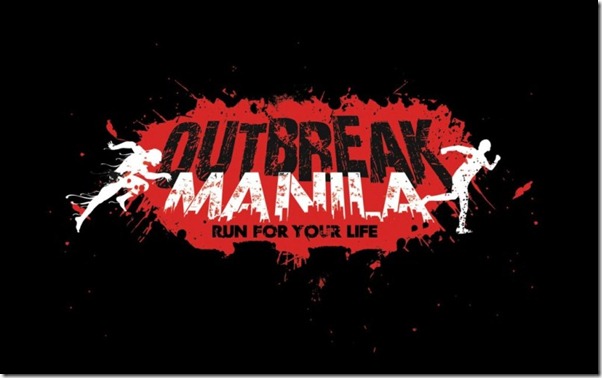 Keep yourselves updated by checking out the Outbreak Manila website at www.OutbreakManila.com
or like them on Facebook via https://www.facebook.com/outbreakmanila
For more photos, checkout my Facebook page at https://www.facebook.com/LittleRunningTeacherPage