Outbreak Manila's Horde Hunt
Manila, April 5, 2013— Fans of Outbreak Manila are in a frenzy with less than 10 days to go before the fourth installment of the 5km zombie-infested thrill run. Over 5,000 runners have signed up to be zombie bait on April 13, 2013 2013 at the Bonifacio Global City.
Little does the public know that training for Outbreak Manila is not limited to its runners. Angelo Cruz of Runtertainment Inc. says, "Our zombies are excited too! They start training about a week ahead of the run, and they actually go over their game plans with fellow zombies. But here's the big news. After hearing how many runners we are expecting, they sent in a petition to increase their horde. And at Outbreak, we are known to give our zombies first pick".
It is on this note that Outbreak Manila is now making a public call for zombie applications. Those interested to experience being part of the living dead, even just for one night, can do so by joining online promos being conducted in Outbreak Manila's partner blogs. "It's quite simple. You just have to follow the mechanics and tell us why you want to be a part of the horde", Cruz adds. The promos are ongoing on francramon.com, kikayrunner.com, and communityblog.ph.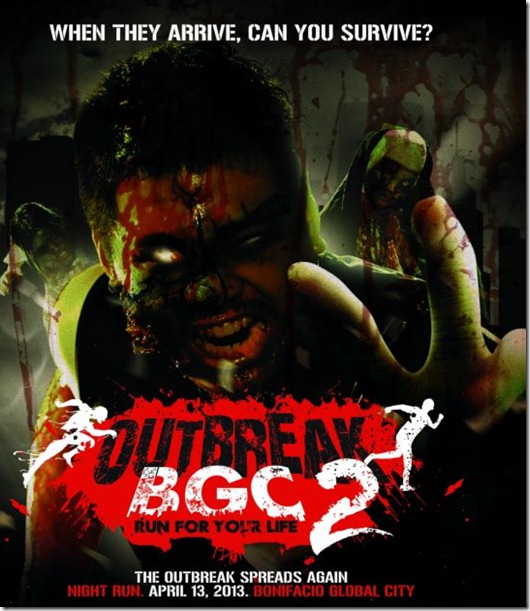 If transforming into a zombie is not your cup of tea, you can still register to be a part of Outbreak BGC 2. Registration is ongoing at Brooks SM North Edsa; RUNNR Bonifacio High Street and Alabang Town Center; and Toby's Sports in Shangri-La, Glorietta, Ermita, and SM Mall of Asia.
Or…. maybe you'd want to win one of the 2 race kits I'm giving away? Mechanics are really simple!
** Remember to tag the Little Running Teacher PAGE (with logo) and not my personal account! Thanks :)
Outbreak Manila is brought to us by its official hydration partner Summit and 100 Plus, it official venue partner Bonifacio Global City, Cherifer Premium, Cherifer PGM 10-22, and organized by Runtertainment Inc; in cooperation with Avida, Boardwalk, Booster C, Burnwater Art and Design, Coleman, Impact, Makeup Design Academy, Gerry's Grill, and Pelicola.tv; also brought to us by Mogu-Mogu, Sappe Beauti Drink, Toby's Sports, Brooks, RUNNR, Burlington, Greenwich, Symbol Science, and Hawk Bags; together with its media partners Hero TV, Solar Sports, Mellow 94.7, ClicktheCity.com, WhenInManila.com, Philstar.com, Inquirer.net, KikayRunner, Running Enthusiast, Francramon.com, Littlerunningteacher.com, the Buddybuilders.com, Pinoy Fitness, MYX, and Gala Magazine.
Check out my previous blog for more details on the run: /outbreak-bgc-2-the-zombies-are-back-at-fort-bonifacio/