Considered one of the biggest and fastest-growing running events in the Philippines, National Geographic Channel's Earth Day Run will be going international when it marks its seventh year on April 17, 2016. In celebration of seven years of promoting fitness and caring for the environment, Earth Day Run 2016 will be happening simultaneously for the first time in five cities across the region: Singapore, Hong Kong, Shanghai, Tai Chung, and Manila. Each city's race will be using support from the registration of all participants to help raise money for World Wide Fund for Nature and its projects.
NGC's Earth Day Run has consistently helped in promoting sustainable living and supporting environmental advocacy utilizing the popular platform of running in its seven years of operation. As a result, participation in Earth Day Run in the Philippines has increased year on year, allowing NGC to contribute significantly to various environmental causes.  Massive participation in Earth Day Run throughout the years has made it possible for National Geographic Channel to plant 36,000 fruit-bearing trees in the Abuan watershed in Isabela in 2013. Come 2014, proceeds from the run went to training fishermen affected by Typhoon Haiyan (Yolanda) on how to make and use fiberglass boats, which can better withstand the hard weather and allow them to continue their livelihood. In 2015, portable solar-powered lighting kits were donated to Tawbuid Mangyan tribes in Mindoro, giving them and Forest Ranger' camps safe and sustainable light sources off the grid and further helping them care for the Tamaraws. This 2016, WWF and Earth Day Run are going even bigger as they aim to raise funds for 4 different beneficiaries in 5 cities across the region.

 Earth Day Run 2016
When: April 17, 2016 (Sunday)
Where: BGC (Start), McKinley West (Finish)
Race Categories: 42k, 21k, 10k, 5k
Assembly and Gun Start Times:
5k – 5:00am/ 6:00am
10k – 3:30am/ 4:30am
21k – 2:00am/ 3:00am
42k – 11:00pm (Apr 16)/ 12:00mn
Race Owner: FOX International Channels
Race Organizer: Leadpack
Race beneficiary: World Wide Fund for Nature Projects (more info on the beneficiaries below)
Earth Day Run 2016 Registration Details:
Registration Period: March 1-31, 2016
Registration Sites: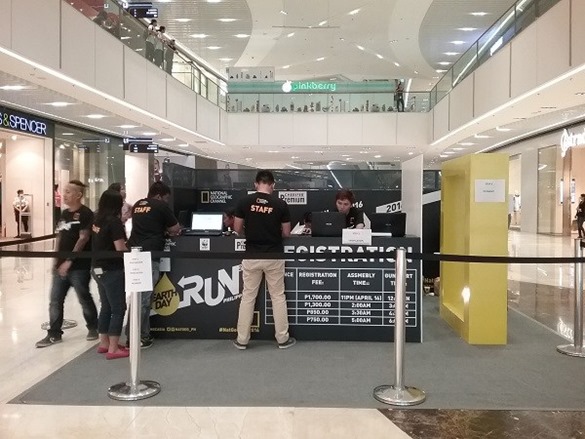 Registration Fees:
5k – P750
10k – P850
21k – P1300
42k – P1700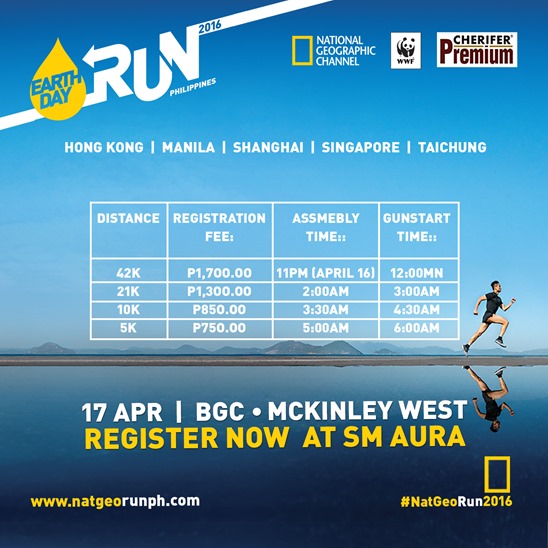 *All categories inclusive of Singlet, Race Bib, RFID Timing and Raffle Stub
*21k and 42k finishers will also receive a finisher's medal and finisher's shirt
Earth Day Run 2016 Race Kit Claiming
When: April 9 and 10
Where: SAMSUNG HALL, SM Aura Premier, McKinley Pkwy, Taguig, MM
Earth Day Run 2016 Beneficiaries
4 BENEFICIARIES TO CHOOSE FROM – for the first time ever, Earth Day Run is giving you the option to choose your beneficiary. The four beneficiaries are as follows: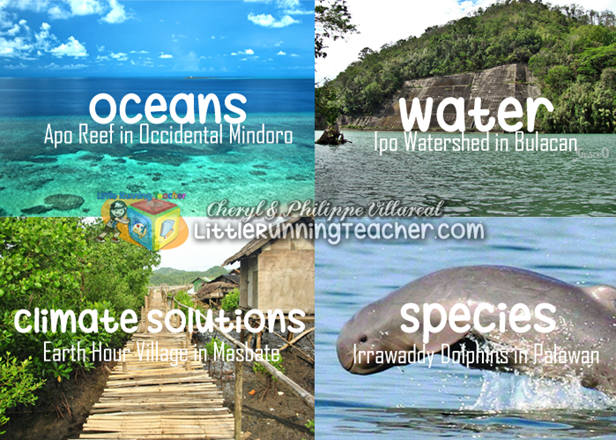 Disclaimer: I do not own these photos. I simply compiled them through photoshop. Proper credit is given to the owner.
Oceans – Marine Conservation for the Apo Reef in Occidental Mindoro. This is the largest reef in the Philippines and 2nd largest in the world. It is now being threatened due to illegal fishing.
Water – Reforestation of the Ipo Watershed in Bulacan. We get most of our water supply from here and it is now being threatened by illegal logging.
Climate Solutions – The infrastructure of Earth Hour Village in Masbate will be given solar lamps and other means of living more 'naturally' to help teach them as well as to protect our planet
Species – A few years ago, around 100 Irrawaddy dolphins were seen in Malampaya Sound, Palawan. Today, there are only about 40 left as a lot of them get caught in fishing nets and are victims of illegal fishing. WWF aims to put a stop to this and help conserve the species.
Earth Day Run 2016 Runner's Kit
5k/ 10k Singlet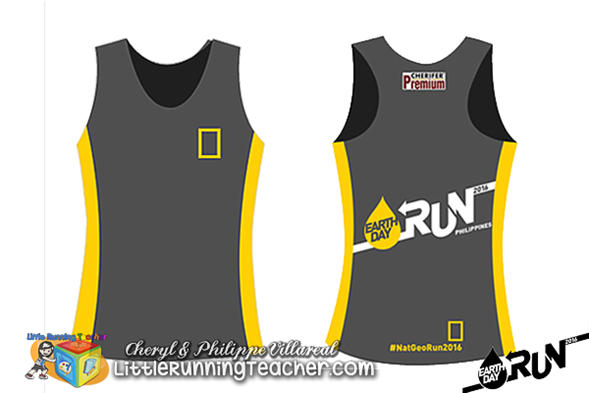 21k/42k Singlet
Singlet Size Chart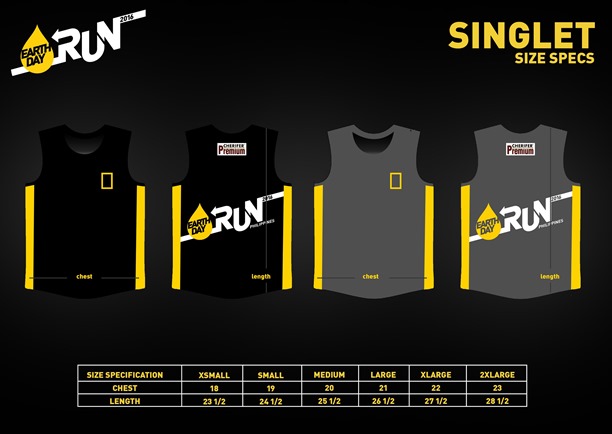 21k/ 42k Finisher's Shirt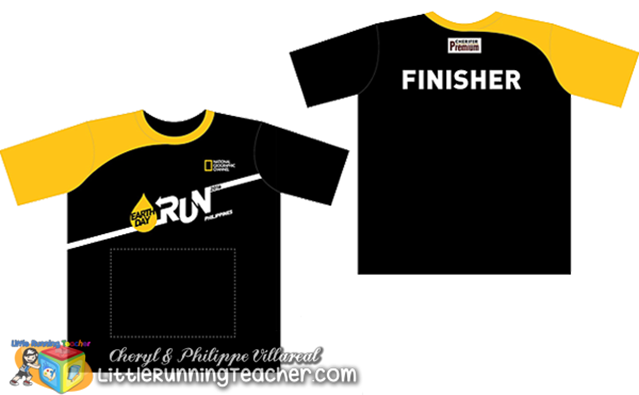 21k/42k Finisher's Medals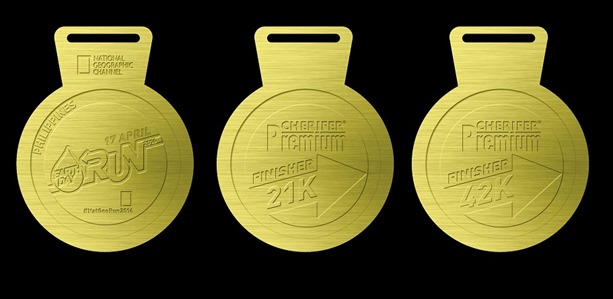 Earth Day Run 2016 Race Routes
Everyone is ENCOURAGED to bring their own water bottles to minimize trash on race day!
For more information visit
–
For updates on other runs or to just keep in touch
visit http://www.facebook.com/littlerunningteacherpage
twitter.com/cherylgolangco