Every year, the National Geographic Channel hosts an Earth Day Run in hopes of bring forth a bigger change in the country. For the past years, they have partnered with the World Wide Fund (WWF) for Nature and have come up with a variety of projects that will help give that extra boost for nature. Last year, it was for "bancas for the Philippines", this year it's a fight to help save one of the most endangered buffalo specie in the world… the Tamaraws.
Earth Day Run 2015, powered by National Geographic Channel (NGC) will be introducing new and exciting changes to mark its sixth year as one of the biggest running events in the Philippines. From 12,000 participants last year, organizers are now targeting 20,000 runners to participate on April 26! Moreover, this is also the first year that the NatGeo run wil be holding two legs – one in Manila and the 2nd one in BAGUIO on May 24. (Hmm.. summer vacation + run anyone?)
As mentioned earlier, the main objective is to save the tamaraws in Occidental Mindoro. With the "Tams2" program, WWF hopes to increase the tamaraw population from 300 to 600 by 2020. Protecting the tamaraws means protecting their guardians– the Mangyans.
Did you know that there are still several areas in the Philippines without electricity? The people in certain areas of Palawan use crude oil or kerosene oil for light. This is both dangerous and expensive. Children wanting to study can't even read properly because of lack of lighting. Hence, support from the registration of the NatGeo Run will help raise money for portable solar powered lighting kits that will be sent to communities in Mindoro. Through this program, NGC and WWF hope to be able to phase out kerosene lamps and replace them with solar lamps. If the Mangyan tribes are happy, they will also be better able to care for the tamaraws. If you think about it, this project actually hits 2 birds (or even more) with one stone. So what do you say we support it by participating in the NatGeo Run 2015?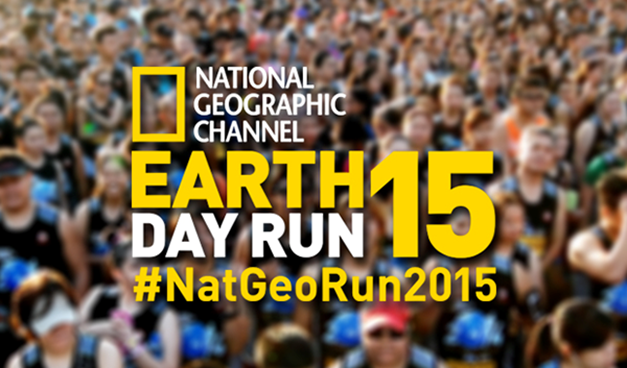 National Geographic Channel Earth Day Run 2015 (Manila Leg Only)
When:       April 26, 2015
Where:      Mall of Asia (Seaside Blvd.)
Race Categories:      42k, 21k, 10k, 5k
Assembly Time:         1:00am, 2:00am, 4:30am, 5:00am respectively
Gun Start Times:        2:00am, 3:00am, 5:00am, 5:30am respectively
Race Owner:               Fox International Channels
Race Organizer:         RunRio Inc.
Beneficiary:                 World Wide Fund for Nature
The goal is to save the tamaraws and help the people who care for them by donating portable solar powered lighting kits to provide light and electricity to the Tawbuild Mangyan tribesfolk and Forest Rangers' camps that are not directly connected to power grids. The lighting kits eliminate the use of highly-flammable kerosene to light up their homes and gives them access to a safe, stable and sustainable energy source that gives more opportunities for community development and advancement.
National Geographic Channel Earth Day Run 2015 Registration Details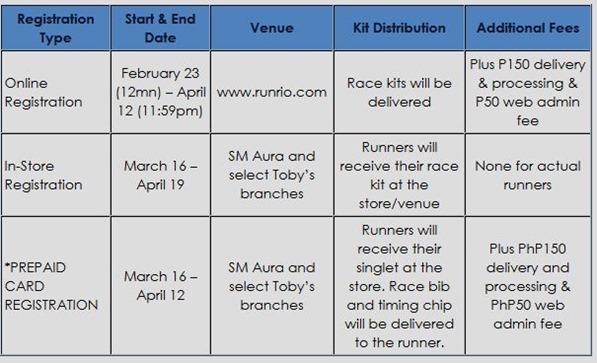 Online Registration (from February 23 – April 12)
Register online through www.runrio.com/natgeorun2015
-Payment may be made through CREDIT CARD or PRE-PAID CARD
*Note: Race kits are automatically delivered for online registration. An additional P200 for delivery and online processing shall be charged.
In-store Registration (March 16 – April 19)
SM Aura
Toby's SM Moa
Toby's SM North Edsa
Toby's Shangri-la
*Notes: Race kits will be given upon payment
Registration Fees and Inclusions:
Good news! No increase in registration fee!! YEY!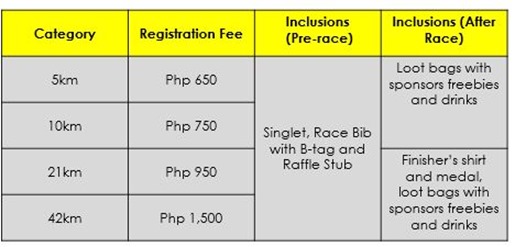 Runner's Kit
NatGeo Run 2015 Singlet
NatGeo Run 2015 Singlet
NatGeo Run 21km and 42km Finisher's Medal
For updates and more info,
visit http://runrio.com/natgeorun2015/
Twitter and Instagram @natgeo_ph
#NatGeoRun2015
For updates on other runs or to just keep in touch
visit http://www.facebook.com/littlerunningteacherpage
twitter.com/cherylgolangco