Yesterday, thousands of runners flocked to BGC for the National Geographic Run 2014. Each participant there had their own reasons for joining the run. Some joined because of the race's prestige name, others to help fund the cause and still others just because they wanted to run.
I personally joined the run for all the reasons mentioned above. I wanted to try a NatGeo race as I think I've only ever joined once. I also wanted to help as it was a run for a very good cause and lastly, I just really wanted to run. I thought that overall, it was a good run, but no run is perfect. Here are some points for discussions.
What I Liked About the NatGeo Run 2014
Race Route was TOUGH and CHALLENGING but I loved it none the less! It reminded me of the races 5 years ago which usually used a similar route to this
Claiming of Finisher's Shirt was pretty fast and organized despite the influx of runners.
There was 0 to very little garbage during the race. Runners were encouraged to bring their own hydration bottle to minimize trash. I think all races should do this and do their part in saving Mother Earth.
Paper cups in lieu of plastic cups.
Marshals were very friendly and encouraging! Besides greeting runners, they would also hold garbage bags and chase runners to make sure cups were disposed of properly
Early gun start times were much appreciated especially for longer distances as it prevented us from running under the sun for too long! I really liked that I was finished running my 21k race before 6:00am.
The NatGeo Run 2014 was a run for a cause and I will always support races who think of others in their own success.
Registration was actually easy and fast. Though claiming might have been difficult for most, we have to understand that the kiosk is inside a mall and they have to abide by the mall rules to ensure safety and convenience of not just the runners but of the malls' customers.
Sprinklers at the end of the race were really appreciated because of the hot weather! As much as I'd like for this to be all over the race route, we have to conserve water too!
Loop markers made use of hair bands that may be reused rather than just random strings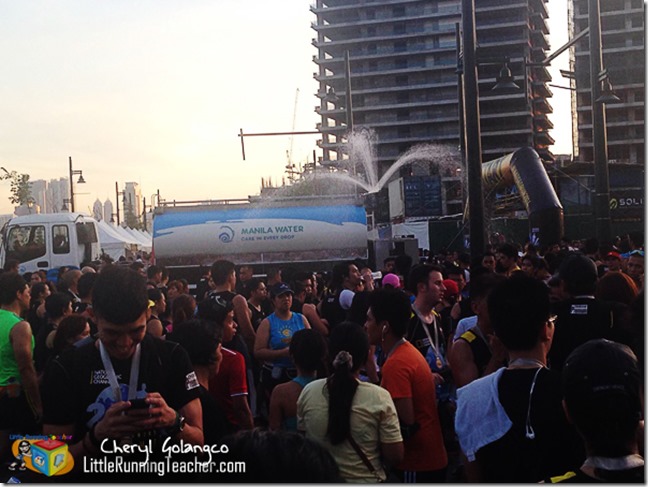 What Can Be Improved in the NatGeo Run 2014
Race Route was too dark during the first few hours after gun start. It felt very dangerous to run. There were also parts that were too crowded and accident prone such as intersections and construction areas.
Race Kit Claiming was a tad bit difficult for a lot but I can't really blame the organizers as they were just following rules and standards. This can maybe be improved next year though I'm not sure how.
Claiming of Finisher's Shirt for those who finished later. Those who finish at a later time said it got a little bit crowded as the marshals left their posts and lines became confusing
Overall, I thought the organizers did a pretty good job and leveled up from their previous races. There are probably a few more points for improvement but hey, what's important is that we learn from our mistakes right? Let's not be too quick to blame.
Share your thoughts and comments on the National Geographic Run 2014 below! We would love to hear your feedback on the run!
For updates on other runs or to just keep in touch
visit http://www.facebook.com/littlerunningteacherpage
twitter.com/cherylgolangco