The country's first obstacle laden course is back, and this time, with bigger and more challenging obstacles! Men's Health Urbanathlon 2013 saw around 3,000 participants who took on the challenge and conquered Men's Health Philippines' toughest race. This unique event combines the rigors of a run with the tough nature of traversing numerous obstacles in an urban setting.
"We always want to take things a step further. And the 2013 Men's Health Urbanathlon is a prime example. We have new obstacles and have improved the classic ones," says Men's Health Philippines editor-in-chief Peejo Pilar.
This was one race I was really looking forward to. Besides the cool challenges, I also wanted a finisher's shirt badly! The design was just really awesome! Unfortunately, a pesky mosquito bit me a few days before and gave me the dengue fever. I felt so jealous watching my friends run, and especially seeing them all wear that finisher's shirt! This year's race was even more challenging than the previous ones and it just keeps getting better.
Now on its 7th year, Men's Health Urbanathlon challenged Urbanathletes with its staples such as the scaffolding maze, the 8×40 container van, and "The Wall", wherein you need all your upper and lower body strength to conquer this 8-foot beast; as well as, with the new obstacles this year, "The Network" a net challenge going over a bus and "The Tower", a 12-foot high rope climb to the bell on top.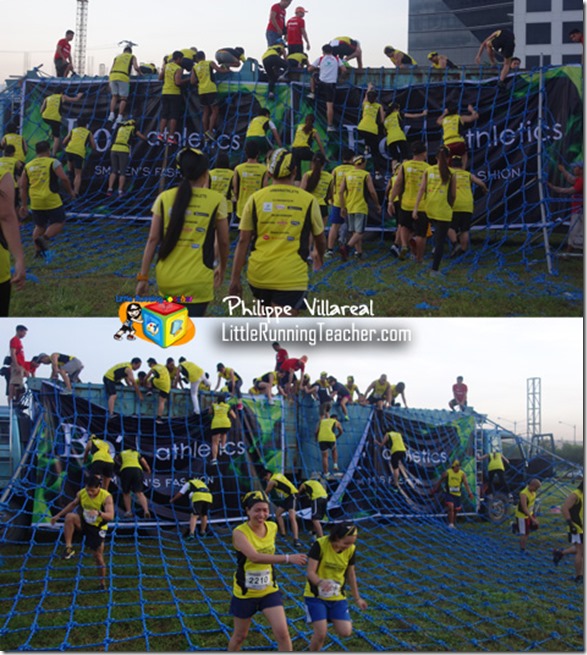 The middle part was hallow, so participants had to crawl across the net. No standing else you'd fall.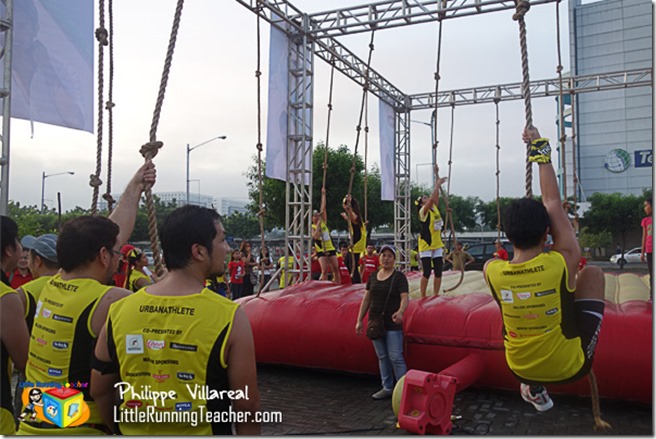 Doesn't this look fun? People swinging like Tarzan to get across – perfect mix of fun and challenge!
What I especially liked about this year's run (besides the extra challenging obstacles) was the addition of more obstacles of each kind. As a result, there were less lines and runners did not have to wait to long for their turn on each course.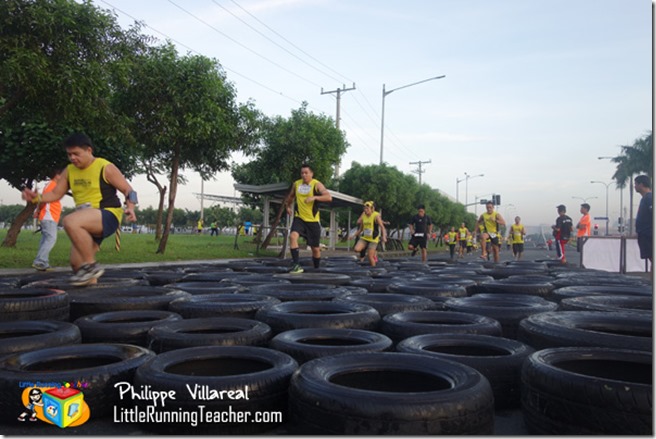 One whole side filled with tires!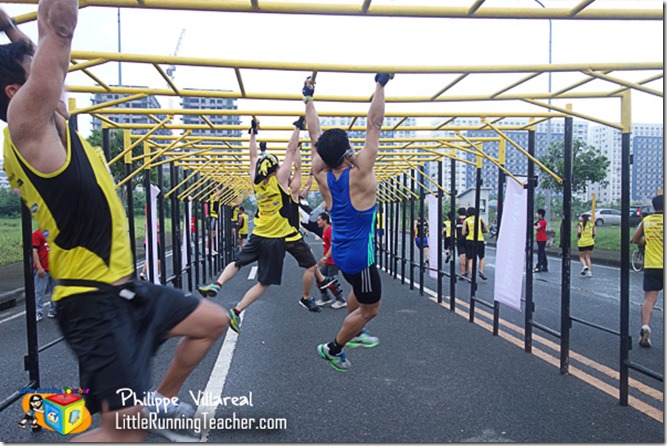 I remember there being around 3 last year, can you count how many there were this year? Nice work to the organizers!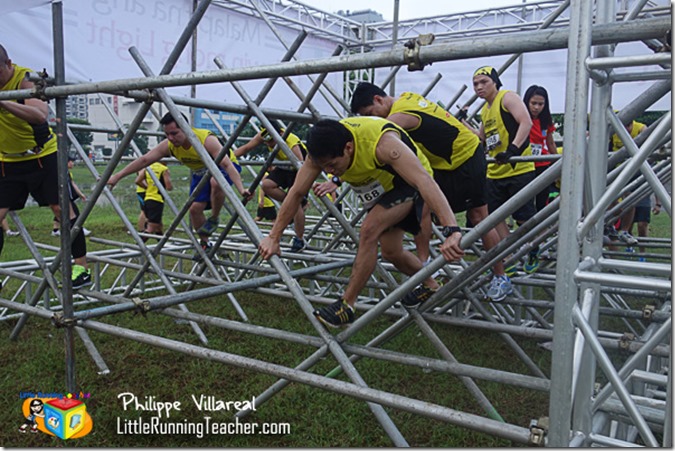 Scaffolding maze became a little more challenging – the good kind of challenge.
The SM Mall of Asia Grounds turned into a race venue and fitness camp combined as Urbanathletes aimed to conquer every challenge along the way and make it to the finish line.
"We hope that first-timers and hardcore runners enjoyed this year's Men's Health Urbanathlon. And of course, we're excited to learn, upgrade, and make the 2014 Men's Health Urbanathlon even bigger and better!," exclaims Peejo.
The Men's Health Urbanathlon and Festival is co-presented by Century Tuna, Gatorade, Bo Athletics, with major sponsors Bridgestone, Emperador Light, and Schick, with minor sponsors Havaianas, The Athlete's Foot, Nivea Men, and special thanks to Merrell
Looking forward to an even crazier run next year! Please have another cool finisher's shirt!
For updates on other runs or to just keep in touch
visit http://www.facebook.com/littlerunningteacherpage
twitter.com/cherylgolangco
What kind of obstacles would YOU want to see next year? Do share!